Why Is Lehenga Choli Popular Among Brides?
The day of her wedding is one of the most important days in the life of any woman. In Western and Indian culture, a lot of importance is placed on the clothes worn by the bride. Indian brides, in fact, spend the majority of the pre-wedding period shopping to complete their perfect bridal trousseau.
Some of the traditional garments women might explore as likely options include bridal sarees, bridal salwar kameez and even bridal gowns; however, the wedding lehenga choli is the one outfit that seems to top the lists of prospective brides across India.
In many regions, this is the traditional garment worn by the bride and her guests but for many people, the appeal of a wedding lehenga is in the fact that these feature most frequently in designer wedding collections and are one of the trendiest, most fashionable outfits that can be worn to a traditional occasion like a wedding.
Wedding lehengas or bride reception lehengas are a popular choice not just with brides but also with other members of the wedding party like her friends and family as well as the guests. It is the easiest way to stand out from the crowd since wedding lehenga designs tend to be quite ornate and rich, giving them a uniquely glamorous look.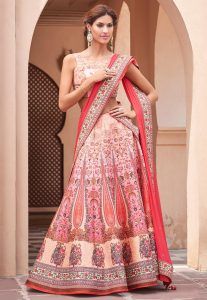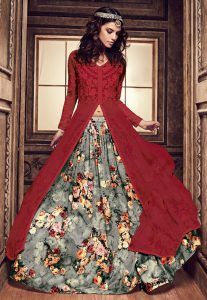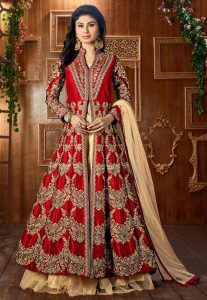 Lehenga chunni is also the perfect combination of elegance, tradition and fashion. They look extremely flattering and come in a lot of different silhouettes so that women with different body types can find something to suit them. Wearing an Indian wedding lehenga, a woman can look and feel like a modern-day princess!
Choose the Perfect Design for Your Special Day
Wedding lehenga designs are usually very ornate and attractive, combining a lot of different types of traditional embroidery and embellishment work including gota patti, booti, cut dana, ek taar, aari, zardozi, beads, zari and resham work. They may also have patterns made using more modern embellishments like stones, sequins and crystals work.
Typically Indian motifs like inter-winning flowers, flowering vines, fruits, large peacocks, birds and paisley are displayed on these lehengas, though the more elegant and understated varieties may come with simpler geometric designs and shapes. In an Indian wedding lehenga, designs are usually thickly embroidered and embellished all over the outfit, including the entire lehenga and some part of the choli. Adorned with delicate embroidery, sequins, or beadwork, the pink lehenga out of other colors radiates elegance and grace, capturing the hearts of those who seek a touch of sophistication and enchantment in their attire.
Sometimes, the lehenga is made of a plain fabric on which a lush and attractive border is added to bring some glamour to the outfit. Another popular type of design with wedding lehengas is the heavy paneled look in which the lehenga is divided into distinct panels. This gives a uniquely symmetrical yet kaleidoscopic look to the lehenga and adds to its beauty.
Additional Reads: How to Choose the Perfect Lehenga Choli for Your Wedding Day?
Designer Lehenga Choli
For many people, a designer wedding lehenga is the one and only choice for a wedding. Latest designer lehengas are much coveted for their exclusive and artistic beauty. They often come decorated with the most exquisite and delicate designs and have a rich, regal look about them that simply cannot be matched.
Wedding lehengas are always made of luxury fabrics that look and feel divine. These may be either traditional or modern, depending on the look of the outfit. For instance, wedding lehengas for brides are most often made of beautiful Banarasi brocades woven with lavish gold thread designs. Lehengas made of embellished silk or georgette fabrics may also be worn by brides who want a more lightweight garment. The less rich wedding lehengas for the guests will usually be made of fine silks, georgette, chiffon, net (layered over satin or velvet) and crepe.
The types of silhouettes in wedding lehengas also vary vastly and women can choose between a variety of traditional and trendy cuts including the straight cut, circular cut, mermaid cut and the Anarkali cut. The cholis worn for weddings also tend to be richer and often come with a lot of heavy work done on them. Women can opt for conservative styles like the long choli or go for trendy styles like the backless or corset type of choli.
Style Tips
The trends in wedding lehengas are greatly influenced by Bollywood fashions, both on-screen and off-screen. From the backless choli design to the mermaid cut pattern, from the embroidered lehenga to the net and tissue layered lehenga choli, a lot of the biggest trends in wedding fashion have been influenced greatly by Bollywood. Women also take a lot of tips on styling from Bollywood actresses, which is why wedding lehengas are often styled in a very bold and glamorous manner.
Of course, brides always opt for a lot of ornate and traditional jewelry. With a traditional red wedding lehenga embroidered with gold thread work, traditional Indian jewelry like Kundan jewelry or Thewa necklaces will work beautifully. On the other hand, with a more modern net lehenga, delicate pearl jewelry or crystal earrings can be worn.