As the scorching summer sun begins to take its toll, it's time to revamp your closet and embrace garments that offer both elegance and comfort. Stylish Sarees have always been a popular choice among women for traditional clothing. When it comes to combating the sweltering heat while looking gorgeous, blended cotton sarees are the go-to option. Blending cotton with other textiles enhances its durability, breathability, and overall aesthetic appeal. In this blog, we will explore four different varieties of blended cotton sarees that will help you beat the summer heat in style.
Cotton Silk Saree
Cotton Silk sarees are a perfect blend of sophistication and comfort, offering the best of both worlds. This lightweight, breathable, and easy-to-drape fabric is created by combining cotton with silk. The natural properties of cotton, such as its moisture-absorbing ability, are complemented by the luxurious feel and sheen of silk, making these sarees a fantastic choice for both formal and casual gatherings.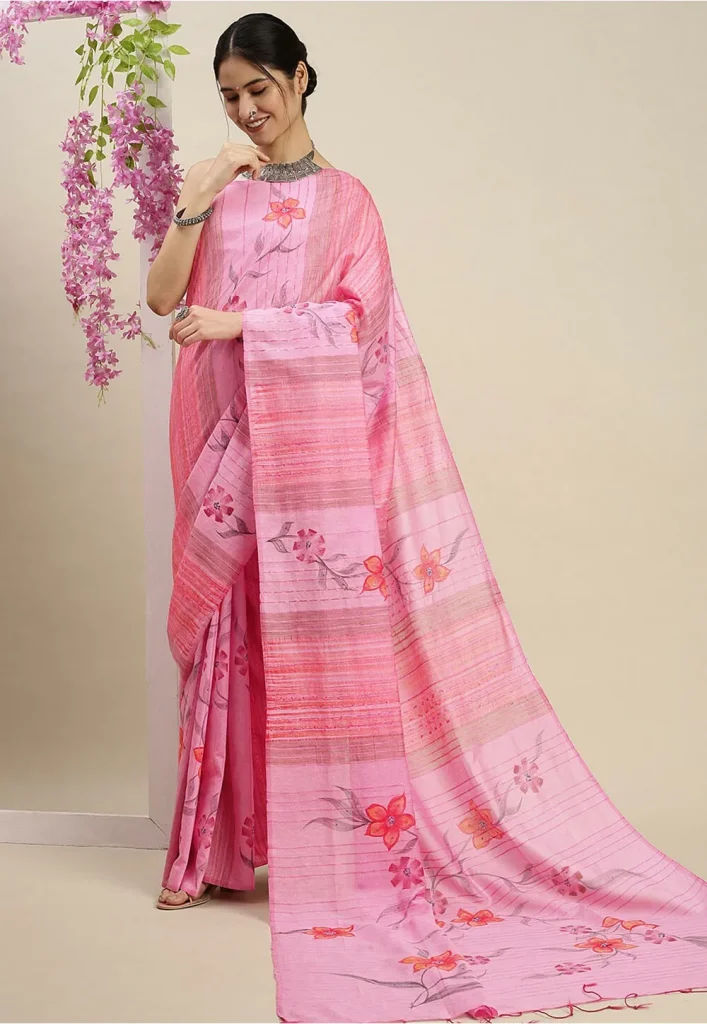 One of the key benefits of cotton Silk sarees is their versatility in terms of colors, prints, and patterns. From vibrant hues to subtle pastels, from intricate motifs to contemporary designs, you can find a wide range of options to suit your personal style and preferences. Embrace the sophistication and comfort of cotton-silk sarees this summer and make a fashionable statement.
Additional Reads: Attractive Punjabi Sarees
Chanderi Cotton Sarees
Chanderi cotton sarees, made from a combination of cotton and silk or zari, are renowned for their exquisite design and timeless style. These sarees feature intricate weaving patterns and delicate motifs inspired by nature, while also being lightweight and breathable. Chanderi cotton sarees strike the perfect balance between comfort and elegance, making them ideal for summer occasions. Whether attending a formal event or a casual gathering, you can find a Chanderi saree that matches your preferences and taste.
The versatility of Chanderi cotton sarees makes them a go-to choice for fashion enthusiasts, as you can experiment with different draping styles and pair them with various accessories. With proper care, these sarees can preserve the tradition of Indian craftsmanship for years to come.
Cotton Linen Sarees
Embrace the light and stylish cotton linen sarees to beat the summer heat in style. These sarees are the ideal fusion of comfort and elegance, as they are made by combining the natural fibers of cotton and linen. Perfect for hot summer days, the breathable cotton and cooling linen ensure you stay dry and comfortable all day long. The lightweight fabric provides ample airflow, keeping you cool and comfortable throughout the day.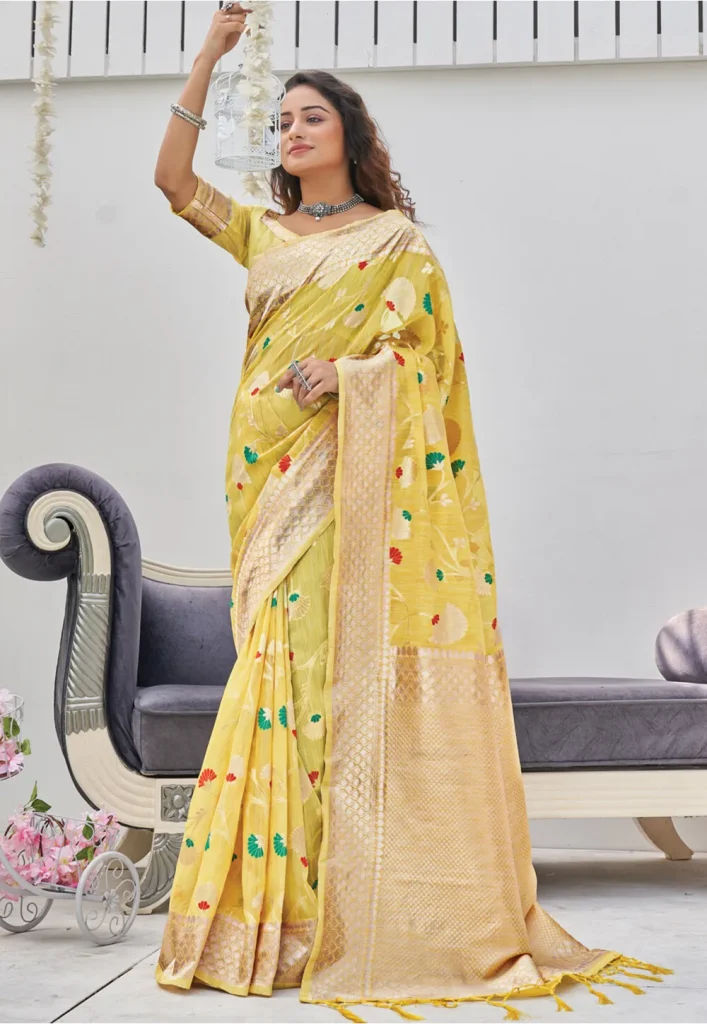 Cotton linen sarees come in a wide range of styles, designs, and colors to suit every taste and occasion. You can choose the ideal saree to complement your individual style from a variety of designs and prints, ranging from traditional to modern. The calming and cheerful color scheme, which includes pastels and earth tones, adds an extra touch of charm to your outfit. Cotton linen sarees subtly enhance your appearance, whether you're attending a formal function or a casual get-together.
Mulmul Cotton Sarees
The ideal fusion of ease and style, mulmul cotton sarees are a perfect choice for the hot season. These lightweight and breathable sarees are the go-to option for keeping cool in warm weather due to their design. Thanks to the fine weave of mulmul cotton, which maximizes airflow, you will stay dry and comfortable all day long. Mulmul cotton sarees are not only lightweight, but they also feel soft and delicate against the skin. Its hypoallergenic qualities make it especially suitable for people with sensitive skin.
From traditional motifs to contemporary florals, there is a mulmul cotton saree to suit every taste and occasion. You can express your unique style by choosing vibrant colors or subtle pastel shades that complement your personality. With mulmul cotton sarees, you can effortlessly make a fashion statement while staying comfortable and cool.
Conclusion
When it comes to beating the summer heat, blended cotton sarees are the way to go. Each type offers unique benefits, from the sophistication of cotton silk sarees to the exquisite chanderi cotton sarees. Adding cotton linen and mulmul cotton sarees to your collection ensures a variety of options suitable for different occasions and personal preferences. So, embrace the breathability, comfort, and style of these blended cotton sarees, and stay cool while looking effortlessly chic this summer.