Sarees are an integral part of Indian culture and fashion. They have been worn in the Indian sub-continent for many centuries, in different forms and varieties. Women in India often wear these garments for all types of occasions, from weddings and festivals to parties and casual events.
Many even love to wear them in day to day life, or for office-wear. Elegant and graceful, sarees are an extremely flattering type of clothing. They suit women having different body types and, when draped correctly, add a unique feminine aura that just cannot be matched.
However, sarees have to be comfortable and easy-to-wear to be pulled off. In summer, for instance, cool and comfortable fabrics are a must. Summer sarees are such specially created saris that are meant to be worn during hot summer days. They are typically made of airy, light-weight and comfortable fabrics, with minimal embroidery and embellishments.
This reduces the weight of the garment and makes it a more comfortable summer-wear item. Another common feature of sarees for summer is the use of bright prints and vibrant hues to create an attractive, dynamic vibe for the garment.
Cotton Sarees
In any summer sarees' collection, cotton would be the most popular material. Breezy, light-weight and absorbent, it is perfect for the hot and sweaty days when wearing clothes of any type seems like a chore. Moreover, cotton takes on colors beautifully and can easily be dyed into a range of pretty colors, including yellow, green, red, blue, pink, purple and orange.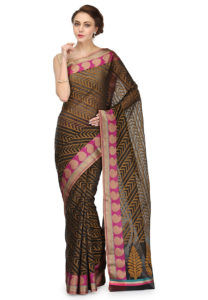 Summer cotton sarees usually have bold, bright prints of nature inspired motifs such as flowers, leaves, trees, birds, animals and much more. Traditional Indian techniques like Bandhej or tie and dye, hand block printing and resham embroidery are also used to enhance the beauty and vibrancy of summer cotton sarees.
Besides cotton, linen and rayon are also in-demand summer fabrics. These are cool, light-weight fabrics are easy-to-wear and can be easily donned for a variety of summer occasions. Party wear sarees for summer are often made of beautiful materials like silk, faux silk, chiffon and georgette. Silk, particularly the thin, light-weight varieties such as tissue and Tussar are extremely popular in the summer months. It is used to make a range of elegant sarees, including sarees for summer wedding events.
Weddings generally require fancy, elegant garments which are trendy as well as traditional. In the summer, sarees can become extremely uncomfortable, especially if they are of the fancy variety. Weddings ceremonies are usually long, hectic affairs and to enjoy them, it is essential to be dressed in a comfortable outfit.
Luckily, designers have come up with many gorgeous and comfortable sarees for summer weddings. These might have a small amount of embroidery or embellishment work done along the borders. More often than not, interesting prints and glittering designs are used to decorate these saris. To stay true to the ornate nature of most Indian weddings, these sarees usually sport bright, attractive hues of red, green, yellow and pink. Gold and silver prints might also be used to add an attractive glimmer to the garment.
Net & Tissue
Net and tissue are two more fabrics used to create summer appropriate sarees. Both these fabrics are the favorites of high fashion designers, and are most often seen in designer collections meant for special occasions. Net sarees with pretty sequins work and embroidered borders are a great way to look glamorous and stay comfortable in the summer months.
Ombre Sarees
Another interesting type of saree that is highly suitable for the summer is the dual tone or ombre saree. As the name suggests, these are sarees that come with two distinct tones. Here, the visual appeal comes through the pleasing contrast between the upper and lower half of the saree. Though they are stylish and appropriate for special occasions, they have little to no embroidery or embellishments, which make them perfect for hot, outdoor summer events.
Style tips
The styles and trends in summer sarees vary with each summer season, though certain varieties like the cotton ones or Bandhej ones remain ever-green. For instance, interesting Indian prints like Warli drawings, Madhubani designs and buti work have become extremely trendy in recent times, along with digital prints of religious symbols and nature inspired designs.
Summer sarees should be accessorized using fun, light-weight, ethnic jewelry such as wooden bangles, colorful beaded necklaces, silver pendants, silver bangles and jhumkas (Indian earrings). These will add a unique Indian charm to the outfit without taking away the fun and feminine vibe of the sari.
Sarees of any kind should always be paired with heel sandals. Heels add a certain amount of grace and structure, and really enhance the fall and drape of the saree. During the summer, color blocking can be a fun trend to follow, especially when it comes to footwear and handbags. Pair up sandals and tote bags in contrasting colors to create an interesting visual contrast.