Tunics are currently one of the trendiest garments in the world. It is ironic that such a staple garment of the younger generation actually has very ancient roots. In western culture, tunics were worn as long back as Ancient Greece, by men more than women. Over the years, women started to pitch in as well, though in a different form than the one we see today.
The contemporary tunic is quite distinct mainly because designers have no restrictions on the kinds of designs, silhouettes, fabrics and necklines they can use. Many of the latest tunics are cut and designed in a very sensual way to highlight the beauty and attraction of the wearer. Such sexy tunics have become a big hit amongst women across the world.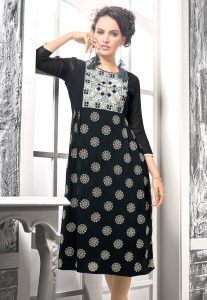 In India, tunics of a traditional variety have been worn for many years. Also called kurtas, they generally resemble a loose tunic, reaching till the knees. The modern style kurtas are more similar to sexy tunic tops than the traditional kameez from which they were inspired. They incorporate a lot of interesting western aesthetics and silhouettes, which, when combined with Indian designs and patterns on the outfits, creates a beautiful fusion effect.
Variety of Tunics
A sexy tunic is set apart by the cut, silhouette and design, which tend to be more bold and daring. In terms of necklines, there are many different varieties to choose from. Plunging v-necklines are the most popular with designers for creating a sexy tunic top. These are also popular with women because they emphasize on the curves of the body in a flattering yet classy manner.
They add a fun, flirty element to the over-all ensemble. Of course, there are many other subtly sensual necklines to choose from. This includes the peek-a-boo keyhole neckline, the feminine sweetheart neckline, simple round neckline and the square neckline, which highlights the collar bones. Each of these is attractive in a different way and women should choose the type that flatters their body type and reflects their fashion sensibility.
The sleeves also play an important role in the sensuality of a sexy tunic dress or top. Sleeve-less, for many, would be the most obvious options, and it is definitely one of the most popular sleeve styles. But even slightly longer sleeves like cap sleeves and puff sleeves can look incredibly attractive on the right tunic top. The sexiest tunics come with spaghetti straps, which are even thinner than sleeveless tops and reveal more skin.
In terms of silhouette, sexy tunic dresses often come with a very close-fitting structure. This kind of body-hugging silhouette is achieved by using fluid materials like chiffon and georgette. These kinds of diaphanous materials flatter different body types and can be used to create different types sexy tunic shirts. Silk and cotton can also be used, especially in their lighter, body hugging varieties.
It is not necessary that a tunic has to show a lot of skin to be considered sensual. A full-sleeve tunic that reaches till the knees can also be incredibly sexy if it fits well and brings out the feminine beauty of the wearer. Many tunics today come with high necks and full sleeves, along with a plunging or cut-out back to create a sensual element. Indian style tunics often showcase intricate embroidery and embellishments near the necklines, sleeves and borders, to highlight certain areas of the body and create a more attractive visual.
Style Tips
Ultimately, the attractiveness of any piece of clothing depends entirely on how it is worn. To be truly sexy, a woman has to be comfortable and feel confident. Thus, before buying any sexy tunic, women should make sure their choice makes them feel and look good. When wearing such an outfit, the styling can also make a lot of difference to the over-all effect. For instance, tunics do not look great when paired with loose trousers, unless they are specific types of Indian trousers like salwars. The best bottom wear choice with sexy tunics is a pair of well-fitted leggings in a complementary color.
In terms of jewelry and accessories, women should go for jewelry pieces that match well with the outfit without overwhelming it. For instance, with a deep-neck tunic, a silver pendant necklace with an Indian motif can add just the right ethnic charm. With a square-neck tunic or one with spaghetti straps, dangling earrings would be the best choice.
Sometimes, leaving the neck bare is a lot more attractive than piling up layers of jewelry. A trendy way of styling a sexy tunic is to leave the neck and ears bare and opt for multiple chunky beaded bracelets or bangles. High heel sandals can add the height and style required to complete any sexy ensemble.