In recent times, the cultural norms surrounding the color white in Hindu weddings have evolved, allowing brides to embrace the color white in its various forms. Whether it's a simple lehenga of white color for brides, complemented with a red choli or dupatta, or exploring the enchanting appeal of white with floral accents, there is an abundance of inspiration available for every bride.
White bridal lehengas have emerged as the latest trend, creating a perfect balance between the classiness of immaculate white weddings and the exuberance of Indian wedding celebrations. Even though white may not have historically been seen as appropriate for Hindu weddings, modern brides are eager to experiment with a wider color palette for their special day.
As a result, we have witnessed the emergence of stunning white hues that have effortlessly integrated into the realm of surreal lehengas. The versatility of white allows it to be embraced by brides for all types of wedding celebrations, making it a beloved and cherished choice.
In this blog, we have compiled a collection of exquisite Pristine Bridal White Lehengas that are truly magnificent. These designs are absolute perfection and will leave you in awe. So, ladies, get ready to take some notes and explore the realm of bridal elegance like never before!
Whimsical Embroideries
A pristine white lehenga adorned with intricate embellishments is a stunning choice for brides seeking whimsical and delicate touches. Seek out lehengas showcasing whimsical animal embroidery, intricate lacework, or delicate floral designs.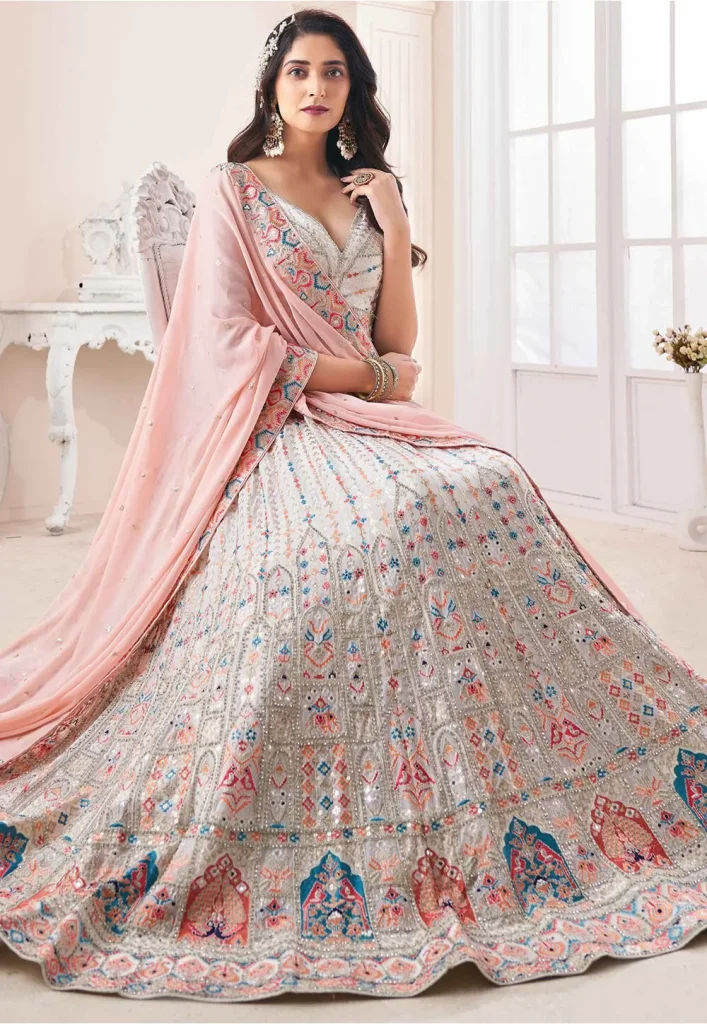 These playful accents infuse charm and individuality into your bridal ensemble. Opt for light pastel threadwork to create a gentle contrast against the pristine white fabric. If you aspire to infuse your wedding attire with a touch of magic and enchantment, resulting in an unforgettable and ethereal look, this lehenga style is perfect for you.
Sheer Elegance
If you wish to highlight a dash of allure and sensuality while maintaining the elegance of a pristine white lehenga, consider choosing one with sheer fabric and artfully placed embellishments. Sheer panels, illusion necklines, and delicate lacework can add a touch of intrigue and modernity to your ensemble.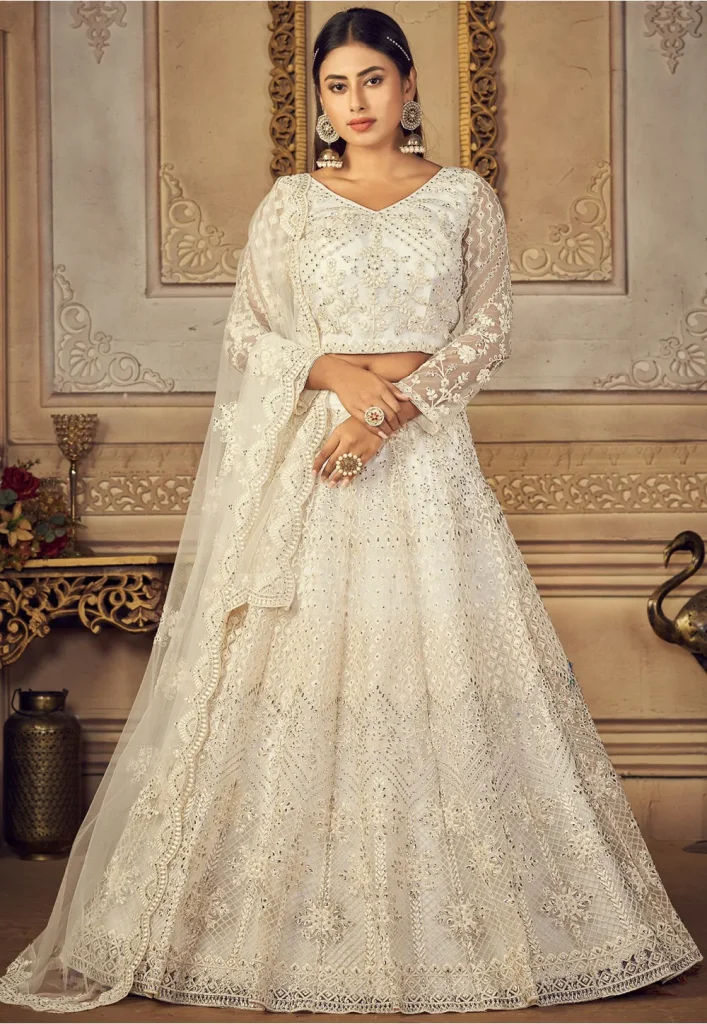 For a graceful and elegant appearance, choose a lehenga with a sheer dupatta or a blouse with sheer sleeves. This look is fantastic for brides who want to make a spectacular appearance as they walk down the aisle while striking the perfect balance between modesty and allure.
Opulent White and Gold
A white lehenga adorned with gold elements is a delightful choice for brides seeking an extravagant and regal look. Gold embellishments, whether in the form of intricate embroidery, sequins, or zari work, lend a regal touch to your bridal ensemble. For brides who aspire to make a statement on their wedding day, the combination of white and gold creates a timeless and majestic appeal.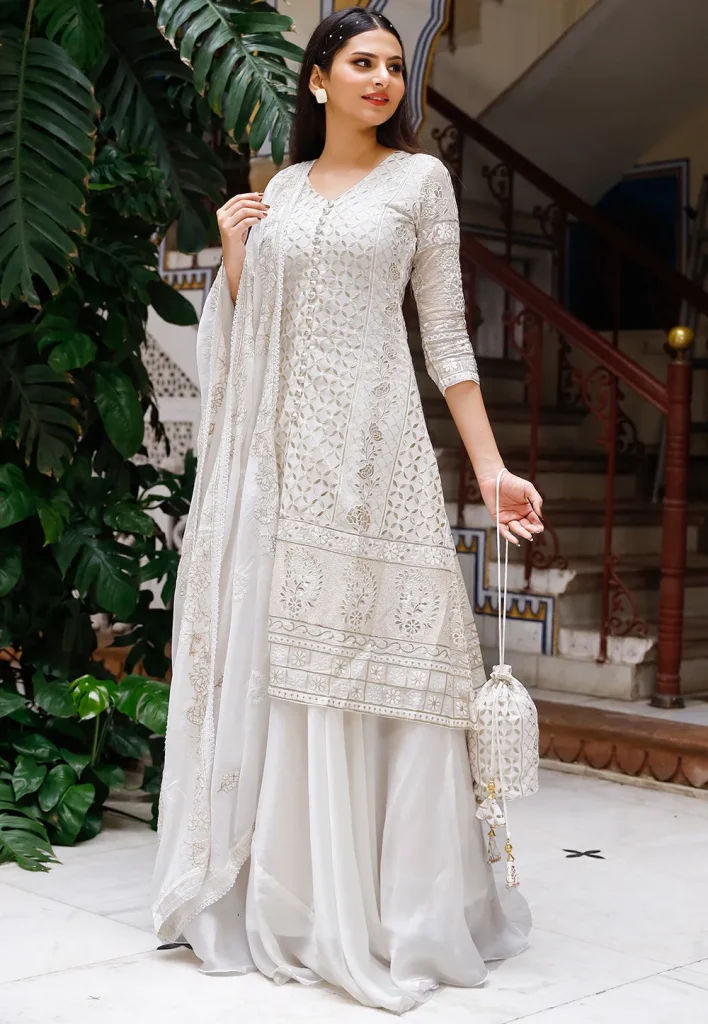 To complete the luxurious appearance, accessorize your lehenga with gold jewelry such as a statement necklace or chandbalis. Brides desiring to exude grandeur and elegance, leaving a lasting impression on their guests, should opt for this captivating look.
Contemporary Minimalism
For those seeking a modern and minimalist style, consider choosing a sleek white lehenga that emanates subtle elegance. The allure of minimalism lies in its clean lines, ethereal silhouettes, and delicate detailing. Opt for a pristine white lehenga with minimal embellishments, or embrace an all-white ensemble with vibrant accessories. This style places emphasis on refined fabrics and expert craftsmanship, highlighting the bride's natural beauty. Brides who appreciate a simple yet sophisticated look will adore this minimalist approach to the white lehenga.
Fusion Charm
Are you in search of a distinctive blend of cultural heritage and contemporary designs? Look no further than a fusion-style white lehenga! These lehengas infuse a modern twist into traditional white attire by incorporating contemporary elements into traditional silhouettes. To add a touch of excitement, experiment with asymmetrical cuts, creative sleeves, or fusion-inspired embroidery.
To achieve a harmonious blend of styles, opt for delicate pastels or metallic accessories that complement the immaculate white backdrop. For brides who aspire to make a striking statement with a cutting-edge appearance while maintaining the elegance and grace of traditional bridal attire, a fusion white lehenga is the perfect choice.
Additional Read- The Grand Indian Bridal Lehengas
Conclusion
With an abundance of styles and designs to choose from, opting for a pristine white wedding lehenga allows you to embody the essence of purity, grace, and sophistication. Whether you decide on a traditional, modern, fusion, whimsical, sheer, or opulent style, the timeless allure of a white lehenga ensures that you will shine as a radiant bride. Select a look that aligns with your personal preferences and complements the overall theme of your wedding. Remember, your wedding is a celebration of love and unity, and your pristine white lehenga will serve as a symbol of your journey as you embark on this new chapter in your life.