Indian fashion is slowly but steadily absorbing modern trends, cuts and patterns and this kind of fusion fashion is considered the height of stylishness, not just in India, but abroad as well. A superb trend that has migrated from the west to our country is that of having 'plus-sized' sections in every category. Now, one can find plus-size kurtas, tunics, tops, salwar kameez and yes: plus-size blouses.
The essential concept of 'plus size' is not innovative within Indian tailoring for garments, which have traditionally been customized as per individual body sizes. Indian clothes are designed to incorporate a plethora of shapes and figures and in fact, they heartily embrace womanly curves in terms of design and pattern. However, this idea has been re-packaged as plus size fashion to reach out to a wider range of customers and to streamline off-the-rack catalogues.
A plus size blouse is not just a blouse which is one or two sizes larger than the average range. In fact, it is a garment which is perfectly designed to accommodate the contours of the female figure, in a manner which is flattering but classy at the same time.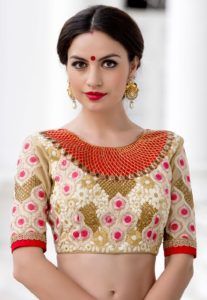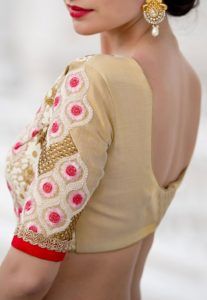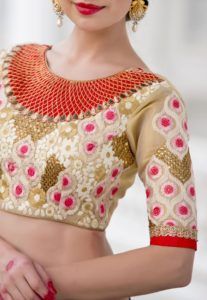 This kind of perfect fit is especially important for blouses as they can be a crucial aspect of the saree look. With a well-fitted blouse, the drape and fall of the saree will be smooth and the overall look will be elegant. Conversely, no matter how the beautiful saree, an ill-fitting blouse is all that's needed to ruin the outfit. This is why plus-size blouses for women with curvier bodies can be a boon, especially when purchasing off-the-rack.
As diverse as regular size blouses
What plus-size blouses and tops have in common is the use of certain flattering fabrics, patterns and designs to further increase the beauty of the look. For instance, stripes or dots are not frequently used plus size blouse patterns; plain but brightly colored luxurious fabrics like silk can look much more flattering.
On the other hand, there is no limitation to the kinds of ethnic embroideries and embellishments that can be used. Plus size blouse designs can include all the attractive regional techniques like intricate Resham, zari, gold thread, cutdana, Chikankari and beads work as well as motifs of flowers, fruits and leaves.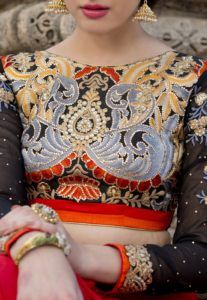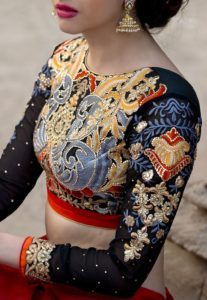 While certain fabrics like silk, cotton and chiffon are universally preferred for their comfort and style, nowadays, crepe, georgette, velvet and satin blouses are becoming increasingly popular choices, especially for special occasions.
A common and erroneous belief is that ladies' plus size blouses have to come with more conservative patterns in terms of sleeves, necklines and back necks. In actuality, both plus size blouses and shirts can sport all the more daring modern cuts like sleeve-less, halter neck, backless and deep neck. They are cut in a way that is attractive, stylish and in no way unflattering for a curvier figure.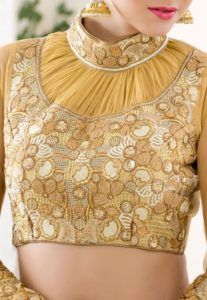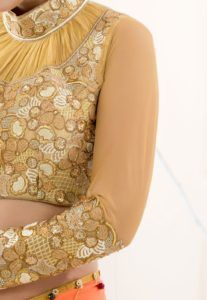 One can find beautiful blouses with varying necklines like collar neck, round neck, boat neck, v-neck, as well as differing lengths of the sleeve, from half and full to cap sleeves or puff sleeves. Dori-tied blouses with deep backs are not just reserved for svelte women. Paired with the right saree and accessories, they can look absolutely glamorous and suit varying body types.
Right size for the right drape
The ethnic look for plus-size women has been widely endorsed by curvy celebrities and Bollywood actresses. They have emphasized the importance of flattering ethnic garments like the saree. Trendy plus-size blouses when paired with even a simple saree can create a sensational look for a party.
One can go for a full-sleeve, collar-neck blouse, which are very trendy right now, and thus get an elegant figure and a high style quotient. This type of blouse would go well with a designer saree and gold earrings. When choosing a cut, women can concentrate on their best features and choose a design that flatters these.
For instance, those with generous cleavage can go for low-cut blouses with full sleeves to get a sensual yet classy look, while those with long arms can emphasize their long lines using a sleeveless design.
When it comes to plus-size blouses, women can pair them up following the typical ethnic fashion rules. One trendy look that works very well with a curvy figure is that of the crisp silk saree; heavier silk sarees drape beautifully on larger women.
Accessorizing
Paired with the right gold jewelry like bangles, necklaces and earrings, you can get a classic yet stylish look for a wedding or a festival. Match accessories like Thewa jewelry, pearl pendants and Meenakari bangles with the color and design of the blouse. It will give a chic and put-together look.
Plus-size blouses are hard to come by. At, utsavfashion.com, Indian tailors stitch customized blouses for all kinds of sizes that may range from size 26 to 66. Explore U-Design for more.