Footwear can make or break an outfit, sometimes literally. It is important not only in terms of the aesthetic or overall visual appeal of an ensemble, it also influences the fall, drape, and structure of the dress being worn. This is why when it comes to parties and special celebrations, choosing the right footwear is just as important as choosing the outfit and jewelry.
Party shoes are an essential part of every woman's wardrobe, no matter which part of the world she lives in. Shoes for the party are always more special and beautiful than ordinary shoes for daily wear. That being said, party wear footwear varies around the world.
Every culture has their version of attractive, special occasion shoes which are crafted with a lot of care. Of course, like with every category of fashion, there is a certain amount of cross-cultural influence which results in many interesting fusion ladies party shoes that have now become the staple in their respective cultures.
In Indian culture, for instance, women will find a mix of Indian, western and indo-western designs when they go shopping for party wear shoes online or at a store. Traditional varieties include the mojaris, which are flat heeled shoes made using leather and decorated with colorful thread embroidery and bead embellishments, Kolhapuri chappals, also crafted from leather, though with a single ring-toe design. The most popular traditional Indian party shoes for women are the juttis which are close-toed shoes that often come with intricate embroidered and sometimes embellished designs of pretty, artistic motifs.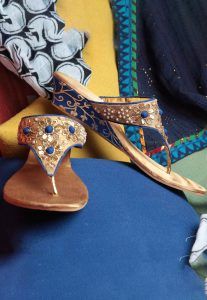 Since western style party shoes for women can be easily worn with Indian outfits like sarees, salwar kameez, and lehenga cholis, women wearing ethnic clothing often choose to go for such shoes. The main advantage of western style shoes such as stilettos, party heels, and platforms is that they add height and pair well with most outfits. Seeing this, in recent decades, many designers have come up with beautiful Indian versions of heels and stilettos. These party sandal heels come with gorgeous bejeweled designs inspired by Indian motifs, pretty gold thread embroidery, and attractive silken coverings. The strong Indian aesthetic of these shoes, combined with their stylish form, makes them the perfect accompaniment to glamorous Indian party wear.
Fancy party shoes can come with heels of varying heights, from small 1-inch kitten heels to towering 5-inch stilettos. Platforms, wedge heels, pumps, peep-toes and gladiator shoes are just some of the exciting varieties of shoes available in the market. These all have been adapted by Indian designers into fascinating ethnic footwear. The designs can vary from simple flowers and bows to elaborate, artistic depictions of natural scenes and shapes.
Variety of options
The trending party shoes during any fashion season will vary depending on the styles introduced on ramps by designers, and those worn on red carpets by celebrities. Some classic varieties like single tone heels or colorful mojaris remain popular irrespective of other trends.
Others, such as gladiators or wedge heels, have had a moment of immense popularity and have now become quite unpopular. However, at the end of the day, these styles and trends are just guidelines. Pulling off an ensemble is all about creating a pleasing, flattering visual aesthetic, based on the personal preferences, tastes and requirements of the wearer.
Styling with party shoes is all about understanding the ensemble and what it requires. For instance, sarees have a very particular drape and fall for which high heels are definitely required. High heels create the right posture for the body and this further brings out the beauty of the outfit. This also applies to floor-length Anarkali and lehenga cholis. With straight cut salwar kameez and kurtis, tunics and party wear tops, one can easily wear flat footwear.
One of the trickiest fashion questions when wearing party shoes is whether or not to go for a matching color. In general, it makes sense to select a shoe that matches at least one of the hues on the outfit. However, matching is not always the best policy. For instance, with a solid red salwar kameez with gold borders, a pair of gold pumps would be a better choice than red shoes. These would create an overly monotonous aesthetic. If there is silver work on the outfit, silver shoes would be a good choice. Certain colors like black, white, beige and tan pair well with a variety of colors and shoes in these hues are therefore a versatile choice.
Women can also pair shoes with jewelry and handbags being worn in the ensemble. Many women use shoes to color-block the outfit and create an attractive aesthetic look.