One of the hottest new outfits gaining recognition and popularity in fashion circles is the Pakistani shalwar kameez. These gorgeous traditional outfits have been around for centuries and are most commonly worn in the North of India and Pakistan, which is also the area they originate from.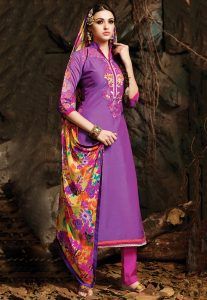 The floor sweeping beauty of the Pakistani shalwar kameez evokes the grandeur and regality of the Mughal courts. They have caught the imagination of the public and of high-end designers and trend setting celebrities. It is the next big style statement in ethnic fashion after the gorgeous anarkali churidar.
Amongst all the varieties of Pakistani dresses, shalwar kameez are the most well-known and widely appreciated. Though the salwar kameez in itself is commonly worn across the Indian subcontinent, the Pakistani shalwar kameez design is uniquely beautiful.
It consists of wide, voluminous trousers paired with a long, often floor-length kameez and a dupatta or odhini. It can sometimes be paired with churidars or normal salwar pants as well, but the long kurta or kameez is an essential part of the look.
They create an unforgettably elegant effect, as the long kameez looks both majestic and graceful. The baggy trousers are properly structured to produce a graceful look and are moreover extremely comfortable to wear and move around in.
To counter-balance the effect of the long yards of cloth the kameez is generally well-fitting, designed to emphasize the feminine figure and bring out beauty of all types of body shapes. The final effect is somewhat similar to a western evening gown, but with memorable ethnic twist.
Though nowadays there is a lot of experimentation with the traditional silhouette, necklines and long sleeves. The sleeves may sometimes be made of net to create a sensuous effect.
Varieties
There are many beautiful varieties of Pakistani shalwar kameez for women to explore. The traditional version is typically quite ornate, coming in rich colors and adorned with heavy embroidery and embellishments. This includes common embellishments like sequins, mirrors, stones and beads as well as unique ethnic designs like Aari, Booti, Zardosi, Kundan, Moti and so on.
Along with these, you will also find beautiful printed and woven designs showcasing effusions of pretty Indian motifs and patterns. Generally high-end fabrics are used to create Pakistani shalwar kameez, including organza, brocade, Banarsi silk, Jamawar Silk, Chanderi silk, net, satin, velvet, georgette and chiffon.
The most desirable items can be found in the Pakistani designer shalwar kameez collections. These have one-of-a-kind designs and usually come with innovative patterning and attractive embroidery.
They have a luxurious look and feel and this makes them perfectly suitable for grand occasions like weddings. In fact, they are frequently picked by brides as the bridal outfit for the special day.
Besides these designer varieties, there are also stunning items specifically designed for ceremonies, festivals and parties. They are designed according to the appropriate embellishments and fabrics.
Stay Trendy in Pakistani Salwar Kameez
The shalwar kameez Pakistani style is essentially a vintage item that has been around for many years.
However, it is enjoying a quiet renaissance at the moment with more and more designers featuring this unique style in their catalogues and several celebrities embracing the medieval elegance of these outfits. One trendy way of donning this outfit is to wear it as evening gown, without the dupatta. This adds a modern vibe to the look while still letting you enjoy the beauty of Indian designs.
Net layered salwars are frequently seen in fashion magazines and look ethereal, especially when paired with other luxurious fabrics like velvet and satin. This takes the luxury element of the outfit to the next level and makes it a perfect choice for weddings.
For parties, the more modern styles may be a hit, which combine a plunging v-neck with pretty border embroideries to bring in the sensual element without a hint of vulgarity.
Style it Right!
When dressing up in a Pakistani shalwar kameez for any occasion, the appropriate jewelry and accessories are a must. Pick out elegant Indian necklaces and bangles for a traditional look. Gold and silver necklaces will match well with metallic embellishments.
A hit red-carpet look that is definitely worth imitating is to pair large stone studded earrings with a gorgeous Pakistani shalwar kameez and embroidered clutch.
For formal occasions and weddings, a zari embroidered potli is not only appropriately ethnic but very stylish; the small size will off-set the large volume of fabric in the outfit. It is also important to pair these outfits only with heel slippers, as the long length of the outfit will not match well with flat shoes.