Navratri is one of the most popular festivals in India. It is celebrated in almost all parts of the country, from Punjab and Tamil Nadu to Bengal and Rajasthan, but the most colorful and profuse celebrations take place in Gujarat. It takes place multiple times in a year.
Sharad Navratri is one of the most, if not the most, important festivals in Gujarati culture. The festival celebrates the triumph of good over evil, with goddess Durga being the key deity at most celebrations.
She is celebrated in all her different avatars in India during this nine day festival. Taking place sometime in September or October, this festival culminates in the splendid Dushera or 10th day celebrations.
Each of the preceding 9 days holds a different significance altogether. In Gujarat and nearby states, Navratri celebrations include night long dance festivals in which people gather to dance to traditional and modern music. Though this is used as an opportunity to celebrate and party by most young people, the traditional element is still strong.
One of the most popular dance forms of these celebrations is Garba, which is an energetic and graceful dance style inspired by the dance of Krishna devotees of yore, and Dandiya, a fun dance practiced with colorful sticks. To many people, the most important and most traditional aspect of this festival is the clothing.
Navratri dresses are extremely colorful and traditional in their look. This is the time to dress up to the nines with no efforts spared. People spend months putting together the perfect ensemble for each day of this festival.
Festive Wear
Navratri clothes are carefully chosen with every aspect, from the color and cut to the designs, work, silhouette and embellishments, getting due attention. Many women prefer to wear glorious, personalized outfits for each day of the festival that are not only traditional but also stylish.
A different color is supposed to be worn on each of the nine days. Many celebrations have an award or multiple awards for 'best dressed'. Moreover, in most communities, Navratri is the time when people get to flaunt their fashion sense. People wait for this time of the year so that they can deck themselves in bright and beautiful Navratri costumes of different types. Navratri fashion encompasses many different types of outfits.
Lehenga Choli
The most popular and commonly seen one is the chaniya choli, available for purchase as Navratri chaniya choli online which is a regional version of the famous lehenga choli outfit worn all over India. It consists of a long skirt fastened around the waist with a drawstring, which is a fitted blouse called the choli.
It ends just above the navel. You also have a heavy, long scarf called the dupatta. A Navratri chaniya choli collection will generally have circular fall skirts with a very voluminous drape.
This type of skirt, popularly known for lehengas for Navratri, is well-suited to the elaborate and energetic Navratri dance moves; the skirt flairs out beautifully as women dance and twirl to the beats of the music. Navratri choli designs, on the other hand, vary quite a bit. In fact, girls often use the choli as a tool to personalize their outfit and make it more modern or sometimes, even sensual. Cholis with daring designs like backless cuts, deep necklines or sleeveless patterns have become quite popular with women who want to imbibe a more western aesthetic in their look.
Saree
One of the most popular traditional Navratri outfits is the sari. Bandhini or Bandhej saree from Gujarat and Rajasthan are the most commonly spotted ones at any Navratri celebration. They are distinguished by their use of the unique tie and dye technique called Bandhej, which results in brilliant striations of colors and interweaving patterns.
The lehariya design, consisting of white dots against rippling red lines is the most popular, though other regional variations are also conspicuous by their presence. Most Navratri garba dresses, whether sarees or lehenga cholis, are made using comfortable materials like cotton and silk, which allow the dancers a lot of flexibility and don't restrict their movements.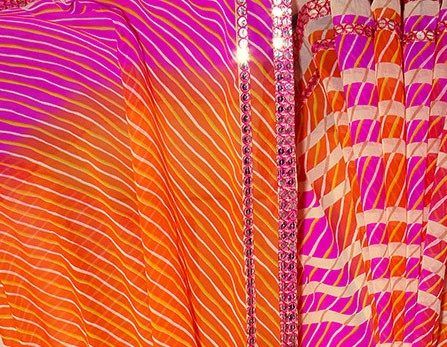 Overly heavy embellishments are generally avoided, though you can often see intricate resham work, sparkling mirror work designs and patch border patterns decorating a Navratri garba dress.
Trends of the Moment
Online shopping has become a huge commercial trend in the world, which has enabled women residing in different countries to find and buy authentic Navratri dresses online. There are many beautiful, traditional Indian jewelry, which they can purchase to complete the ensemble.
Women often opt for heavy oxidized silver jewelry sets consisting of an ornate necklace, bangles, earrings and mang tikka. This is a typical combination used to accessorize Navratri chaniya cholis.
However, women can also go for interesting alternatives like colorful glass bangles, Indian earrings or jhumkas, nose rings or nath and much more. A pair of colorful, embroidered jutis in a matching shade/s will complete the ensemble perfectly.