Indian fashion is a truly amazing treasure trove of gorgeous designs, patterns and textiles. From ancient embroidery techniques that have been practiced and honed for many centuries to gorgeous innovations incorporating western aesthetics into Indian garments, there is something for every fashionista here.
Every area has unique crafts and techniques, which are traditional and immensely beautiful. One such interesting technique is mirror work, which, as the name suggests, is created using tiny mirrors. One of the most popular garments adorned with such work is the tunic or kurti. Mirror work kurtis have become extremely trendy not just in India, but all over the world. These are uniquely Indian garments with an undeniable and distinct ethnic charm.
Kurtis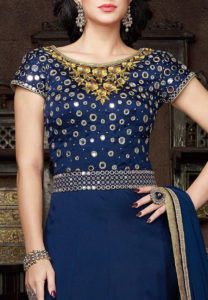 Kurtis with mirror work are garments from a very specific region of India that have become popular across the world. Mirror work is originally from the desert state of Rajasthan and its western neighbor, Gujarat. It was here that women learned how to work with tiny, chipped pieces of glass and mirror and transform them into decorations and embellishments, which could actually be sewn into fabrics.
Beauty of mirror work kurtis
There is an international demand for mirror work kurtis; online shopping has made it possible for this demand to be fulfilled with just a few clicks. As women buy mirror work kurtis online, India or abroad, they should make sure they pick up a few interesting pieces of jewelry as well to complete their ethnic ensembles.
In terms of bottom wear, women can go for both Indian and western options. This means that a mirror work kurti will look equally stylish when paired with a pair of cotton leggings and Indian trousers like salwars or churidars.
To complete the ensemble, women can go for traditional Indian jewelry styles, which complement the vibrant ethnic vibe of these garments. For instance, a complete oxidized silver jewelry set will beautifully off-set the shine of the mirror work.
Heavy Indian jhumkas or earrings and colorful bangles will also work well. Embroidered leather mojaris and an Indian tote bag will complete a funky Indian ensemble perfectly. For a more western look, women can opt for heel sandals and a printed handbag.
Mirror work tunics have a very unique ethnic flavor and are typically reserved for special occasions owing to their distinctive sheen and shimmer. The tiny mirrors can come in all types of shapes, though they are mostly small.
They are created using innovative techniques to make them safe and to remove the risk of injury through cuts. Essentially, a naturally occurring material is polished until it achieves the desired mirror-like shine.
Trending designs
A mirror work kurti can have designs all over the garment, created with mirrors. These are the heavier, more festive type of kurtis. For the more casual varieties, a lesser concentration of mirrors are used, and they are often interspersed with other types of embroidery techniques.
Here, the mirror work design for kurtis is concentrated in one place as opposed to being all over the outfit. The mirrors can be artistically displayed around the neckline or arranged in a neat row along the borders. This way, the weight of the outfit is reduced without giving up on the unique sparkle, which mirror work lends to any outfit.
The range of fabrics and colors is also quite vast. Cotton is one of the most popular base materials for mirror work kurtis, probably because it is both sturdy and comfortable. It is often dyed into brilliant shades of yellow, red, orange, purple, green and pink, which further bring out the beauty of the mirror work designs. Silk and georgette are two other materials that are often used to make mirror work tops.
The soaring popularity of Indian fashion in international circles has propelled the foray of many reliable ethnic fashion brands into the world of online shopping. This is why it is actually very easy for women living abroad to browse all kinds of mirror work kurtis online and have them delivered right to the doorstep. Thus, women living in countries like U.S.A., U.K., Singapore and Australia can easily obtain this traditional, regional type of garment.