One the most popular variations of the tunic outfits are the long sleeve tunics. These are essentially long tops, falling anywhere between the hips and the knees, with long sleeves that cover the arm till the wrist. Tunics of all types have become very trendy right now, and the sleeve length plays a big role in the over-all appeal of the look.
Long sleeves are perhaps the most versatile sleeve style, since they can be worn in all weathers, and suit all body types. Moreover, a long sleeve tunic can be formal or informal, simple or ornate, modest or sensual, depending on the cut and style of the garment.
Modern tunics are descended from the ancient garments worn by Greeks and Romans. Of course today the style has evolved from the classic cut, in which long sleeves were typically not included. On the other hand, Indian tunics, also called kurtis, traditionally come with a loose fit and long sleeve style.
In any case the most commonly found type of long sleeve tunic tops today is indo western, incorporating the best of both worlds. These tunics tend to have a comfortable fit, versatile look and airy feel and are hence very popular with women across the world.
So many options to choose from
When it comes to the long sleeve tunic top, there are many varieties to choose from. The length of the tunic can vary from just below the hips to all the way till the knees, or sometimes even below the knees. Long sleeve tunic dresses have a very sophisticated and modern vibe, with a flattering fit and feminine drape that perfectly enhances the curves of the body in a modest, charming manner.
The sleeves can either be well-fitted, with buttons or zips, or loose and free-flowing. The hippy style flared out long sleeve tunic dress is very trendy right now, along with the comfortable parallel or straight cut sleeve style. A more sensual variation is that of the transparent sleeves; made of soft, translucent materials like chiffon, net or lace, these sleeves allow a woman to combine sensuality with elegance. Long sleeves can also be adorned with puffs, ruffles or other fabric based adornments.
Long sleeve tunics for women can be formal, informal or casual, depending on the designs and color schemes. The preferred fabrics for casual wear include pure and fine cottons, khadi and faux silk and georgette varieties, while for special occasions long sleeve tunics made of pure silk, georgette, chiffon and crepe are more popular.
Obviously, each fabric drapes and fits in a different way which also affects the look and feel of the garment. Silk is soft and comfortable, while cotton allows the skin to breath. Chiffon is more sensual and body hugging, while crepe has a more formal and stiff look.
The long sleeve tunic pattern also varies depending on the 'type' of outfit it is. One can find vibrant printed tunics with ethnic motifs of flowers, fruits and birds as well as warli, Batik and Ikat block printed designs. The evening wear long sleeve tunic tops for women will be more ornately decorated with Resham embroidery, zari work, cut dana work and aari work. Western embellishments like stones, sequins and beads are also used a lot. The designs, whether elaborate or simple, can be focused either around the placket or neck region or all over the tunic.
Style tips
One of the greatest attractions of a long sleeve tunic is how versatile it is. With just a few of these garments, one can mix and match quite easily to create different looks. Obviously in this context styling is of the utmost importance. For instance, a plain black long sleeve tunic with a fitted silhouette must be balanced out with printed leggings or colorful leggings in a contrasting hue, to prevent the over-all effect from being too severe.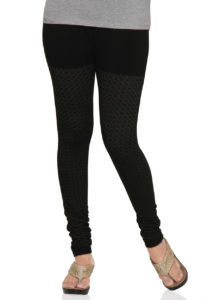 Similarly, a white long sleeve tunic is the perfect summer outfit if it is teamed up with colorful pants, skirts and accessories like a large handbag and chunky Indian jewelry. This kind of contrast styling prevents the outfit from looking to dull or boring and at the same time, is considered very trendy right now.
If a more formal look is desired, tunics should be paired with leggings in complementary colors. Therefore a black long sleeve tunic dress will look the best with white, navy blue or brown leggings rather than pants in a bold or exactly matching shade. The jewelry will depend on the embellishments or prints on the tunic. Obviously, hand jewelry like bangles and bracelets are pointless with long sleeve tunic tops. Instead, one can go for large stone studded necklaces, terracotta necklaces, pearl pendants, dangle earrings and outsized rings.