The Beauty of Digital Printed Lehenga
Lehenga cholis are one of the most stylish and beautiful Indian garments, worn by women across India for various special occasions. They have even become internationally recognized nowadays and have inspired some famous international designers as well.
The designer lehenga is actually an extremely traditional garment that has been worn for many years by women in rural areas in their day-to-day lives. It is only in the last 50 years or so, and especially since the '90s, that lehenga fashion has really come into its own. Now, digitally printed lehengas are one of the favorite garments of high-end designers and come in a vast range of trendy and glamorous designs.
Different Types of Prints on Lehenga for Different Occasions
When it comes to Indian high fashion, lehenga cholis are one of the most popular and coveted garments. They have been re-invented in a lot of different ways, not just by adapting more Western silhouettes and styles but also by including a wider range of regional embroideries and embellishments. A floral lehenga is most often an exclusive designer garment, adorned with the most exquisite patterns. It can be trendy, traditional, conservative or modern; it can even be a combination of all of these.
The floral patterns come in a variety of forms to suit different tastes, from delicate and sporadic to strong and huge. The lehenga truly stands out thanks to the harmonizing contrast that is produced by the vibrant blossoms and the immaculate white background.
A floral pattern on a white lehenga expresses grace, femininity, and a hint of natural beauty, whether it's a wedding, festival, or joyful event. It seamlessly blends heritage with modern design, making it a classy and alluring option for fashion-conscious people.
This lehenga dress often comes with trendy patterns, motifs and cuts. The fish tail or mermaid cut, for instance, is an extremely popular cut for fashionable lehenga cholis as it is not just flattering but also extremely elegant looking. Another beautiful lehenga choli is the one that comes with an Anarkali silhouette with bold floral motifs.
These have an a-line skirt and a corset-like fitted blouse, over which an Anarkali jacket or long shrug is worn to get the distinctive umbrella-shaped silhouette for the garment. A vintage type of skirt that has recently come back into fashion once more is the circular lehenga.
This type of beautiful lehenga has a wide circumference and a beautifully voluminous drape and is considered one of the most comfortable lehenga choli styles in the market.
However, a digitally printed lehenga choli can incorporate the innovation and style in the choli as well as the lehenga. The traditional long choli which resembles a kurta or tunic is a classic style that is being increasingly appreciated today; however, a new fashion golden lehenga is most likely to have a more daring and flattering choli style.
These are usually very well-fitted, resembling a corset in their cut and appearance and typically end just above the navel, to leave a lit bit of the waist tantalizingly visible. The necklines incorporated are often daring ones such as the deep neck, the keyhole neck, the u-neck, the sweetheart neck or the halter neck, though of late the high neck and collar neck designs are also making a comeback.
The high neck design is often combined with a back-less or cut-back design which is tied with doris or colorful strings. The latest digital printed lehengas are also paired with cholis having unconventional sleeves such as cap sleeves, puffed sleeves, spaghetti straps or full sleeves.
Lehenga cholis are usually available in a vast variety of fine fabrics, both Indian and Western. From the finest silks to the heaviest brocades, from delicate chiffons to graceful georgettes, a new fashion lehenga can be made of a number of beautiful textiles.
The latest fashion of lehenga fabrics is to layer different fabrics one over the other. Mostly transparent materials like net, tissue and lace are used to make the top layer, under which a lustrous fabric like silk, satin and velvet is added.
This creates a very regal and majestic look for the garment and also increases the opportunity to add embellishments. The paneled lehenga is a type of latest fashion lehenga that comes with rich and elaborate panels which are often made with different fabrics, thus further increasing the opulence and beauty of the outfit.
Additional Reads: How to Style Your Lehenga Choli for Festivals?
Styling your digital printed lehengas
Designers often have a lot of rules about how to pair up digital printed lehenga cholis but one does not have to take to fashion designing lehenga cholis to understand how to properly style this kind of outfit. The main thing to remember is to choose accessories and Indian jewelry that complement the lehenga choli and its colors, designs and patterns.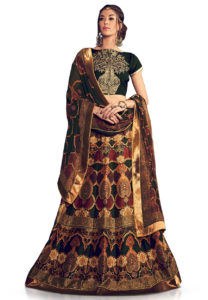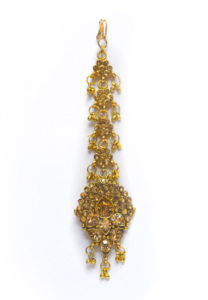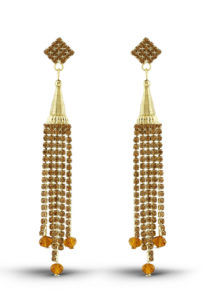 When wearing a simpler lehenga, the latest fashion jewelry like beaded necklaces, imitation gold necklaces and artificial pearl necklace sets are a good bet. On the other hand, with a more ornate and formal wedding lehenga, the accessories will necessarily have to be equally ornate in their look.
Women can browse traditional Indian jewelry such as Kundan jewelry, Polki earrings, Thewa sets and Meenakari bangles to match these types of lehengas. The latest trend when styling fashionable lehenga cholis is to go simple with a single pair of dazzling crystal earrings and a beaded clutch.