The lehenga choli is one of the most notable types of Indian ethnic wear as it is considered to be the quintessential wedding outfit to wear during the wedding season. Women across all demographics prefer wearing this garment solely because it is immensely flattering and also extremely easy to carry. Unlike a saree, where women must place pins and tucks in all the right places to prevent the garment from getting undone, the
Unlike a saree, where women must place pins and tucks in all the right places to prevent the garment from getting undone, the lehenga choli can just be worn and forgotten about, in terms of carrying the garment. Moreover, though it is a traditional garb, it is available in many modern designs and patterns which makes it very appealing to women today.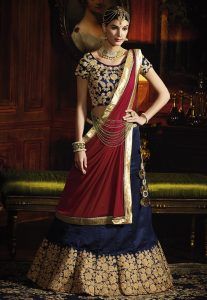 There are three main components to this garment. The first is a choli which is similar in terms of the cut to the western crop top. This is one of the most identifying characteristics of a lehenga outfit. Choli designs can vary on the basis of the design of the outfit itself although many cuts can be used across all patterns or embroideries.
Choli Designs
Backless cholis, as well as sleeveless cholis, are some of the most popular styles worn by women as well as the more traditional fitted tunic cholis or full sleeve cholis. The second component of the lehenga is the long skirt that reaches the ankles. This skirt is almost always heavily embroidered and can feel a little heavy when worn. The patterns or embroidery on this component are usually in sync or complimentary to the ones on the choli itself.
The third component is the dupatta which ties the whole ensemble together and can be draped in a variety of different ways, depending on the tastes and preferences of the woman wearing it. Together, these components create one of the most alluring ensembles to come out of Indian ethnic fashion.
Bridal Lehengas
A bridal lehenga choli generally refers to a set that is designed for the bride and is immensely elaborate in nature. It is known for being one of the heaviest items a bride can wear, both in terms of the amount of work done on it as well as the actual weight of the garment itself. A wedding lehenga choli on the other hand, refers to a set that can be worn by guests and family members during any of the wedding ceremonies.
While these are also quite opulent, they are nowhere near as elaborate as the garments that are designed just for the bride herself. A Bollywood lehenga choli refers to a set that is inspired by Bollywood trends, specific movies or even specific actresses and these are meant to be extremely glitzy and glamorous looking. They can have sequins on them and are known for being slightly loud and shimmery.
They can be worn to weddings as well. Kid's lehenga choli refers to the sets that are designed specifically for children. These are toned down in their look and are designed to be more comfortable and free-flowing. Thus, lehenga choli designs for wedding come in more than one variant and are extremely popular regardless of their type.
The latest lehenga choli styles for weddings and special events tend to incorporate the latest lehenga choli designs seen on the runway and these can vary depending on the designer collection that the set in question belongs to. A designer lehenga choli is usually worn for higher end weddings where women are known to pay an extravagant amount for one outfit. However, it is also acceptable to wear a store bought set that does not cost too much, especially for the non-higher end weddings.
It is extremely easy to get one's hands on a lovely lehenga choli. Bridal showers and other pre-wedding occasions are a great time to take a look at the kinds of garments that will be worn, which allows women to discern how subtle or loud their own garments should be as well; this helps them make snappier purchase decisions when it comes to the main wedding lehenga choli.
For bride, or bridal sets, women purchase their attire months in advance from their showrooms of choice as brides need the garment to be perfectly fitted. Some bridal lehenga choli designs also incorporate the use of heavy duty Kundan work to make the garment even more exquisite. There are more than enough variants in the market for brides with different tastes.
Style Tips
When it comes to lehenga choli for girls who are either a part of the family or are friends of the bride, wearing intricate Indian jewelry is a must as the closer a person is to the bride, the more they are required to look great. It is often customary for brides to wear more than one set of jewelry and some of the most commonly spotted sets during weddings are Kundan sets, Meenakari sets and Polki sets because they are so exquisite and lovely to look at.