Pattu sarees are a traditional and popular choice amongst women for weddings and festivals. The saree dress is an elegant piece of clothing, but the blouse completes the look. The beautiful pattu saree blouse designs can elevate any pattu saree, making it perfect for special occasions.
Plenty of options are available today when choosing the blouse designs for your pattu sarees. From classic styles to modern trends, you can experiment with different looks and find the one that suits your taste.
In this article, we've compiled a list of the latest blouse designs in pattu sarees for weddings and festivals that will turn heads! Whether you prefer something simple or elaborate, there's something here for everyone. So without further ado, let's look at these gorgeous designs and get inspired!
 Pattu Saree Blouse Designs that are Trending in 2023  
1. Simple and Elegant Blouse Design
This design is perfect for those who prefer simplicity over heavily embellished blouses. The blouse is made of silk fabric with a boat neck style and elbow-length sleeves.
2. Heavy Embroidered Blouse Design
The blouse has heavy embroidery work on the neckline, sleeves, and backside with intricate designs in gold threadwork.
3. Cold Shoulder Blouse Design
These modern pattu blouse designs have been trending for a while now and show no signs of slowing down anytime soon! The cold shoulder blouse features cut-outs on the shoulders that add an edgy touch to your saree look.
4. High Neck Blouse Design
These pattu saree blouse designs feature a full-sleeved pattern with intricate embroidery work around the neckline area, making it suitable for formal events or weddings.
5. Halter Neck Style Blouse Design
If you want to show off your toned arms or have broad shoulders, this halter neck style blouse would be perfect! This trendy piece is made from soft silk fabric and can be paired with plain or printed pattu sarees.
Popular Pattu Saree Blouse Designs to Try On
1. Off-Shoulder Blouse
Off-shoulder pattu blouse designs have become famous for weddings and festivals. This style is perfect for those who want to show some skin without being too revealing.
2. Cold Shoulder Blouse
This is a smart option for those looking to add contemporary flair to their traditional saree look. These pattu saree blouse designs feature cut-outs at the shoulders, creating a unique and alluring silhouette that flatters all body types.
3. Peplum Blouse
This type of pattu saree designer blouse has become a popular choice for weddings and festivals among women. These pattu blouse designs feature a fitted bodice that flares at the waist, creating a flattering silhouette.
4. Backless Blouse
It has been a popular trend in the Indian fashion scene for quite some time now. It is an elegant and bold choice that instantly elevates any saree look. Backless blouses come in various styles, such as halter necks, spaghetti straps, and deep V-neckline.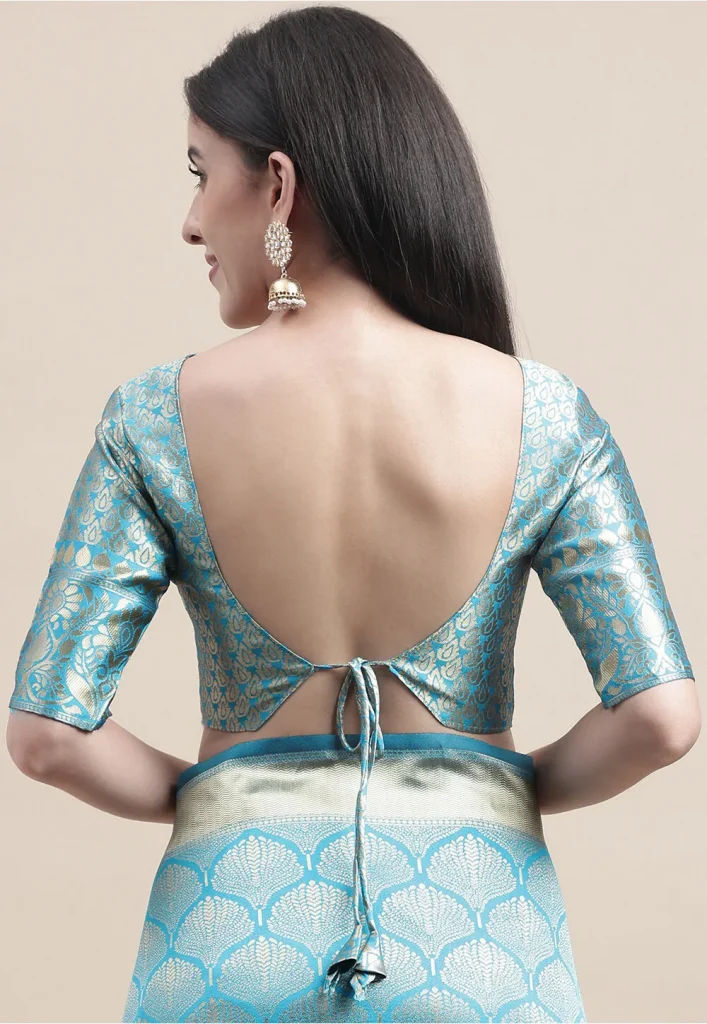 5. High-Neck Blouse
The high-neck blouse is a classic style that has returned to fashion. This elegant design features a neckline that sits higher than the standard blouse, usually covering the collarbone and sometimes extending up to the neck.
6. Cape Blouse
The cape blouse is popular for wedding sarees for brides and festivals due to its elegant and sophisticated look. This style features a flowing fabric addition that drapes over the shoulders like a cape, adding an extra dimension to the outfit.
7. Corset Blouse
The corset blouse has recently become popular for weddings and festive occasions. This type of blouse is designed to mimic the look of a corset, with structured boning that cinches the waist and supports the bust.
8. Halter Neck Blouse
The halter neck blouse is one of the latest trends in pattu saree blouse designs. It is perfect for weddings and festivals, offering an elegant and sophisticated look. This style features a high neckline that wraps around the neck, leaving the shoulders bare.
9. Sheer Blouse
The sheer blouse is a timeless and versatile piece that can elevate the look of any saree. It's a delicate fabric, and its mere appearance makes it perfect for weddings and festivals, where you want to look your best. The latest pattu saree blouse designs with sheer fabrics are popular this season among fashion enthusiasts.
10. Full-Sleeved Blouse
The full-sleeved blouse is a versatile piece that can be dressed up or down to suit any occasion. This iconic blouse design has been revamped in recent years with modern embellishments and intricate embroidery patterns, making it a must-have for weddings and festivals.
Tips to Choose the Right Pattu Saree Blouse Design
Choosing the right pattu saree blouse design can make or break your entire look. With many options available, selecting the one that complements your saree and enhances your beauty might be daunting. If you have a heavily embroidered saree, opt for a simple yet elegant blouse design that doesn't detract from the saree's beauty. On the other hand, if you have a plain saree, go for an intricately designed blouse to add some glamor.
Consider comfort when choosing a blouse design. It should allow ease of movement and not compromise on fit for style. A well-fitted blouse accentuates your curves and gives you confidence throughout any event!
Conclusion
The latest Kanchi Pattu sarees blouse designs perfectly suit weddings and festivals. These designs come in various colors, patterns, and styles to suit your preferences. Whether you prefer simple or elaborate designs, there is something for everyone.
The intricate detailing on these blouses showcases the rich culture of India. Each design is unique and eye-catching, from golden zari work to delicate embroidery. You can pair these blouses with traditional silk sarees or modern fusion wear such as skirts or palazzos.