The langa davani is a half-saree from Karnataka, also called the langa voni in Andhra Pradesh and the pattu pavadai daavani in Tamil Nadu. This traditional two piece saree was originally worn in South India mostly by young girls. The 'half' saree is considered the half way saree for girls who have reached maturity but are not yet married or are on the brink of marriage.
It is often given as a gift in coming of age functions to represent the girls' new found maturity as she can now handle wearing a more complicated outfit than the simple skirt and top that children wear.
The davani saree resembles a saree in looks but is more similar to a ghagra choli in design. It consists of a skirt fastened with a drawstring around the waist and a fine cloth about 2 to 2.4 meters long called the davani attached to the skirt and thrown over the shoulder like a pallu.
The final piece is the blouse. Davani sarees are much easier to wear than a saree and this is their main advantage. Though you get the saree look, you only have to slip on the three pieces and pin them in place without having to bother with draping, pleating and so on.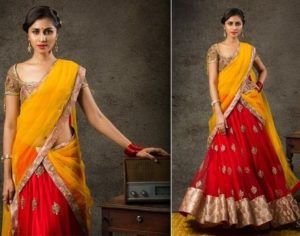 Traditional langa voni designs are more on the simple side, with the color range not venturing beyond the expected shades of green, yellow or red. The most important ornamentation would be the borders, which can be gold print or with small motifs of religious and natural stylizations.
Silk is the most popular and beloved fabric in the south of India and the use of this luxurious material was the only 'dressy' aspect of a traditional langa davani dress. However for less important ceremonies and festivals, cotton and coarser silk fabrics were used.
Evolution
Over time, this outfit has evolved; with a renewed interest in traditional forms comes an increased desire for experimentation and innovation and that is precisely what happened with the davani sarees. From variations in blouse designs to variations in skirt designs, one can find a lot of newer patterns and cuts besides the loose, straight-fitting classic design.
This includes mermaid cuts, a-line skirts and flare skirts as well as blouses with varying sleeve lengths and different necklines. One can also find langa vonis in the colors of the rainbow, including the trendy neon shades of green, blue and purple; traditionally inauspicious colors like white, black, grey and brown are also found in davani catalogues nowadays.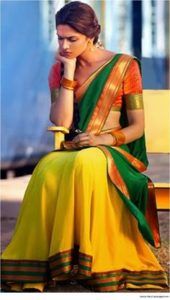 The langa voni latest designs also incorporate more elaborate embroidery and embellishments than previously seen, from zari and Resham work to stones, beads, sequins and appliqué designs. Silk and cotton support a wide variety of patterns and work and designers are taking full advantage of that to adapt the basic langa voni design into more ornate styles, resembling a more north Indian ethos. At the same time trendy fabrics like georgette, chiffon and crepe are increasingly being used along with silk and cotton.
Dress the part
There was a time when a davani collection could only be found in south India, since they were practically unknown elsewhere and even in south India, were only worn on ceremonial and religious occasions. In recent times, however, the langa davani saree has become quite trendy and is now worn across India.
Designers have come up with new, high-end varieties of this traditional outfit while Bollywood movies with a focus on southern cultures have increasingly showcased the authentic styles. Thus, women everywhere are seen wearing a langa voni, for parties and special events as well as for ceremonies. It becomes a fun way to deviate from the expected ethnic fashions while still being quite fashionable and incorporating a traditional element.
Langa voni sets should be accessorized according to the occasion and the look one wishes to achieve. For religious and cultural events, going for gold jewelry would be the most appropriate. The classic look emphasizes simplicity and this can be achieved by sticking to subtle but beautiful gold pendants, earrings and glass bangles.
Accessorize it right
However the newer, more modern and ornate varieties can be dressed up according to the designs and colors on the saree. A stone work half-half saree can be matched up with stone studded necklaces and dangling earrings. Such a look would be appropriate for a party, where a more westernized, glamorous vibe is expected.
At the same time even traditional jewelry like colorful Meenakari necklace sets can add beauty to the outfit without looking out of place. The color of the Meenakari necklace design can be matched to the langa voni designs for a put-together wedding or party look.
Find a truly traditional range of ethnic outfits and temple jewelry at utsvafashion.com.