Indian culture is a haven for textile connoisseurs and embroidery enthusiasts. Both designers and fashion divas from around the world love to find new and exciting varieties of garments, and make them a staple part of their wardrobe. This new found love of traditional textiles from India has provided a great impetus to these age-old industries from the corners of India.
Many of them have been given a new lease of life today and are starting to flourish once again. One such amazing textile that has been rediscovered in recent times is Kota doria. This soft, light-weight and beautiful fabric is used to make all types of garments, from sarees and kurtas to scarves and skirts, but the most popular one at the moment is the Kota salwar kameez.
Kota Doria salwar suits are made using an exclusive open weave technique that has been practiced by weavers in Kota village and surrounding areas for many centuries. Situated in Rajasthan, the village Kota after which the textile is named is not the only one where such methods of weaving are practiced.
These techniques travelled here in the 17th century from Mysore, where they are still used to this day. However, they were refined and perfected only in Kota, which is why this special fabric is termed 'Kota Doria' and is used to make typically Rajasthani suits and salwars.
Unique textures and weaves
Kota suits are distinguished by their fine, light-weight appearance and checkered weave. The fabric is woven using cotton or cotton-silk. The techniques of weaving retain the strength of the fabric while still creating a delicate, translucent appearance. Small checks subtly shimmer in the weave, which is often bordered with a thicker silk fabric.
A Kota Doria salwar kameez is the perfect summer outfit: light-weight, comfortable and thin, with an airy feel and gauzy texture. Though traditionally it was only available in white, nowadays, all types of colors are used.
Kota cotton suits will differ from the ones made with silk. The former tend to be more breezy, comfortable and absorbent in accordance with the properties of cotton. Cotton Kota fabrics are typically used to create casual wear outfits while Kota silk salwar materials are usually reserved for the fancy, special occasion suits. The silk gives the outfit a beautiful shimmer and adds a graceful drape and fall, which makes it look extremely flattering.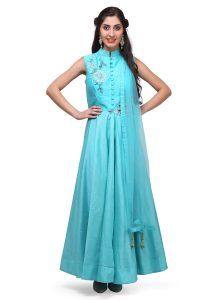 When it comes to Kota Doria suits' designs, the variety is amazing. You can find pretty anarkalis with the perfect fit and elegant flair along with simple, straight cut suits meant for office wear. Though the square checks, called Khats are present in every variety of the fabric, they are further complemented with intricately embroidered borders with interesting floral and leafy motifs. Woven using handlooms, Kota Doria salwar suits are of three types: basic, printed and zari.
The basic one is usually plain, in a muted shade, with little to no additional designs. The printed one will usually come with vibrant ethnic prints, which enhance the suit's appeal. The fanciest of the lot is the Kota Doria salwar that comes with gold thread work all over the fabric. It is both elegant and opulent, a sumptuous melding of soft, dreamy aesthetics with rich designs. This fabric is often used to create designer varieties of Kota salwar kameez, which incorporate western cuts and bold necklines.
Style tips
Kota Doria salwar kameez were immensely about popular a century ago, and they are rapidly regaining their lost vestige today, thanks to the efforts of the government. There is a renewed interest in such gorgeous textiles from remote corners of India. This has created an international demand for them, one which is easily fulfilled with the help of efficient modern technology. For instance, women located around the world can easily get Kota Doria suits online and have them delivered right to their doorstep. A trip all the way to Kota in Rajasthan would not be necessary to obtain authentic varieties of this pretty ethnic garment.
Women can also purchase beautiful Indian accessories and jewelry styles to complement their Kota salwar suits. The kinds of jewelry they wear will depend on the look they want to achieve. For instance, to get the classic Rajasthan inspired aesthetic, women should pair up zari work Kota salwar suits with Kundan necklaces, earrings and bangles.
Colorful, enameled Meenakari bracelets and pendants would beautifully break the monotony of the classic Kota salwar suit which comes in simple shades of white and dull gold. For formal events and office wear, women can opt for understated yet elegant jewelry pieces such as pearl necklaces and silver earrings, which would complement the delicate beauty of the Kota Doria fabric without overwhelming it in any way. Metallic heel sandals and an embroidered handbag would complete the outfit perfectly.