Kosa silk sarees are one of the most popular saree dresses in India, much loved for their beauty, comfort and sturdiness. These beloved Indian sarees are produced in Chhattisgarh, a state located in the center of India. Kosa silk is produced today in cities like Raipur and Champa but traditionally, this exclusive silk fabric was only produced by the Dewangan tribe which resides in the Gondwana forest belt.
The tribal, forest origins of the Kosa silk saree have greatly influenced the kinds of gorgeous nature inspired designs seen on it, even though today this saree is highly in demand across India and the world. It is available in both traditional and modern varieties.
To this date, this fabric is exclusively produced in India.
Unique & Truly Indian Fabric
The main distinguishing factor of the Kosa silk fabric is that it is produced using threads from a special type of silk worm called Kosa which is specially grown in Arjun, Saja or Sal trees in forests in the center of India.
The threads thus produced are quite coarse in their texture but it is this coarseness that sets them apart and hand-woven, pure Kosa sarees are often priced higher than the fine silk versions like Banarasi Silk Sarees.
Kosa silk sarees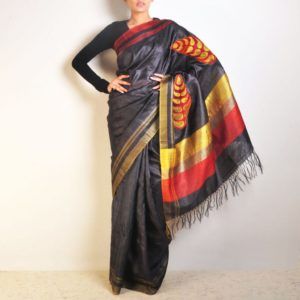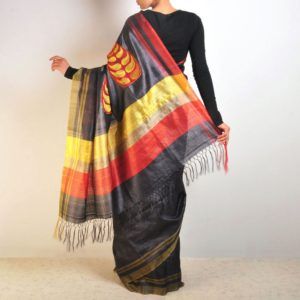 Kosa Silk Sarees (source: Tadpolestore)
The gorgeous and beautiful Kosa silk sarees are not only distinguished by the heavy, bumpy yet graceful look of the fabric, they are also known for the beauty of the designs woven into them.
Typical patterns such as the Jaala (net) and Fera weave patterns are often used in these sarees to create unique, artistic designs inspired by natural scenes (especially those from the forests), tribal tales and mythological stories. The contrast of the rich gold shade of the original fabric against the bright natural dyes used for the designs and patterns creates a very attractive aesthetic effect for the sari and really sets it apart from any other type of silk saree .
Nowadays, all types of modern designs as well as ethnic designs from other parts of the country are used to decorate Kosa silk sarees, creating a vast range of varieties for women to choose from.
Types of Kosa Silk Sarees
The Kosa worm is quite rare and the cultivation of it is very labor intensive which is why many Kosa saree types are woven in combination with cotton or polyester threads to bring down the cost of the garment. When it comes to the traditional, highly coveted Kosa silk, Chhattisgarh is the main center of production.
It is considered a sub-type of Tussar silk, though it has several distinguishing characteristics which have made it an extremely popular sari fabric. The sarees made with this fabric are known for their distinctive, uneven texture and pure quality.
The classic Kosa saree comes in natural shades like pale gold, fawn, cream, honey, orange and so on. Natural dyes are used to create interesting designs and/or to dye the entire Kosa saree. These include colors like yellow, sourced from the fire flower and deep red from Lac. Nowadays, of course, chemical dyes are widely employed to dye these saris in a wider range of colors such as blue, purple, green etc.
For women who want to purchase authentic and high quality Kosa silk sarees, Utsavfashion.com is a great place to look. One can get these sarees online in order to save on the extra time and money which will be required to travel to the source.
However, it is important to opt for reliable ethnic fashion retailers who are known to sell true quality, authentically sourced products. A good way to check is to make sure they offer the 'Silk Mark' for their silk products. This is a label offered by the Ministry of Textiles in India to distinguish authentic handicrafts and silk textiles.
Wearing the saree on weddings or traditional occasions
Kosa sarees are considered auspicious, traditional saris in the region where they are produced and are therefore the number one choice for important functions and ceremonies such as weddings, festivals and celebrations. Many women from other parts of the country consider these a great ceremonial or festival wear option because of their combination of beauty, comfort and traditional designs.
At the same time, the modern and sometimes designer varieties of Kosa sarees are highly valued for their style quotient and can be a great way to dress up for a wedding or party.
The best way to accessorize Kosa silk sarees is with traditional indian jewelry such as gold necklaces, earrings, fancy bangles and mang tikkas. The tribal vibe of these garments will also match well with funky tribal necklaces, dokra earrings, beaded jewelry sets and oxidized silver bangles.
The color of the saree should determine the color and materials in the jewelry. Thus sarees with thick gold borders should be paired with gold jewelry while plain and vibrantly shaded Kosa sarees can be paired with beaded necklaces in a matching hue.