Konrad sarees are one of the most well-known sarees. These have originated from Tamil Nadu and have earned a great reputation on account of its traditional affluence and usage of excellent fabrics. These sarees have borders embellished with varied designs. The borders range from 10-14cm wide and are woven in plain color with narrow bands of supplementary warp patterning. This itself is quite popularly known as kampi or pettu and is generally positioned within 3 centimeters of each border edge.
Draped on Special Occasions
These kind of sarees are quite commonly famous for their wide usage in marriages as well as other occasions. The very body of the Konrad saree  contains a woven pattern usually checks or stripes. The very endpiece of the saree does contain either a series of widely spaced zari stripes or more expensive and elaborate versions, supplementary weft figuring.
The quite common form of end-piece of Konrad saree is found in a wide band that is usually of zari along with weft-wise triangular points woven in the inter-locked weft technique. The very designs of such sarees do vary as the designs differ from straight edged border or even with various styles of triangular motifs known as karavai. Several of the Konrad sarees are quite named after the very color of their borders such as arakku saree having lac-dyed border and pudapayalam karavai a yellow serrated border.
The Konrad saree of South India is majorly woven in eastern Tamil Nadu, in Kanchipuram, Salem, Arni Madras, Kumbakonam and Thanjavore. Although, Arni was considered to be one of the major centers for these sarees in the 19th century, but in present times, Kanchipuram is quietly regarded as the most crucial Tamil-silk weaving centers.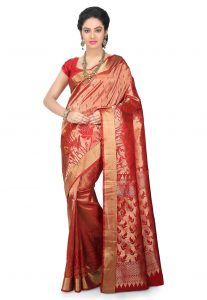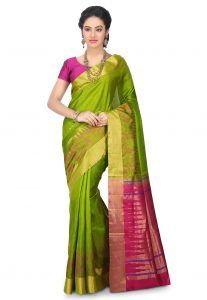 The Kumakonam and Thanjavore areas of South India do create heavy to medium weight Konrad silks that is quite similar in style as well as technique to Kanchipuramï; however the endpiece warps are quietly attached in a different manner. One of the more traditional variations of the Konrad sarees is the so-called temple sarees.
Konrad sarees are interlocked weft-woven mubbhagamï saree that has its two borders as well as field of equal widths. One of the things that need to be noticed is that the very borders of such sarees are in the unembellished style having two pettu. However, sometimes it happens that the entire length of the narrow field is quite covered with fine quality supplementary weft zari patterning woven in a series of weft-wise rows. The designs do include motifs like elephants, peacocks, double-headed eagles and floral vines. Although Konrad saree depicts a creation of pure silk but its distinctive appearances sets it apart from other sarees.