Hello, brides-to-be! ☺
Well, your wedding day is undoubtedly one of the most magical moments of your life. Simultaneously, looking your best is a non-negotiable aspect of the experience. While the lehenga takes center stage, let's not forget that the blouse plays an equally crucial role in enhancing your bridal look. The right blouse design has the power to transform your ensemble from ordinary to extraordinary.
In this blog, we're diving into the world of trendy blouse designs that can add that extra oomph to your bridal look and take it to the next level.
Cape Style Lehenga Blouse Design: Effortlessly Ethereal
Picture a cape gracefully flowing with every step you take. That's the magic of a cape-style lehenga blouse. This design radiates an air of grace and sophistication. Whether it's a sheer cape for a dreamy look or an intricately embellished one for added drama, this design is ideal for brides who want a dash of ethereal charm.
Boat Neck Blouse Design: Sleek and Chic
For those who are seeking a contemporary yet classic look, the boat neck blouse design is a classic choice. It elegantly frames your collarbones and shoulders while maintaining a modest allure. Also, you can experiment with embroidery, beadwork, or even illusion detailing to create a blouse that's exclusively yours.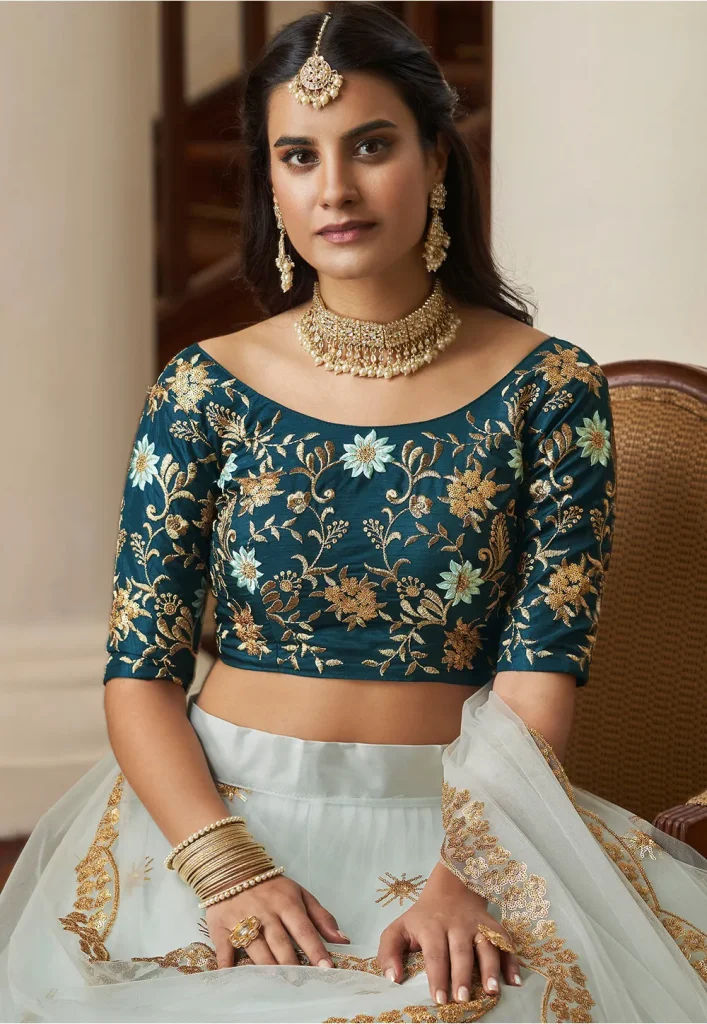 Ruffled Blouse Design: Playfully Romantic
Did you know that a ruffled blouse can infuse your bridal ensemble with a playful and romantic vibe? Whether you opt for subtle ruffle accents or go all out with cascading layers, this design adds depth and dimension to your look. You are sure to make heads turn on your D-day.
Cold Shoulder Blouse Design: Contemporary Elegance
For the fashion-forward brides who want to strike a perfect balance between traditional and contemporary, the cold shoulder blouse design is your go-to choice. With cutouts at the shoulders, this design offers a modern twist while retaining the grace of a classic blouse. Also, you can beautify the cutouts with delicate embroidery or beadwork for a touch of glam.
Sabyasachi Sweetheart Neck Design: Timeless Glamour
Sabyasachi Mukherjee is well-known for his exquisite bridal designs, and the sweetheart neck blouse is no exception. This neckline enhances your décolletage, offering a dash of sensuality while maintaining the bridal grace. Pair it with intricate embroidery or embellishments for a look that radiates timeless charm.
Double Dori Blouse Back Design: All About Details
When it comes to bridal attire, it's all about the details. The double-Dori blouse back design is a perfect example of this POV. With two sets of delicate dori (strings) embellishments, this design adds an extra layer of intricacy to your overall bridal ensemble. The back becomes an artwork in itself, making sure you look resplendent from all angles.
V-Neck Lehenga Blouses with Full Sleeves: Bold and Beautiful
For brides who want to make a bold style statement, a V-neck blouse paired with full sleeves is a striking choice. This design balances the revealing nature of the V-neck with the modesty of full sleeves, resulting in a pleasant amalgamation of boldness and beauty.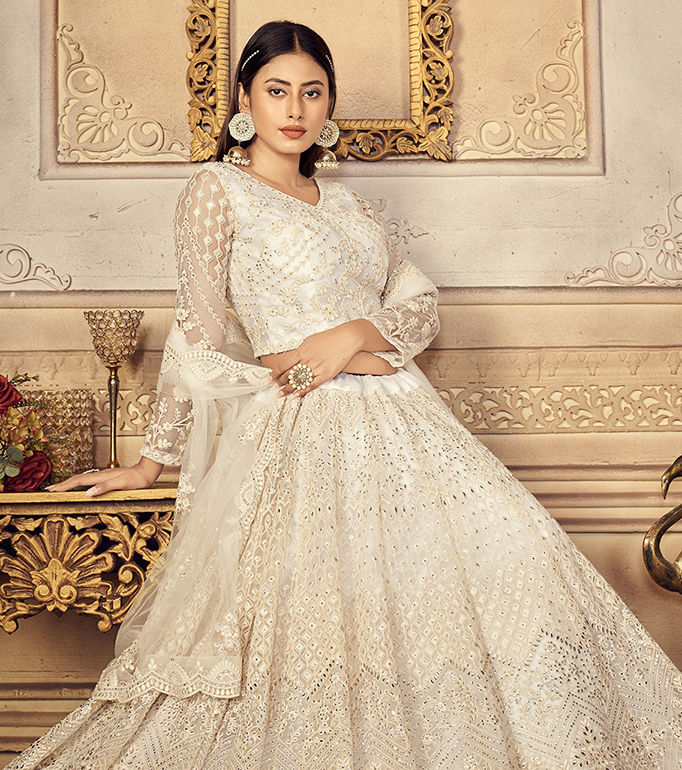 One-Shoulder Blouses: Asymmetrical Allure
Unconventional yet undeniably charismatic, one-shoulder blouses bring an asymmetrical appeal to your bridal look. This design highlights one shoulder while leaving the other bare, creating an enchanting contrast. Adorn the single shoulder with detailed embroidery or a statement embellishment to make heads turn.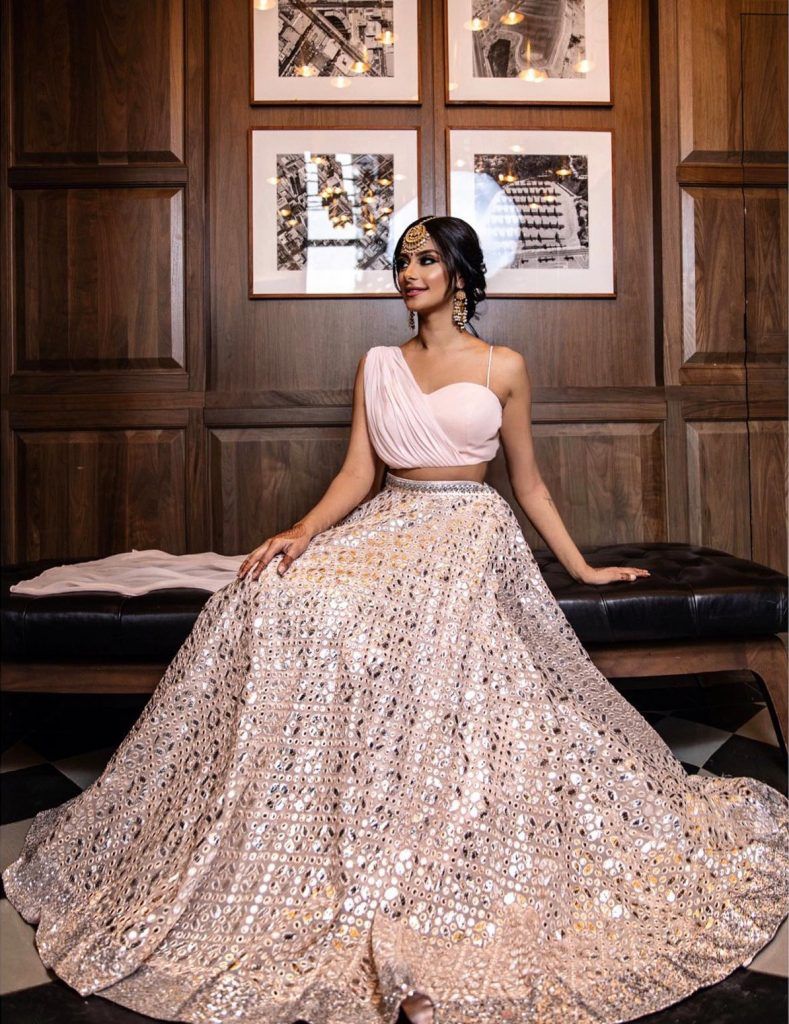 Classic Round Cut with a Dori or a Bow: Time-Tested Elegance
At times, it's the classics that steal the show. A classic round-cut blouse with a dori or a bow at the back is a design that never goes out of vogue. It's understated yet graceful, allowing you to experiment with different sleeve lengths and fabrics to suit your style preferences.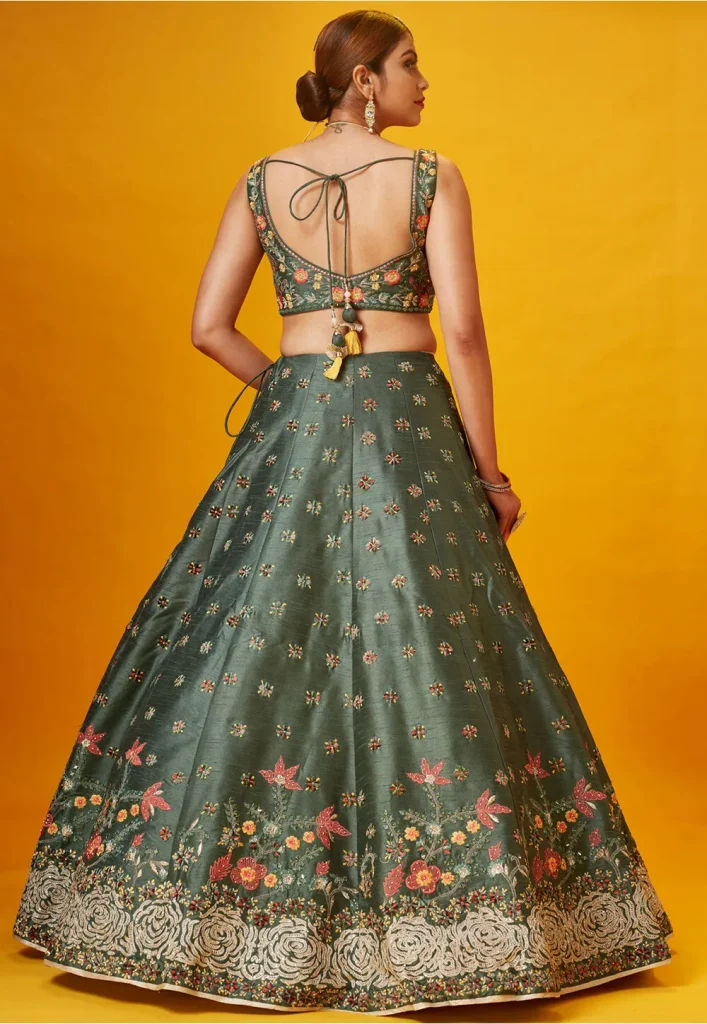 High Collar Neck Blouses with Full Sleeves: Regal Sophistication
Channel your inner royal with a high-collar neck blouse paired with full sleeves. This design radiates majestic sophistication and creates a strong focal point around your face. Embellish the collar with embroidery or beadwork for an added touch of richness.
Additional Reads: Lehenga Designs for Sangeet Day: Latest Trends and Ideas
Wrapping Up!
No doubt, your bridal look is a reflection of your personality, style, and individuality. With these trendy blouse designs, you have a range of options to choose from. Remember, it's not just about the lehenga; the blouse you pick can truly amp up your overall appearance. Whether you opt for the dreamy cape style, the sleek boat neck, or the playful ruffles, ensure that your blouse design resonates with your bridal vision. Now, it's time to embrace the fun and casual spirit of these designs while you embark on your journey to becoming a stunning bride.