Picture this: vibrant hues, lively music, exotic destinations, scrumptious delicacies, and an air of joy that's almost palpable. Yes, we are talking about Indian weddings! These marvelous celebrations are nothing short of a fiesta, a whirlwind of traditions, emotions, and unforgettable moments. But wait, before you dive headfirst into the whirlpool of functions, there's a delightful problem to solve: what to wear? Fear not, we have got your back with some eye-catching guest wedding dress ideas that will have you stealing the show at every function.
Reception Glam
The reception is like the red carpet event of the wedding saga. For ladies, why not go all-out with a floral lehenga in net design? Embrace the delicate charm of flowers while swaying elegantly on the dance floor. Alternatively, if you want to break away from conventional lehengas and sarees, consider an ethnic gown. It's the perfect amalgamation of contemporary and traditional. Gentlemen, a velvet sherwani is your ticket to instant suave. The rich fabric whispers sophistication while allowing you to bust a move or two.
Sangeet Sensation
Bring on the music, the dancing, and the sheer exuberance! For ladies, consider an embroidered skirt with a crop top. On the other hand, opt for a traditional Punjabi Suit. Its vibrant hues and lively patterns mirror the celebrations perfectly. For a modern twist that doesn't compromise on elegance, choose a floor-length anarkali dress. Men, this is your chance to shine with a loose-fitting threadwork kurta. It's comfortable, stylish, and lets you show off those dance moves without any restrictions. Or, rock the dance floor in a Nehru Jacket paired with trousers, adding an extra layer of flair to your charismatic presence.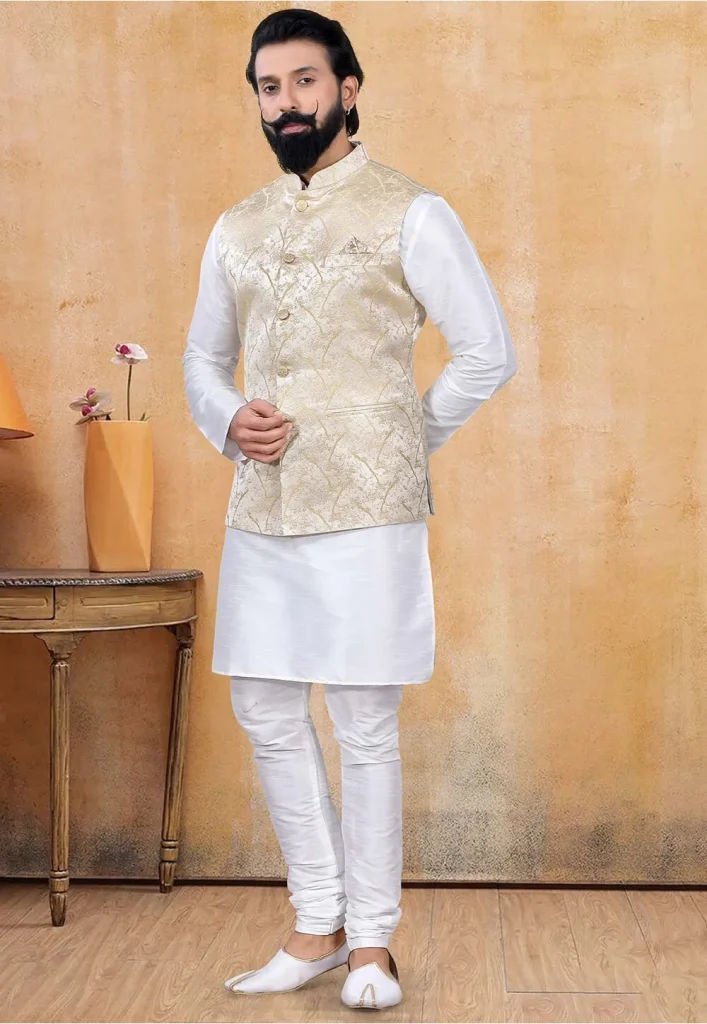 Haldi High Jinks
Get ready to be smothered in turmeric and lots of love! Ladies, dive into the essence of the function with a cheerful pastel-tone lehenga. The soft hues blend seamlessly with the Haldi vibes. Gents, go for a laid-back yet charming look with a woven design short kurta that complements the cheerful mood.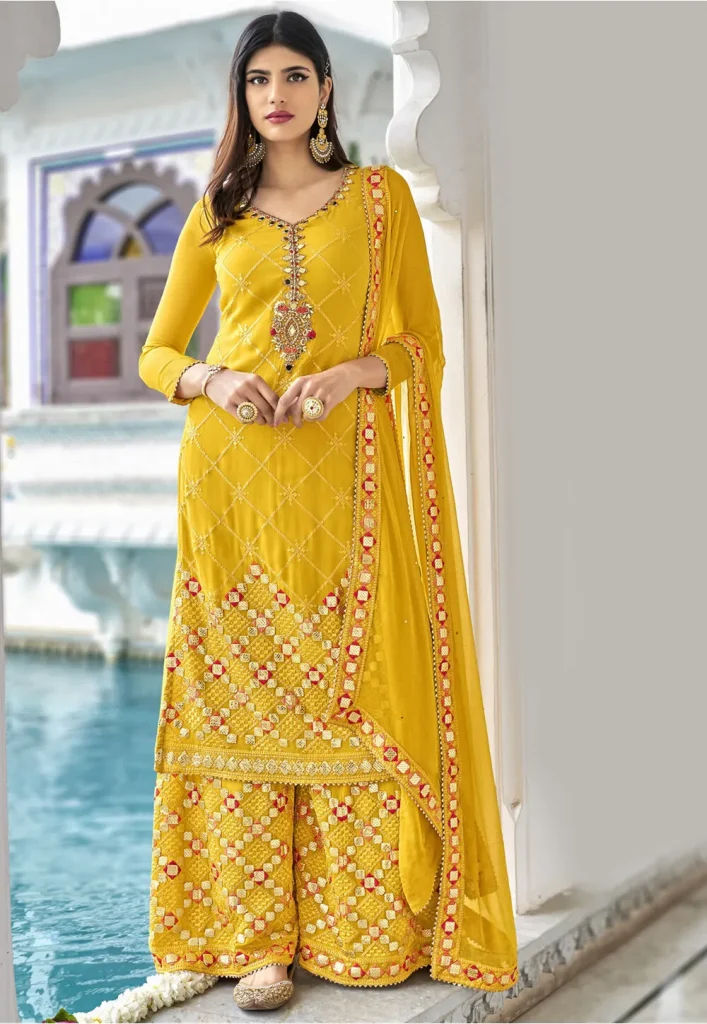 Mehendi Magic
Intricate henna designs and laughter in the air – it is mehendi time! Opt for a lehenga in neutral tones, allowing the artwork on your hands to take center stage. For men, a dhoti with an embroidered silk kurta is a fusion of comfort and style that perfectly matches the occasion's vibe.
The Big "I Do"
The main event calls for the main ensemble! Ladies, a Kanjeevaram silk saree or a resplendent Banarasi saree lets you drape yourself in tradition and allure. As for men, a lightly embroidered sherwani paired with a churidar is the epitome of regal charm.
Season's Style: Weather-Friendly Choice
Don't forget to consider the season when selecting your outfit. For summer weddings, opt for lighter fabrics and pastel shades that keep you cool and comfortable. In the cooler months, embrace the warmth of rich fabrics like velvet and silk, and don't shy away from experimenting with deeper, more opulent hues.
Additional Reads: Bridal Lehenga Styles for Indian Weddings in the USA
Conclusion
In the world of Indian weddings, where every function unfolds like a chapter in an enchanting story, your outfit is your personal expression. It's not just about wearing clothes, it's about expressing the spirit of the event, the culture, and the sheer joy that fills the air. So, as you prepare to embark on this journey of colors, traditions, and joyousness, let your attire reflect the vivacity of the occasion.
Get ready, dear guests, for a rollercoaster of emotions, a feast for your taste buds, and a visual spectacle. It's time to celebrate, dance, and dress like there's no tomorrow. After all, in the grand tapestry of an Indian wedding, you're not just a guest. In fact, you're an essential part of the story, and your outfit is the brushstroke that paints it with exuberance and flair.