As spring approaches, so does one of the most eagerly awaited festivals in India- Navratri. This nine-day extravaganza is a time to celebrate the revered Hindu deity, Maa Durga. Also, the festival is observed with unparalleled zeal and enthusiasm across the nation. Navratri is not just about fasting and prayers; it's also a golden opportunity to flaunt your impeccable fashion sense while donning traditional outfits like Anarkali suits, palazzos, and lehengas.
Once again, it's time to dive into the planning process for your festival wardrobe and outfit styling. From vibrant hues to intricate embroidery, the world of traditional Navratri attire offers a plethora of choices. Regardless of whether you love the timeless allure of a kurta or the comfort of plus-size ethnic wear, you're sure to find something that resonates with your style at UtsavFashion.com.
But amidst this cornucopia of options, making a choice can be a tad overwhelming. This is precisely why it's essential to plan ahead and begin preparing your Navratri outfit well in advance. Whether you're considering a brand-new ensemble or giving new life to an old favorite, there are certain key factors to bear in mind when delving into the world of Navratri fashion.
Embrace the colors of Navratri
First and foremost, pick a color palette that resonates with your spirit. Each day of Navratri is associated with a specific hue, so be sure you're aware of which color corresponds to which day. The sequence goes like this: red, yellow, green, gray, orange, white, blue, pink, and purple for each respective day. Embracing these colors not only adds to the festive spirit but also shows your knowledge of the traditions.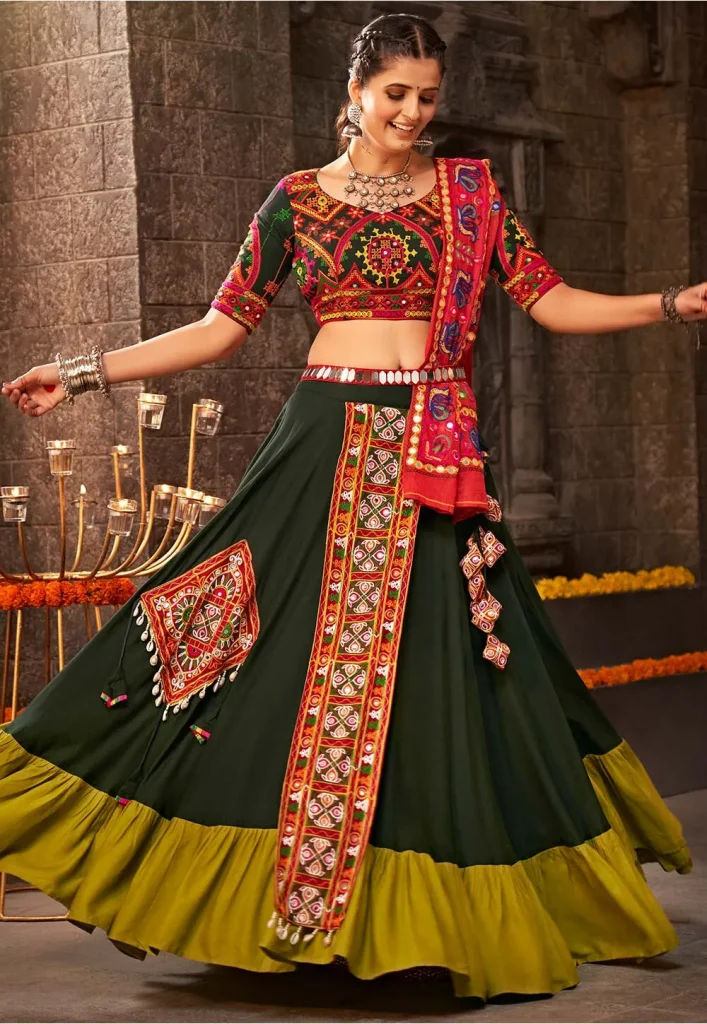 Choose Comfort and Style
Next, focus on comfort and complementing your body type. Consider women's dresses online that not only look stunning but also feel comfortable for those long nights of dancing and celebration. Keep in mind, that confidence is your best accessory.
Accessorize Right
The magic of a perfect Navratri is all about details. Accessorize your outfit with the right Indian jewelry, footwear, and makeup to amp up your ensemble. A statement necklace or a pair of jhumkas can work wonders, as can the right footwear that blends comfort with style. A touch of festive makeup can also elevate your overall appearance.
Embrace Traditional Attire
In the realm of Navratri fashion, traditional outfits reign supreme. Embrace the classics like Anarkali suits, lehengas, and palazzos. These timeless pieces not only radiate elegance but also let you move with grace during the Garba and Dandiya dances.
Experiment with Hairstyles and Makeup
While your outfit takes center stage, don't underestimate the power of a well-styled hairdo and makeup. Experiment with different hairstyles that complement your outfit and showcase your personal style. Whether it's a chic bun, beach waves, or a traditional braid, your hair can be a captivating accessory. For makeup, play with bold colors and accents that match your preferred attire.
Elevate your Style with a Detailed Dupatta 
A delightfully embellished dupatta can add an extra layer of allure to your Navratri look. Choose one that compliments your outfit's color and design, and drape it gracefully for that touch of sophistication.
Raise the Style Bar with an Embellished Jacket
To truly stand out in the Navratri crowd, consider topping off your ensemble with an embellished jacket. This versatile piece can instantly elevate your look, providing warmth during cool evenings while adding a dash of glamor.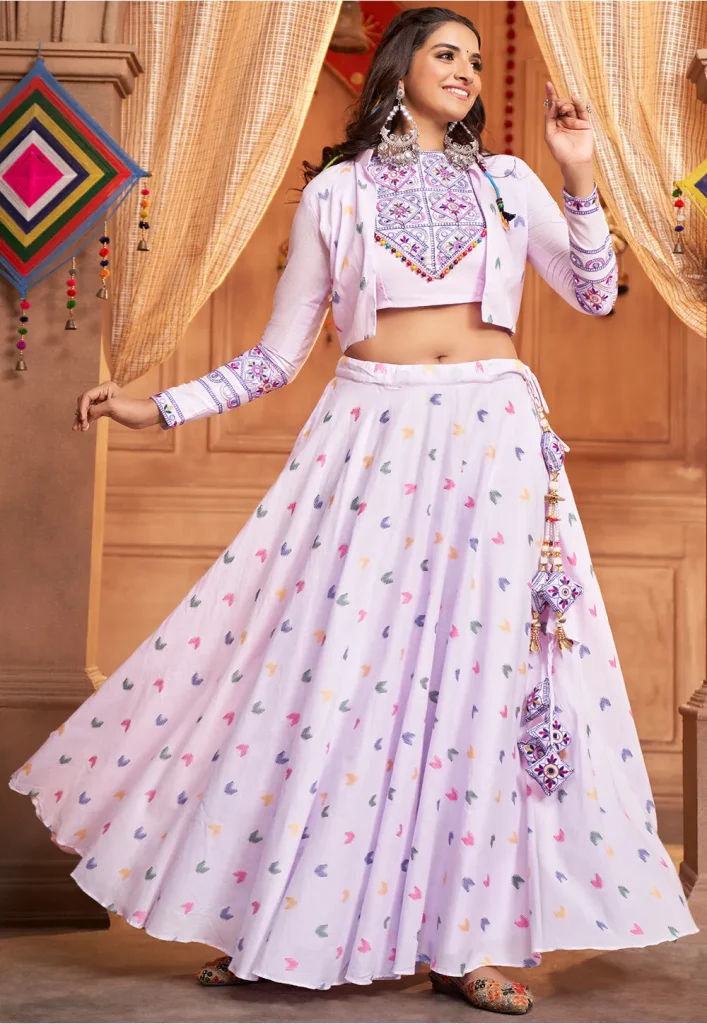 Wrapping Up!
Navratri is not just a religious festival but also a time to revel in the joy of dressing up and expressing your personal style. With the right choice of colors, comfortable yet stylish outfits, and the perfect accessories, you can create a Navratri look that turns heads. So, dive into the world of Navratri fashion, let your creativity flow, and celebrate this auspicious festival in style!