Georgette is a light, crinkly fabric that moves beautifully, almost as if it has a life of its own. Women's tops constructed of georgette are versatile, suitable for numerous occasions, and easy to care for. The georgette tunics which are featured here possess all of these qualities and more.
For instance, the quality of craftsmanship evident in the georgette tunics sold here is apparent to even the most discerning shopper. With the wide selection of georgette kurtis available on this website, shoppers will undoubtedly find a women's top here that is perfect for their next special occasion, to wear on the first day at a new job, or even on a first date.
So haute, so chic
Georgette tunic are undoubtedly fashionable, and with so many different colors and styles to choose from, it may be difficult to decide on only one! Women's kurtis made of georgette are so easy wear and care for, that ladies will likely want to make them a large part of their wardrobe and wear them several times a week.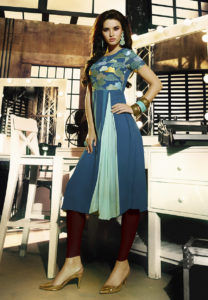 Georgette fabric has a distinctively crinkly texture which is unlike any other fabric. Usually constructed of either silk, rayon, or polyester,georgette tunics are specially crafted with threads which are highly twisted. These tightly twisted threads are very thin, and this technique gives georgette a rather transparent appearance. georgette tunics, despite their airy, delicate appearance, are actually quite durable because of this construction. Therefore, women's kurtis which are made of georgette look fanciful enough to be worn on a special occasion, but are strong enough to be worn for everyday use.
Also, because georgette tunic are made from silk, rayon, or polyester, they are able to be dyed in every color of the rainbow. Choose a kurti of palest pink, or a tunic that is saturated in turquoise – with georgette, both are easily possible! In addition to providing a vast array of solid colors, georgette tunics are also available in a range of patterns, from geometric to floral, and there is sure to be one which will suit every lady's taste.
Variety
The number of women's kurtis available in georgette is truly impressive. This material drapes exceptionally well, making it versatile enough to suit every lady's body type. It is light enough to be quite comfortable during the hottest months of the year, yet other styles may be available in layers, making them appropriate for the colder months as well.
The cling and flow inherent in the georgette tunics found on this site is truly beautiful, and ladies are encouraged to choose a number of kurtis to add to their wardrobe.
Some women's tops constructed with georgette are simple and unadorned, allowing the kurti's style and color to speak for itself. However, some kurtis feature elaborate designs of embroidery, beading, and other embellishments, which allow the wearer to truly make a splash at their next social event. Whether simple or embellished, georgette kurtis are always a beautiful choice for modern ladies wishing to make a fashionable statement.