Georgette saree is a traditional wear with class. Exclusive georgette saree blouse is essentially a party wear or a festive wear. These fancy sarees are available in all colors. The look of geogette saris can be multiplied by zardosi or embroidery work.
Geogette saree collection is like a treasure. The soft and shimmering georgette sari is widely used as the dress for women. The stitches and the intricate workmanship used in pure georgette is par excellence. The graceful drape of georgette gets perfectly blended with traditional Indian designs and patterns.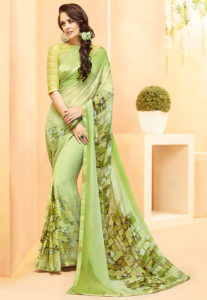 If you are looking for georgette saree shop where you can find exclusive collection of georgette sarees, printed georgette saris, designer georgette sari, exclusive and embroidered georgette sarees for weddings and marriages for online shopping, then please visit our online saree catalogue.
Georgette Fabric
Georgette is a sheer lightweight fabric, often made of silk or polyester. It is slightly heavier and more opaque than chiffon. The twisted crepe fibers from which georgette is made gives it a springy quality that makes it seem to move on its own. While this quality makes georgette somewhat more difficult to sew the results are well worth the effort.
Georgette is a thin woven silk fabric often of crepe yarn and construction. It is -a sheer silk or rayon crepe of dull texture. A sheer lightweight fabric, often made of silk or from such manufactured fibers as polyester, with a crepe surface. End-uses include dresses and blouses.
Printed sarees in georgette
Indian dressing styles are marked by many variations, both religious and regional with a wide choice of textures and styles. A sari is a rectangular piece of cloth which is five to six yards in length.
The style, color and texture of this cloth varies and it might be made from cotton, silk or one of the several man-made materials. The sari has an ageless charm since it is not cut or tailored for a particular size.
The collection of traditional, printed and embroidered fancy sarees made from imported and Indian fabric including georgette and crepes are a hit among the fashion conscious women of today. Every saree reflects the richness of traditional Indian ethnicity.