Embracing Freedom and Style on India's 77th Independence Day 
As India gears up to commemorate its 77th Independence Day, the air is filled with patriotism, unity, and pride. This day marks the anniversary of India's freedom from British rule, a significant event that shaped the nation's history. Amidst the celebrations, parades, and flag hoisting, the iconic Nehru jacket has seamlessly woven its way into the hearts of Indians worldwide. This desi fashion statement adds a dash of elegance and a touch of cultural richness to the celebration. No doubt, it's the perfect way to celebrate the occasion with complete panache.
Nehru Jackets: A Glimpse into Timeless Elegance 
Named after India's first Prime Minister, Jawaharlal Nehru, the Nehru jacket dates back to the 1940s. Jawaharlal Nehru himself was known for his sartorial choices and popularized these jackets, showcasing sophistication in his attire. The Nehru jacket is characterized by its Mandarin collar, buttoned-up front, and timeless straight-cut silhouette.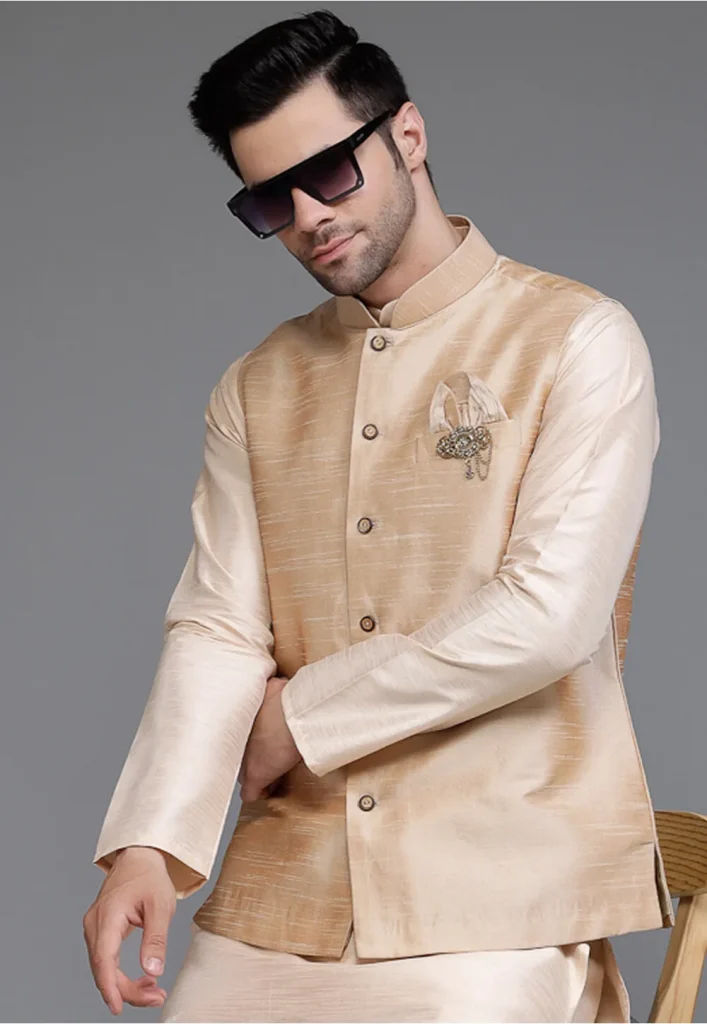 What sets these jackets apart is their amazing versatility. It seamlessly transitions from a casual daytime look to an evening soirée. The jacket can be worn with a kurta or a shirt, paired with trousers or even denim. This versatility allows you to create different stylish looks, each exuding a unique charm.
The Popularity of Nehru Jackets in the Indian Fashion World
Over the decades, the Nehru jacket has evolved from a political symbol to a popular fashion statement. It has become a staple in Indian ethnic and fusion wear. Its popularity in the Indian fashion world is undeniable, owing to its ability to effortlessly blend traditional and contemporary aesthetics. Celebrities, politicians, and fashion enthusiasts have all embraced this versatile piece, making it a must-have. From festivities to weddings and formal gatherings, the Nehru jacket remains versatile for men of all ages.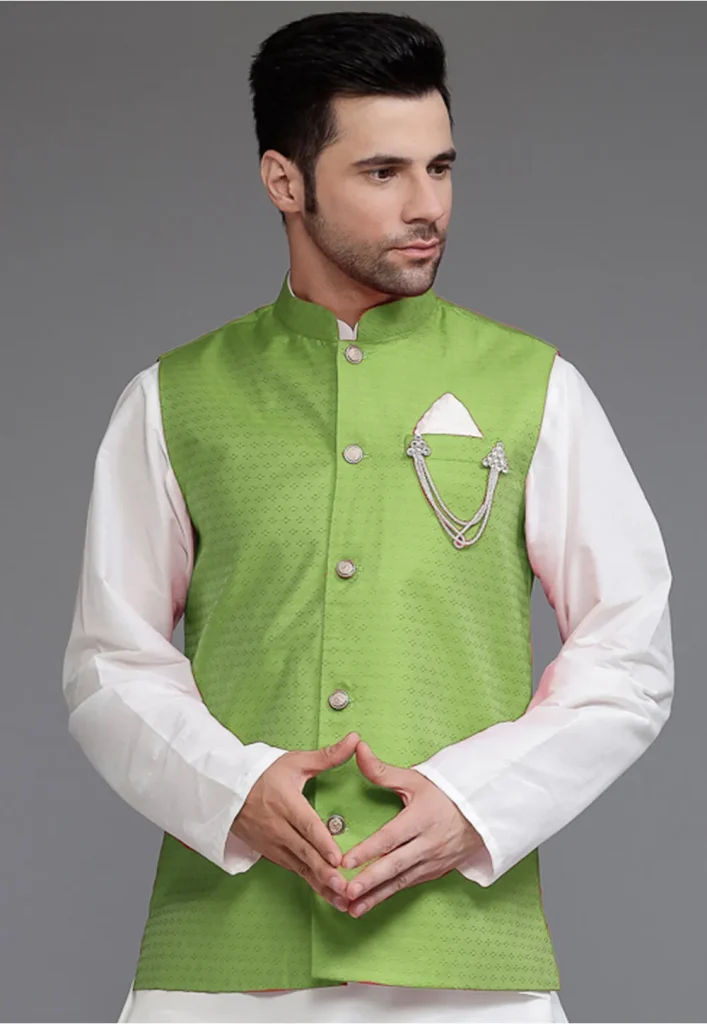 Styling Tips to Rock Your Nehru Jacket 
This Independence Day, celebrate the occasion with a desi twist by incorporating the Nehru jacket into your ensemble. For a sophisticated yet traditional look, complement a luxuriously hued Nehru jacket with a crisp men's white kurta and churidar. Complete the look with mojris or juttis for an authentic touch. Alternatively, you can opt for a more modern appeal by pairing a Nehru jacket with a well-fitted shirt and trousers. Add a pocket square to add a dash of color and grace.
Color Play: Experiment with a variety of colors, ranging from deep jewel to earthy tones. The color of your jacket can set the tone for your entire ensemble.
Texture Matters: Play with textures! Velvet Nehru jackets radiate opulence, while linen ones are perfect for relaxed daytime gatherings.
Accessorize Smartly: A statement brooch or a pocket square can elevate your overall look. Opt for accessories that complement the chosen color scheme.
Perfect Fit: Make sure that your Nehru jacket fits well. The straight-cut silhouette looks best when it fits the body comfortably.
Contrast is Key: Create visual interest by opting for complementary colors between your jacket and the rest of your outfit.
Footwear Magic: Complete your look with the right footwear. Mojris, juttis, or even leather loafers can elevate the overall appearance.
Conclusion
As we commemorate India's 76th Independence Day, there's no better way to celebrate than by embracing our cultural heritage with a dash of style. The Nehru jacket encapsulates the essence of tradition and modernity, effortlessly blending the past and the present. So, this August 15th, express your love for the nation not only through the tricolor flag but also through your dapper Nehru jacket ensemble. After all, nothing says patriotism like celebrating freedom in a truly desi way!