In the realm of weddings, the spotlight often shines brightest on the bride, her stunning attire, and the intricate details of her ensemble. So, you know that feeling when you enter a room and all eyes are on you? If you're shaking your head 'no', you're about to experience just that! Now, with a fair share of knowledge on weddings and attires, Utsav Fashion is changing the game for grooms. Their Designer Sherwani collection is what dreams are made of!
What is Designer Sherwani?
Now, for those of you scratching your heads thinking, "What's a sherwani?" Think of a Sherwani as the Rolls-Royce of traditional Indian attire. Elegant, elongated coat paired perfectly with churidars. But wait, these aren't your run-of-the-mill garments. They're dripping with grandeur, telling stories of ancient traditions, all while giving a cheeky nod to contemporary styles. You've got the silky textures, the rich embroideries, and the intricate embellishments, all wrapped into one masterpiece.
A Designer Sherwani for groom is a sophisticated and intricately crafted ethnic wear for men, particularly worn on special occasions like weddings and festivities. These aren't just any regular outfits; they're handcrafted masterpieces. They tell tales of traditions, all the while winking at modern trends. From rich silk to dazzling embellishments – it's a visual treat. Designer Sherwanis are characterized by their luxurious fabrics, elaborate embroidery, and embellishments, which are carefully designed to reflect a blend of cultural heritage and modern fashion trends. These outfits come in a variety of styles, ranging from opulent and ornate to more minimalist and contemporary, allowing grooms and men attending special events to showcase their unique style while paying homage to tradition.
Designer Sherwani: The Evolution of Groom Fashion
Once upon a time, grooms had it simple. Fast forward to today, and boy, are things different! The Designer Sherwani is like the poster child of this style evolution. Traditional at heart but modern in spirit. Kinda like adding a jazzy tie to a classic suit, you know? Groom fashion has come a long way from conventional choices to embracing modern trends that celebrate individuality and style. The designer Sherwani stands as a prime example of this evolution. This timeless ensemble seamlessly blends tradition with contemporary aesthetics, creating a striking balance that appeals to modern grooms while honoring cultural heritage.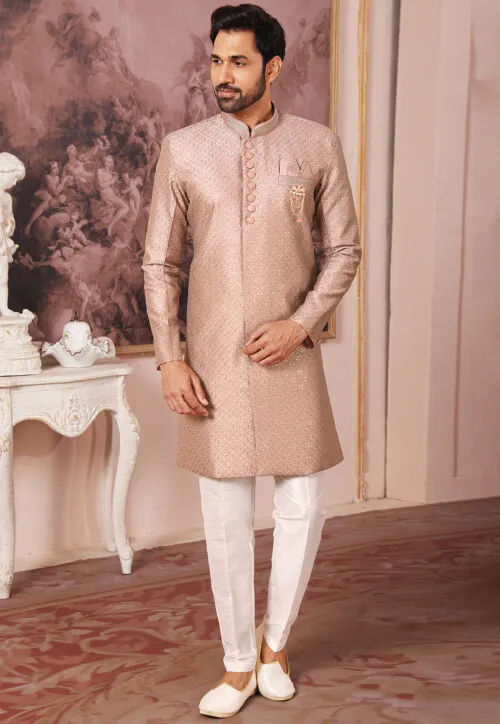 Crafting Elegance with Designer Sherwani
Let us take a moment to gush about the sherwanis at Utsav Fashion. Each piece is a labor of love. It's like artists, tailors, and fashionistas came together for a tea party and out came these outfits. From the regal to the contemporary, there's a flavor for every groom.
The Perfect Blend of Tradition and Modernity
One of the most alluring aspects of designer sherwanis is their ability to blend tradition with modernity seamlessly. While the Sherwani itself is a nod to the rich history of men's fashion in India, it is often adorned with contemporary embellishments, unique textures, and innovative silhouettes. This fusion ensures that grooms not only pay homage to their roots but also make a bold statement of their personal style.
Flaunt the Real You with Comfortable Fabrics
Now, looking good is great, but feeling good? That's where the real magic is. These sherwanis are crafted from fabrics that feel like a second skin. Velvet, silk, cotton – it's like they got together and said, "Let's make him look and feel amazing!" And those turbans? Ah, the cherry on top! The Sherwani remains a timeless symbol of cultural heritage, its allure undiminished over time. A choice favored by countless Indian grooms for their wedding day, the Sherwani bestows regal masculinity and an aura of elegance. At Utsav Fashion, our designer sherwanis are meticulously crafted from premium fabrics such as cotton, silk, velvet, and brocade, capturing the grandeur of Indian weddings. In various cultures, the addition of Safas or ornate head turbans elevates the Sherwani to an even higher pinnacle of sophistication."
Unveiling the Collection
Explore our diverse and captivating collection of designer sherwanis at Utsav Fashion, catering to a range of styles and preferences. From the opulent and regal charm of intricately embroidered and embellished sherwanis that radiate luxury, making the groom feel like true royalty on his special day, to the contemporary allure of sleek silhouettes, clean lines, and subtle embroidery that celebrate understated elegance, allowing your personality to shine effortlessly. Additionally, our heritage sherwanis pay homage to timeless traditions, featuring classic embroideries, rich hues, and meticulous detailing that capture the essence of cultural heritage while remaining in tune with modern trends.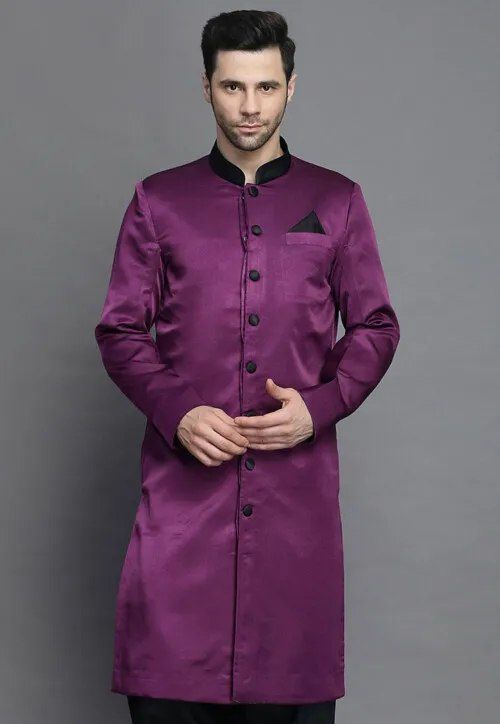 The Utsav Fashion Experience
When you choose Utsav Fashion for your designer sherwani, you're not just investing in an outfit; you're investing in an experience. We have been in the industry for over 20 years, making us a reliable and preferred choice for Indian ethnic fashion. Our dedicated team is committed to ensuring that your journey to finding the perfect Sherwani is seamless and enjoyable.
Imagine walking into a place that doesn't just see you as a customer but as a canvas, waiting to be adorned with stories, emotions, and traditions. That's Utsav for you. They've been crafting not just outfits but narratives for over two decades. It's like they've mastered the alchemy of turning fabric into tales of love, heritage, and passion.
Tailored for You
Remember the joy of finding a note in your lunchbox, scribbled lovingly by a parent? The sheer happiness of realizing someone understands and cares? That's the feeling Utsav evokes. Every piece they craft screams attention and intimacy. It's as if they know you, sometimes better than you know yourself. The outfit is not just about cloth and thread; it's about moments and emotions. You're not wearing a garment; you're donning a story. Because at Utsav, every groom, or for that matter, every individual, is given their fairytale moment.
Meticulous Mastery
Have you ever watched an artist lost in their creation? The dedication, the precision, the love in every stroke or touch? Utsav's craftsmanship embodies that. It's artistry in motion. Every design, every pattern seems like verses of a poetic ensemble. The sequin isn't just sewn; it's placed with intent, like stars in the night sky, each having its own purpose and place.
Bringing India to You
We live in a world where boundaries are blurring, and cultures are mingling. And in this beautifully interconnected world, Utsav ensures that no matter where you are – be it the bustling streets of New York or the serene corners of London – the essence of India reaches you. It's like receiving a warm hug from home in a foreign land. The sherwani you dreamt of, the vibrant hues, the intricate designs, all delivered right to your doorstep. It's not just about clothing; it's about bridging worlds.
So, the next time you think of Utsav, remember, it's not a mere transaction. It's an expedition, an odyssey of rediscovering yourself, and experiencing the magic of being truly understood. It's a heart-to-heart conversation without uttering a single word. That's the beauty, the charm, the magic of Utsav.
Additional Read: The Classic Black Blazer: A Must-Have in Men's Wardrobe
Elevate Your Groom Fashion with Utsav Fashion
So, are you ready to break some hearts and turn some heads? Your wedding is your story. Let Utsav Fashion help you tell it. Your wedding day is a celebration of love, commitment, and shared dreams. It's a day when all eyes are on you and your partner, and every moment is etched in memory. With Utsav Fashion's designer sherwani collection, you can elevate your fashion to a new level of elegance, style, and individuality. Your big day is a symphony of moments and memories. With Utsav Fashion, you won't just look the part, you'll feel it too. Bask in tradition, revel in modernity, and let your attire do the talking. Because, why fit in when you were born to stand out? Dive in, indulge, and let your journey with Utsav be one for the books. Cheers to looking impeccable and feeling unbeatable. Go on, make them swoon!
Cheers to looking your best! Order away, buddy!