An opulent fabric, Velvet has been loved by fashion aficionados for centuries. Its origins can be traced back to ancient China and Egypt, where it was originally woven from silk. Over time, velvet's popularity spread across the world, finding its place in the Indian fashion landscape. Synonymous with elegance, velvet has become a go-to choice for special occasions and celebrations in India.
Are you ready to explore some captivating types and styles of designer velvet suits that add a dash of regal charm to any wardrobe? Let's go!
Velvet Punjabi Suit: Effortless Elegance
The Punjabi Suits with Velvet fabric combines classic design with modern flair, creating a captivating look by blending traditional style and plush velvet. These suits often come with detailed embroidery or sequin work, adding a touch of glam to the outfit. As they seamlessly blend comfort and style, they are the most ideal pick for festive gatherings and weddings.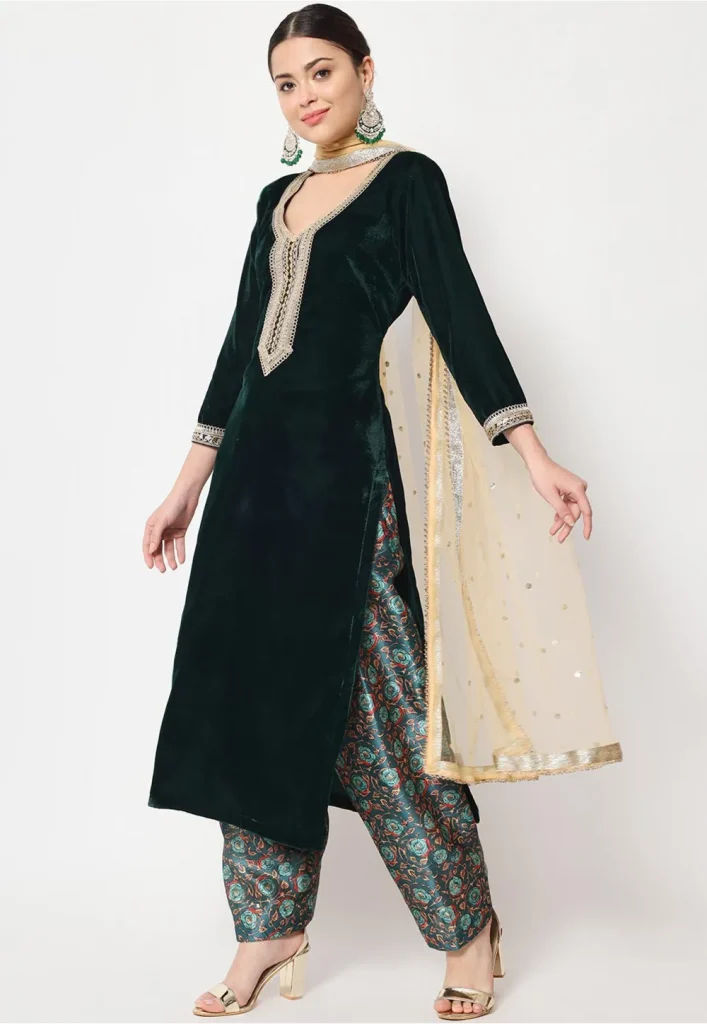 Velvet Anarkali Suit: Graceful Grandeur
Want to channel your inner Mughal princess? The Anarkali dresses in Velvet are the perfect choice! This flowing, floor-length gown-style suit showcases the rich drape of velvet, creating a regal silhouette. Known for its flattering shape, the Anarkali suit is a popular option for various body types. Complement it with statement jewelry and be ready to dazzle the crowd at any event.
Velvet Angrakha Style Suit: Royal Wrap
Bringing an aura of old-world charm, the Velvet Angrakha Style Suit draws inspiration from historical Indian attire. The distinctive criss-cross design with asymmetrical flaps offers this suit a unique touch. Its fusion of tradition and contemporary makes it a hit among fashion enthusiasts. For those who love to experiment with fashion and want to make a bold statement, this style is an ideal choice.
Embroidered Velvet Suit: Exquisite Artistry
The Embroidered Velvet Suit is your go-to choice if you want to make heads turn. The combination of beautiful embroidery and plush velvet is breathtakingly gorgeous. These outfits are ideal for formal events and grand celebrations. Ranging from delicate floral patterns to intricate designs, the embroidery on velvet suits adds an extra layer of craftsmanship and elegance.
Velvet Straight Style Suit: Simple Sophistication
For those who love a more understated yet luxurious look, the Velvet Straight Style Suit is an excellent pick. The straight-cut design with minimal embellishments highlights the beauty of the velvet fabric. Whether it's a festive gathering or a formal dinner, this style is versatile and suits various occasions. To elevate your look, accessorize it with statement earrings or a clutch to enhance your overall look.
Velvet Abaya Style Suit: Modest Glamour
An embodiment of modesty and elegance, the Abaya Style Suit with Velvet fabric is inspired by traditional Islamic attire. This suit features a flowing, floor-length silhouette with wide sleeves, offering both comfort and style. The plush velvet fabric adds luxury, making it preferred for formal occasions and cultural events because of its elegant appeal.
Additional Reads: Everything You Need to Know About Velvet Fabric
Velvet Pakistani Style Suit: Chic and Contemporary
The Velvet Pakistani Style Suit combines the fusion of Pakistani fashion aesthetics with the richness of velvet. These suits often feature straight cuts with intricate detailing, offering a chic and modern look. Known for their contemporary yet modest allure, Pakistani suits in Velvet fabric are an excellent choice for casual and semi-formal gatherings.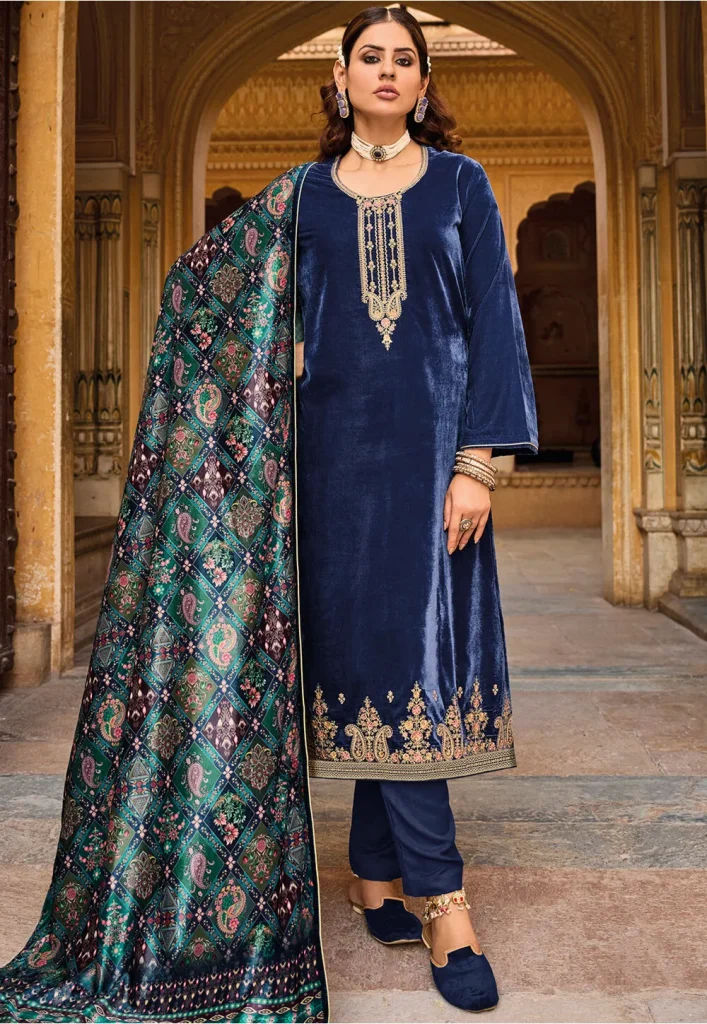 Velvet A-line Suits: Flattering Simplicity
The Velvet A-line Suits are the most favored amongst fashionistas who value a flattering and comfortable fit. The A-line silhouette gently flares from the waist, accentuating the natural curves of the body. These suits are ideal for those who like a minimalist yet luxurious style. With the correct accessories, you can dress it up or down, and you're all set to steal the spotlight.
In conclusion, velvet suits still rule as timeless fashion pieces that bring a sense of luxury and splendor to any wardrobe. Whether you opt for traditional styles like the Anarkali or Punjabi suits or experiment with contemporary designs like the Pakistani or A-line suits, velvet remains a representation of opulence and refinement in the Indian fashion landscape. So, embrace the plush comfort and captivating allure of velvet suits to make a royal fashion statement.