Every decade in the last hundred years has produced numerous new styles and trends, some of which have stuck around while others have fallen out of fashion. In the late '00s and early '10s, undoubtedly the most popular casual wear style to emerge is that of the tunic. Tunics are in no way 'new' as they have in fact existed, in both western and eastern culture, for many centuries. In ancient Greece and Rome, they were worn in the form of long, loose shirts by men; today, there predominantly worn by women in a slightly different, more fitted form.
The Indian version of tunic is called kurta and these have a straight fitting cut which sets them apart. There are many different types of tunics in the market, from pretty casual wear varieties to stylish party wear types. One can even find designer tunic tops which have an elegant, high-fashion look. Designer tunics are amongst the most beautiful and exclusive options as they are specially created by designers and have nothing ordinary or commonplace about them. They need not necessarily be for formal wear but can come in semi-formal or casual variations as well.
Myriad Of Fabrics, Colors, And Patterns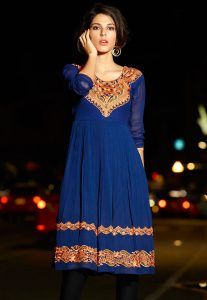 A designer tunic is set apart by its use of fine fabrics, exquisite designs, tailored silhouettes and one of a kind patterning. They are exclusive products of the designer's artistic vision and as such they have a very unique and gorgeous beauty. Designer tunic dresses also tend to be a bit more innovative and modern in their look and feel as designers love experimenting with newer silhouettes. At the same time, designer tunics retain the essential characteristics of tunics that make them so appealing to woman: they are comfortable, flattering and versatile, and can be adapted to fit into different types of looks and outfits.
Designer tunics for women can be of many different types and styles. Women can choose between Indian style kurtis with long, straight fitting sleeves and ethnic prints as well as bold, western tunics with halter neck designs or cap sleeves. A designer tunic dress can flaunt daring cuts such as a body hugging silhouette, deep v-neck, spaghetti straps as well as sophisticated, modern styles such as three-fourth sleeves, cowl necks, turtle necks etc. It all depends on what type of vibe the designer is going for. Designer tunics with a summery, bohemian vibe will have kaftan sleeves, sleeve-less patterns etc, while winter wear garments will necessarily have more insulating, high neck and full sleeve cuts.
Latest designer tunics are not only set apart by their use of stylish and well-fitted silhouettes but also by their use of unusual and amazing designs and patterns. They often make use of prints, embroidery, and embellishments to create breathtaking patterns which can be western, Indian or fusion in their look. For instance, traditional Indian techniques such as block printing, Madhubani painting and Warli painting, all have a unique, ethnic look which cannot be matched; but other techniques like zari, zardozi, resham work, ek taar work, Kashida work and so on, can be used to create western as well as Indian motifs.
Thus, designers often combine ethnic patterns of fruits, flowers, peacocks, tigers etc. with western shapes, lines and abstract designs on latest designer tunic tops decorated with Indian work. Conversely, western forms of embellishments such as sequins, stones, beads and crystals can also be used to create Indian designs and patterns.
The fabrics can also vary in designer tunics; though typically only fine materials with a good drape are preferred by designers. These include georgette, cotton, chiffon, crepe, silk, satin and lace, which may or may not be layered to create a gorgeous, floating effect for the outfit.
Style Tips
Designer tunics have been frequently spotted in fashion magazines, fashion runways and celebrity 'best dressed' lists. They have become a staple part of stylish street fashion and are usually paired with leggings, jeans or Indian bottom wear like dhoti pants or printed skirts. At the moment, Pakistani tunics with flattering, almost sensuous drapes, made with thin and well-fitting materials like chiffon and georgette, are extremely trendy. These can be worn for casual wear or at work, as well as for parties and formal occasions, depending on how they are styled.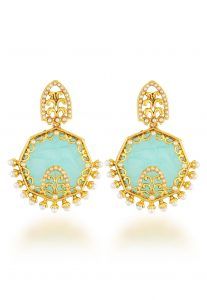 In fact, styling is crucial with any kind of designer tunic. The right accessories and jewelry can really tie together the whole ensemble and create an ultra trendy look in a matter of moments. With the brightly colored, bohemian style printed tunics, women can opt for contemporary earrings, beaded sandals, Indian jutis and wooden necklaces. With sophisticated and elegant evening wear designer tunics, pearl necklaces and silver pendants would be a great choice. The embroidery and embellishments on the tunic should be matched with the color and décor on the jewelry itself.