India is a land full of gorgeous textiles, beautiful embroidery styles and stunning traditional embellishments. Every region has a unique type of handicraft and sometimes may even have multiple handicrafts for which it is known. Earlier, the reach of such traditional handicrafts was often restricted to people living in and around that region but today the situation is very different. Many regional clothes have broken out of their geographical restrictions and have become popular and much loved in India and around the world.
This is especially the case with textile rich south Indian states, where almost every village is known for its unique and eye catching weaves and designs. Nevertheless, there are still many fabulous regional garments which still seem to fly under the fashion radar and have not gained the wide spread recognition that, say, a kanjivaram sarees or an Ikkat fabric might have. Garments like the Chettinad sari may not have received the universal fame of other mainstream saris but they certainly deserve all the accolades they can get.
Cotton sarees
The Chettinad sarees are so named after the town in which they have been produced for many years. This town is located in southern Tamil Nadu and a majority of the population there belongs to the Chettiar community. They have a very distinctive culture, boasting interesting food and unique fashions. Chettinad sarees have been worn by them for many centuries and therefore these saris have a very long and detailed history behind them.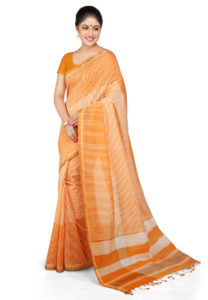 These cotton sarees are the most traditional type of garment worn in this region. Cotton was (and is) largely preferred by the locals because of its high absorbency and breathability, which made it a perfect fabric for hot and humid Tamil Nadu weather. Chettinad cotton sarees are distinguished by their fine, woven look which is quite rare in cotton garments. The complex methods of weaving used to make Chettinad sarees creates a very shimmering, supple look for the cotton fabric, making them both comfortable and formal.
In fact, this was the main appeal of these saris for people in the older days. The traditional Chettinad cotton sarees also came with a shorter length and ended at the calves, leaving the ankles visible. This is completely unique as no other sari comes with this kind of length. Similarly, the woven fabric used in these sarees is distinguished by its thick and heavy look that created a beautiful contrast to the fact that they were actually quite light weight.
As seen in vintage photographs and portraits, these sarees were purposefully made thick because they were meant to be worn without blouses. Chettinad sarees to this day are draped in the traditional, wrap around manner without a blouse which has a very classically south Indian look.
Another distinguishing factor of this garment is its color scheme and designs. Chettinad sarees' designs are known for their distinctive and visually appealing use of tints, lines and shapes. Checks, stripes and contrasting hues are often used to create a very dramatic look for these otherwise simple garments. Designers today have openly declared their fascination for the visual play that is seen on Chettinad sarees.
These traditional sarees have also gained a somewhat wider customer base because the weavers have adapted the unconventional features of the Chettinad sarees into a more modern, popular look. For instance, silk has been used to make these sarees for quite a few years now.
Either pure silk or blended cotton-silk is used to create the luxurious and lustrous effect that is so in demand, especially in the south. Also called Chettinad pattu sarees, they come with the customary lines, bright tints and checks these garments are associated with. Chettinad silk sarees often come in bold colors and have contrasting checks and stripes, especially on the pallu and the borders.
The colors of the traditional saree are usually quite earthy, including shades such as mustard yellow, brick red, mud brown and deep black, as well as darker blues and greens. Nowadays, women can also find brighter hues such as sea blue and forest green in Chettinad sarees, as well as beautiful designs and patterns that are more modern.
Style tips
Chettinad sarees are a great choice for ethnic celebrations such as festivals and ceremonies as they have a very traditional and uniquely south Indian look. The Chettinad cotton sarees are especially versatile, as they can be worn comfortably for office or on a daily basis as well as for formal occasions or parties.
They should be a styled in a simple and traditional manner, with a well-fitted blouse in a complementary shade (unless the saree is draped in the traditional, blouse-less manner) and a gold jewelry set. Gold jewelry will match the slight sheen of these sarees. Opt for bangles, nose-rings, bindis and other traditional jewelry to complete the ethnic look of the sari.