The chaniya choli, also called the ghagra choli, is a classic Indian outfit that is currently enjoying a renaissance in the fashion world.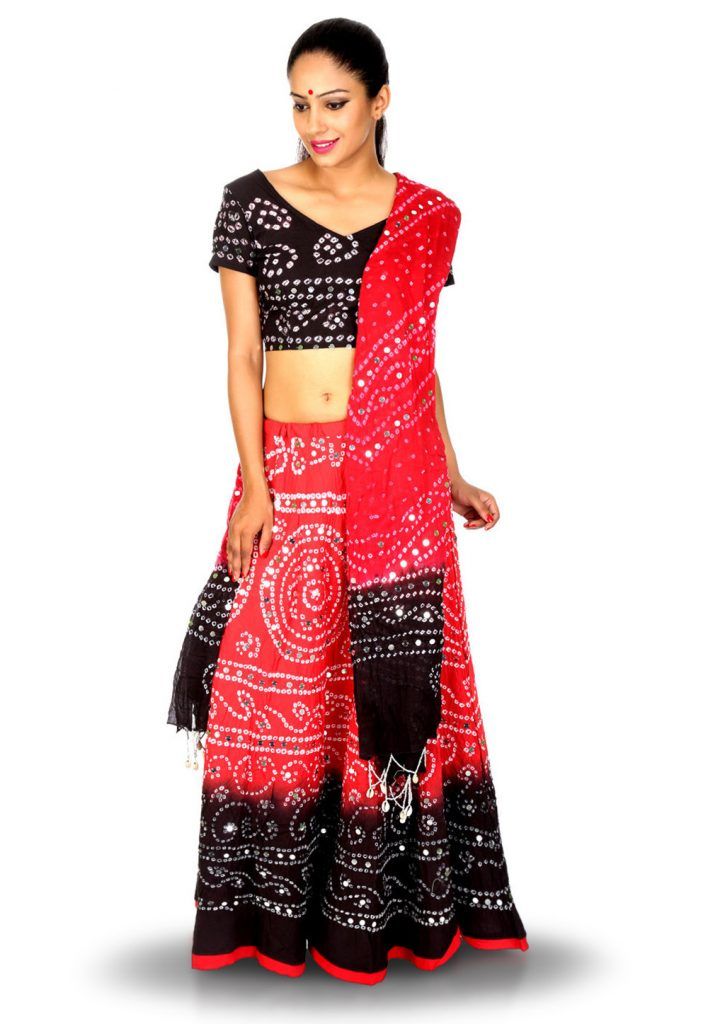 This outfit has ancient roots stretching back to the Vedic times and is frequently mentioned in the great epics.
It has been the favorite dress of Indian women for many centuries, offering a great deal of comfort and flexibility while still exuding feminine elegance.
Over the centuries it has evolved into a more modern form with a lot of different varieties and types.
The traditional chaniya choli outfit consists of three main pieces.
The ghagra is a long skirt with different types of cuts according to the occasion and style.
A wide, flaring skirt is popular for festivals while a more circular design is more appropriate for weddings or parties. It is worn with a well-fitting blouse, termed the 'choli', typically ending above the navel.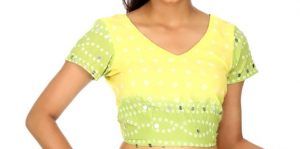 Choli – Front (source: www.utsavfashion.com)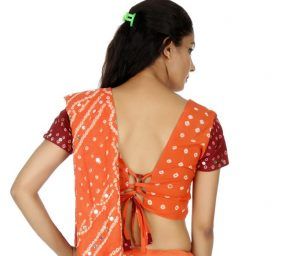 The final item is the odhini or dupatta, a long scarf draped over the shoulders and around the body. The main advantage of this three piece outfit is the effortless amalgamation of comfort and beauty.
The chaniya choli is very easy to move around, which is why it is such a popular festival outfit. It also comes with beautiful effusions of embroidery and patterns which add a unique ethnic glamour.
Chaniya choli is widely recognized in popular culture as being from the Rajasthan and Gujarat region of India. However, it is actually worn in many different states of India, albeit with slight variations in cut and style.
For instance, in the South, a simple version of this outfit is popular amongst young girls and is termed the 'pavada'.
On the other end of the scale is a designer chaniya choli.
These typically incorporate daring modern cuts along with intricate, hand-woven embroideries of different types. Some of the interesting variations you'll find include the backless choli, collar choli, abstract print ghagras and spaghetti strap blouses.
The chaniya choli design will depend on the occasion it is needed for.
The traditional navratri chaniya choli is always brightly colored and comes with mirror and patch border work as well as nature-inspired embroidery, with a wide flaring skirt suitable for dancing and movement.
A chaniya choli for wedding events will be more luxurious, made of materials like brocade and raw silk and with gold work, sequins work, stone work and booti work designs.
There are many fabrics to choose from as well, as this outfit is versatile enough to wear for different occasions and support different types of prints and embroideries.
Traditional chaniya cholis are typically made of cotton and khadi, though the more luxurious modern varieties come in high-end materials like silk, organza, brocade and so on.
Latest Trends of Chaniya Choli
One of the reasons for the upswing in popularity of chaniya cholis is that designers have increasingly started combining traditional and modern elements in chaniya choli designs.
A popular trend, frequently seen on ramps and in fashion magazines, is to combine a daring low cut or backless choli with an ornately embroidered ghagra and dupatta.
Doris may be considered traditional but are in fact fashionable additions to any blouse, especially with the keyhole or backless style cut.
These elegant modern style ghagra cholis can be worn for a variety of occasions, including parties and formal occasions. They are not just restricted to weddings and festivals.
On the other hand, you can also get latest chaniya cholis for specific occasions like Dandiya or Diwali. These fusion outfits retain traditional motifs and designs while incorporating modern silhouettes and textures.
Another way to express your personal sense of style is to experiment with the way the dupatta is draped: front to back, back to front, over one or both shoulders or like a scarf.
An important aspect of looking stylish and feeling comfortable is choosing the right fabric.
A cotton chaniya choli is great for outdoor festivals on hot days while a net chaniya choli is the top pick of fashionable brides who want to look regal and beautiful on their wedding day.
Silk, velvet and georgette are appropriate for special occasions but without the proper accessories, the look may fall flat.
How to Style?
No Indian chaniya choli look is complete without appropriate jewelry, shoes and handbags.
Match Kundan jewelry sets with wedding chaniya choli and flaunt a traditional look.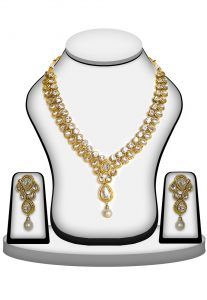 Potlis are a must have for any special occasions.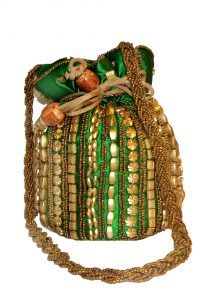 For festival days, oxidized jewelry is the best choice since it pairs beautifully with mirror work designs. Bold chunky Indian necklaces look great with the simple cotton and khadi varieties.