Salwar kameez are worn throughout the Indian sub-continent and are counted amongst the most important ethnic outfits for women. Although their advent in India is ascribed to the Mughals, they have actually been a part of Indian culture for many centuries. With the passage of time, the outfit has evolved to become a staple part of Indian wardrobes, preferred because of its comfort and versatility. It is available in many different styles and varieties, including trendy modern types that combine western cuts with Indian fabrics.
For a casual look, you can give salwar kameez a break and opt for comfortable kurtas. They are one of the most popular varieties of this garment. This outfit is particularly suited for casual wear because of its user-friendliness, comfort and versatility. It consists of a long tunic called the kurta, a loose pair of pants called the salwar and a long, flowing scarf, called the dupatta.
Verastile for every season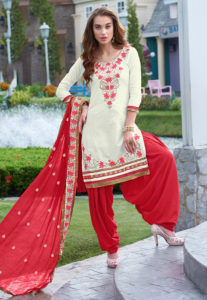 Casual salwar kurtas can be worn in winter and summer months. They are highly adaptable because of their unique structure. Though it is loose and airy, it also covers the whole body, providing protection against extreme temperatures, sans affecting the comfort factor. It is very easy to wear because even though it is a 3-piece outfit, it is worn in the same way as a tunic, leggings and scarf outfit.
There are many different casual salwar and kurtas designs to choose from. Women can browse all types of outfits made of various materials, in different cuts, styles, colors and designs. In casual wear the most popular material by far is cotton.
Light, breezy, soft and comfortable, it is the perfect material for day to day wear, especially in the summer. It also takes to dyes very well, which means it can be easily colored with multiple bright hues. Besides cotton, linen and wool are also popularly used to make casual wear salwar kurtas. Coarser varieties of silk, faux georgette, faux chiffon and crepe are also used to make casual salwar and kurtas varieties.
Casual salwar kurtas come in a range of designs, from plain, mono-tone outfits in a single bright color to vibrantly tied and dyed outfits with brilliant Rajasthani inspired patterns. You can also find beautiful casual salwar kurtas with subtle and light embroidery done near the neckline, sleeves and borders, adding an undeniably charming visual element. Embroidery methods like resham, sheesha (mirror work), aari and booti are mainly used to create such embroidered designs. The motifs can be traditional, nature-inspired ones such as leaves, trees and flowers, or they can be more modern, artistic and abstract in nature.
Prints are the most popular form of decoration. Materials like cotton, linen and faux silk can be easily printed with bright designs. From intricate ethnic prints of paisley, flowers and leaves to modern style prints of popular culture icons and abstract shapes, the options are limitless. Many salwar kurtas also have unique art from the villages and tribes of Indian printed on them.
This is one of a kind art that is difficult to find anywhere else in the world. Usually, it is expertly designed by members of specific communities that have been practicing this particular art for many generations. From the fun Warli art of Maharashtra to the exquisite Madhubani paintings of Madhya Pradesh, there are many unique styles to explore. Having a salwar Kurtas printed with such gorgeous and unique tribal art is a great way to showcase the talents of these communities and create one-of-a-kind ensembles.
Style tips
Nowadays, there are many trendy, unique cuts and styles of wearing kurtas to complement the classic styles. For instance, many young girls prefer to wear a trendy casual salwar kurta ensemble without a dupatta. This creates a more contemporary look. It is very easy to mix and match different pieces to create new and vibrant outfits that can be worn for a range of casual occasions. Classic straight-cut salwar kurtas are still very popular and are the preferred choice of professionals who want a comfortable and classic daily wear ensemble.
Accessorizing salwar and kurta is very easy. Indian jewelry is generally the best option in this regard. However, these outfits are versatile enough to sync admirably well with western jewelry as well. You should pick jewelry according to your outfit. For instance, a plain, cotton outfit in a single color will pair well with chunky antique silver bangles, silver earrings and/or beaded necklaces.
These will break the monotony of the plain outfit and give it a unique ethnic edge. On the other hand, brightly printed salwar kameez with vibrant designs should be paired with simple but striking jewelry, which complements the outfit without over-whelming it. For example, you can go for a set of colorful bangles or a pretty pendant.