Indian weddings are known to be extremely joyous, colorful, and rich celebrations, composed of several functions and parties in which not just the bride and groom but all their friends and family members are included. The opulence of the events has to be reflected in the clothing worn as well. Since brides are the center of attention at Indian weddings (and most other weddings), bridal sarees are necessarily the richest and most ornate of all. If you're looking for exquisite bridal sarees, you can explore a wide range of options through sarees online shopping.
A lot of religious and cultural significance is attached to the bridal dress; it has to be traditional, elegant and fashionable, as well as being the most beautiful and ornate piece of clothing in the entire room. The bridal saree is such a hit precisely because it combines all the requisite qualities of bridal attire in one seamless, stylish package.
Of course, sarees are ancient Indian garments that have been worn for special occasions like weddings for many centuries. There are many traditional varieties of the Indian wedding saree that are produced in specific areas of the country and are the staple bridal attire in that region. Some of the best bridal sarees are these gorgeous regional varieties that have been worn for many years by blushing Indian brides. To complete the ensemble, you can find a wide range of saree blouses online, offering various designs and styles to complement the beauty of the saree.
Silk Drapes
Benarasi saree, the bridal version of the rich and opulent Banarasi saree, is the most coveted outfit for brides in Uttar Pradesh, while in south India, that honor would go to silk bridal sarees like the Kanjivaram sari. Another stunningly beautiful Indian bridal sari is the Paithani saree from Maharashtra, renowned for its fine silk fabric and intricate and opulent gold thread designs. If you're looking for exquisite designer silk sarees, you can explore a wide range of options available to enhance your bridal attire.
South Indian Wonders
Further south, Kerala Kasavu sarees made of white silk with gold borders are the norm for brides. At any conservative Indian wedding, silk sarees for wedding from that region are a common sight. They have also transcended their regional boundaries and have become popular all over India. Sarees such as the richly woven and embellished Kanjeevaram sarees are popular picks in most south saree collections.
However, a lot of ladies enjoy balancing the classic aspect with a more contemporary, fashionable vibe. They prefer to go for designer wedding sarees, such as the royal blue saree, which combine all the opulence and beauty of traditional Indian textiles and embellishments with appealing modern cuts and designs. Another attraction of the designer saree is its exclusive and luxurious look, making it a popular choice among fashion-forward brides.
These are created by high-end designers who utilize the finest of materials, most exquisite embroidery saree styles and artistic and innovative patterns to create something truly one of a kind. The latest bridal sarees often incorporate unconventional hues such as silver, white or grey and off-beat designs made with modern materials like crystals and beads. Though rich and ornate in their look, they are considered bold choices for the Indian bride.
Embroidered Numbers
Those with more traditional tastes will find plenty to choose from in any well-stocked bridal saree collection, including the latest designer sarees. From bold red hues to attractive pinks and maroons, there are plenty of shades for the bride who wants to channel a completely traditional look with a touch of modern elegance.
In most bridal sarees, India-inspired designs and patterns are a given, even if they have an otherwise modern or off beat look. Bridal saree designs are created using exquisite indigenous embroideries such as zari, zardosi, ek taar, mirror, beads, Kundan, cut dana, gota patti, booti and aari work. Intricate patterns of nature-inspired motifs, mythological figures and artistic symbols are the most frequently seen designs in any bridal sarees' collection.
Style Tips
When it comes to bridal sarees, designer looks, including the glamorous Bollywood designer sarees, are considered the trendiest. Many Bollywood celebrities have chosen to wear designer bridal sarees for their own weddings, which has further increased the demand for these gorgeous creations.
However, the more traditional party wear sarees have an eternal appeal that does not really fade away because of new trends in the market. Ultimately, the choice of bridal sari is entirely based on what the bride wishes to wear and the cultural and religious expectations she has to meet.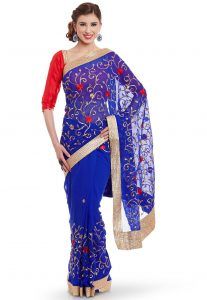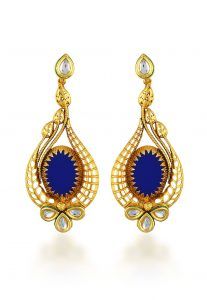 Whatever bridal sari is chosen, it is extremely important for women to accessorize and style the look properly. Part of the quintessential Indian bridal look is the inclusion of heavy and ornate traditional jewelry. The type chosen would depend on the type of sari worn. For instance, banarasi georgette sarees, with their exquisite craftsmanship, would match beautifully with Kundan necklace sets, complete with traditional pieces such as the mang tikka, nath, anklets, and kamarbandh.
A more subtle south Indian silk saree can be accessorized with heavy filigree gold sets or Thewa sets with mythological symbols. Designer bridal sarees can be accessorized with modern jewelry sets made of crystals, diamonds or precious stones, though it is very important to include multiple pieces to create the authentically ornate bridal look.