Bombay's fashion industry is counted as one of the most historic and important developments of modern India. It is well known for two things: Bollywood and sarees. Bollywood has glamorized the use of fancy sarees from this region; they are today known all over the world. It would not be wrong to say that in India, Bollywood is the trend setter in terms of fashion.
In particular, the Bombay sari has always been very popular and has always remained an elegant and chic choice in ethnic fashion. A fancy saree is not an unfamiliar piece of clothing around the globe since many international celebrities have embraced them, though they are typically worn by Indian women.
The versatility in colors, elegant designs and fabrics in this category has garnered immense fascination from designers and celebrities alike. This is one of the reasons why different fancy sarees including Bombay sarees have a huge demand and are exported all across the world from Bombay.
Perfect for weddings & festivals
A fancy saree is perfect for weddings and festivals, effortlessly making any woman look gorgeous and stunning. These sarees can be found with different kinds of embellishments like zari, stones, sequins, beads, zardosi and so much more and in a variety of materials like Kanchipuram silk, brocade silk, Tussar silk and chiffon to name just a few.
Exploring the Bombay saree collection will yield a tremendous amount of variety in embroideries and fabrics since this region is a melting pot with many cross-cultural influences in fashion.
Generally fancy sarees come with a lot of lot of embellishments; in the Bombay selection, sarees exhibit blends of different region-specific techniques which reflect the cosmopolitan nature of this garment. A fancy sari from this region could blend diverse embroidery styles like Zari, Resham, Booti, Aari and Phulkari within one garment.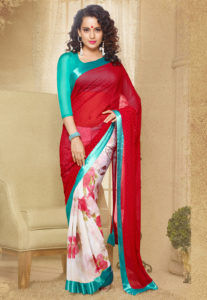 One of the versions of fancy sarees that are very popular right now is the net saree varieties. This is mainly because of the versatility of the net fabric which allows it to blend with other materials like crepe, Dupion silk, georgette etc.
This material complements every body type and can include different embellishments like Zardosi, stones, beads, sequins work and much more. Elegant jacquard fancy sarees are the latest trend and the new style statement for modern women. They are a classy pick offering a lavish fabric blended with outstanding designs and vibrant colors.
Lace fancy sarees utilize a bold yet delicate fabric and incorporate embellishments likes silver designs or scalloped borders. These are also in fashion right now and many Bollywood celebrities have flaunted them on the red carpet.
The most luxurious are the Bombay designer sarees; these stunning and resplendent sarees are well worth the attendant price tag and are typically reserved for important occasions. Special care is taken by designers to keep up with the latest trends; at the same time, they want to create sarees which will look beautiful and stay fashionable for more than a few months.
Style your bombay saree the right way
To properly pull off the modern styles of the Bombay saree, blouse designs with innovative cuts and beautiful fabrics are vital. For instance, net blouses or backless dori tied blouses would be an ideal choice for a night party, especially when paired with pretty stone studded earrings.
Accessorizing and styling these sarees depends largely on the design on it. A simple saree without too many embellishments will always look good with minimal accessories. Styling imparts a whole new flavor to any saree; proper jewelry adds an unbeatable grace which is why it should be chosen carefully.
For instance the classic Bombay silk saree looks best with golden jewelry like bangles, dangling earrings, pendants and mang tikkas. Add an embroidered brocade potli for the complete ethnic effect. The jewelry worn should preferably match the color and the work of the saree. Thus fancy sarees with silver zari look perfect with silver and diamond jewelry.
Bangles are a must have accessory with sarees as they enhance the grace and beauty of any saree. They can be made of colorful glass or metallic gold and silver. The designs vary from simple to intricate and this should be matched with the saree style. Another important accessory that offers the opportunity for a great style statement is the handbag.
These can be matched with any color of fancy saree or can be in a complementary color. The most appropriate for sarees are potlis which are available in different materials like silk and brocade with embellishments of gota work, bead work or mirror work. These are meant to be worn for special occasions and their small size complements the saree perfectly. Metallic clutches will pair well with contemporary Bombay sarees.