In India, the history of fashion is closely allied with Bollywood dresses and trends inspired by them. Before independence, the clothes worn by people were mostly regional variations of the classic Indian outfits like sari, kurta pajama, dhoti, salwar kameez and so on.
It was only once Bollywood movies started showcasing elaborate costumes and the trendiest clothes that different 'fashions' became popular with the general public. Today, of course, the Indian fashion industry has come far ahead and become a strong and flourishing industry in its own right.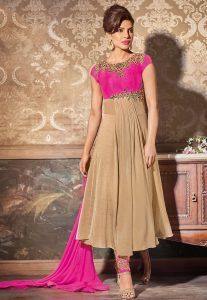 However, both in terms of high-fashion and street styles, Bollywood movies continue to exert a lot of influence. The confluence of tastes and trends between these two segments remains very strong and is one of the determining factors in what people wear.
Bollywood Dresses
Bollywood dresses encompass many different styles, colors, cuts and designs, inspired by Indian and western fashions. Once upon a time the Bollywood outfits worn in movies were typically quite loud and dramatic, with a focus on creating maximum impact, rather than showcasing 'realism'.
This kind of clothing still continues in the grandiose movies of today, such as those directed by Sanjay Leela Bhansali and Yash Chopra. On the other hand, one can find a lot more 'wearable' styles in films today, which try to not only emulate the clothing of the public, but also set trends with distinctive combinations and funky fashions.
Another type of Bollywood dress is the designer garment worn by actresses on the red carpet. In the last few years actresses have really woken up to the importance of having a personalized and unique fashion style. This is why one can find a huge variety of Bollywood outfit options inspired by red carpet looks, ranging from classic to experimental, simple to elaborate, traditional to modern.
Bollywood Sarees
The latest Bollywood dresses include revived vintage styles like the Kancheevaram sarees as well as innovative outfits like the lehenga saree. Some garments become so popular that they are repeated over and over again in several movies, and inspire trends that become a core part of ethnic fashion.
For instance, there will be many a Bollywood dress collection exclusively dedicated to chiffon sarees, the trademark dress of Yash Chopra heroines.
On the other hand, one can also find replica Bollywood dresses which exactly match the particular costume seen on-screen. This is especially the case for period movies with ornate regional and era-based costumes, specifically crafted for the movie.
Wedding Couture Inspired By Bollywood
Bridal collections often contain glamorous options like these, which are an exact replica of Bollywood dresses with the most intricate, heavy and expensive designs.
One reason for this is that a wedding is the one occasion where women can get away with very over-the-top designs and detailed patterns. Moreover, designer Bollywood dresses tend to be quite loud and colorful, with the richest of designs, to suit the opulence of the silver screen.
Consequently these are top choices for brides who want to look uniquely beautiful. It also becomes something of a style statement to don the latest Bollywood dresses. The three major Indian Bollywood dresses include stylish saris, lehenga cholis and salwar kameez, and all three have been embraced by designers and actresses alike.
Net and velvet sarees were not generally known to the public till designers started using them in movies, and the same goes for the anarkali salwar kameez, named after the famous character from Mughal-E-Azam.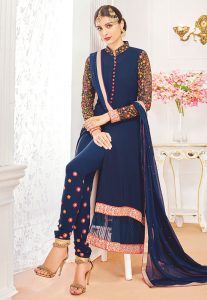 In lehenga cholis, too, many of the most stylish varieties like the mermaid lehenga, lehenga saree and backless choli were first seen in Bollywood movies.
Styling Bollywood Dresses
Bollywood represents the ultimate aspiration for many Indian women while for foreigners it is often the first point of contact with Indian culture. Therefore it is not at all surprising that when going in for ethnic fashion, many women opt for a Bollywood dressing style inspired by the many fashions seen in movies and on red carpets.
This does not just entail purchasing fabulous Bollywood dresses; it also means picking out the right jewelry, hair styles and accessories to achieve a look worthy of any red carpet. In terms of traditional outfits, Bollywood tends to favor over-the-top ornamentation using heavy gold jewelry and stone studded necklace sets.
Many ethnic accessories that had fallen out of fashion, like the nose pin, anklet or mang tikka were once again popularized because of their usage in various movies. These match particularly well with traditional outfits like the Kanjeevaram sarees and anarkali salwar kameez.
Many daring and funky innovations like the long top and Patiala combination, halter neck blouse, sleeve-less choli, printed saree and stitched saree have trickled down from movies into our daily life.
Chiffon and georgette are not traditional Indian fabrics but today are widely used to make gorgeous cocktail and casual wear sarees. Most of these modern style Indian clothes are accessorized in a more western manner, with pearl jewelry. Paired with embroidered clutches and stiletto heels. They make for a perfect bollywood look for one and all.