Block print suits are some of the most popular styles of printed suits in India. These suits tend to stand out from other styles of printed suits as they are created by hand and not machine and have an extremely distinctive look to them. Block prints are created by first carving a motif or a pattern onto a block of wood.
A lot of care is taken while doing so as the print that gets created on the fabric is the reverse of the print being carved onto the block (because of negative space), which means that the craftsmen who work on this style of garments must be extremely skilled.
The smallest block that has been used for printing is a millimeter which is a testament to the kind of skill required to do this work. Once the block is carved out, it is cleaned thoroughly and left to dry so that any splinters or bits of wood leftover while carving are removed. If they are not removed, the entire print gets ruined when it is made. Once the block is cleaned, it is left to dry.
The blocks of wood are then dipped in shades of different color and then pressed onto the fabric to create the print. This process is repeated again and again until the entire fabric, or the space chosen for the design is covered in this. As a result, block print suits are considered luxury items as a lot of effort goes into creating them.
Different colors are used to create different types of garments like block print salwar kameez, sarees, and even indo-western tunics or tops. These prints create an intricate pattern onto the fabric are can be worn for casual occasions quite easily. More often than not, block print suits are actually considered to be casual wear and fall in that category.
Women predominantly wear these styles of garments for daytime events and lunches. This print can be worn by younger women in colleges, working professionals in their twenties as well as older women in either the office or the home.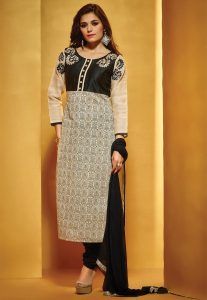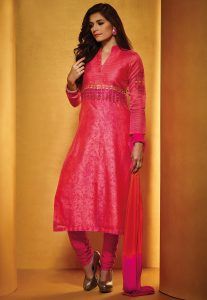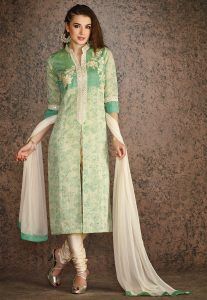 There are many different types of block prints that can be printed on to salwar kameez and kurtas. The two most popular styles from India are the Sangeneri and Bagru prints from Rajasthan, known for their artistic and nature inspired designs. Other popular prints made using blocks include Daboo, Lepakshi and Ajarakh. Block print suits are most often made of cotton, which is the most absorbent fabric, though silk may also be used.
Style Tips
A salwar kameez is considered to be one of the most versatile garments in Indian ethnic fashion and they are also immensely comfortable to wear. When adorned with block prints, they have a unique ethnic look which is loved by women across India. In particular, styling a cotton block print salwar kameez and kurtas are extremely simple as they can be paired with almost anything.
Women tend to accessorize designer block printed suits and kurtas in different ways. When going for a more casual look, they tend to choose street jewelry that matches the color of the print. This can include items like bangles, necklaces, chunky rings and toe rings as well.
As the norm now is to mix and match different kurtis with different salwars, women tend to purchase them separately and match them according to their own aesthetic preferences. Matching a salwar with the color of the print is quite common and so is color blocking – making sure that the salwar and the print are complimentary colors instead of matching ones. This leads to the option to create different outfits on the basis of different block print designs suits, making the wardrobe more creative and high on self expression.
Block printed suits are also worn a lot to the office and are considered to be office wear. However, when wearing them to the workplace, women tend to accessorize them in a manner promoting comfort and class. Younger working professionals are known for choosing vibrant handbags to match or clash with the print on their block printing suits. They also choose to wear comfortable yet stylish shoes such as wedge heels or flat V shaped footwear with interesting embellishments. In terms of jewelry, they are more likely to wear pretty oxidized jewelry that is traditional yet funky looking.
Older working professionals in their thirties tend to accessorize designer block printed suits in a way that makes them look a little bit more formal. These suits are paired with simple yet classic Indian jewelry such as delicate bangles or simple gold chain necklaces. They also choose to wear more formal shoes such as high heeled shoes to add to this look.