In the ever-evolving world of men's fashion, one wardrobe staple has stood the test of time and trends: the men's shirt. Starting as undergarments in the 19th century and evolving into versatile fashion statements, men's shirts have come a long way. In 2023, fashion embraces vibrant colors, patterns, and prints. It's the perfect time to explore the trending red, green, and blue shirts.
The Undeniable Versatility of Shirts
Shirts have an innate ability to effortlessly transition from casual to formal. Undoubtedly, they are an essential piece in every man's closet. Whether paired with jeans, chinos, dhoti, or pants, the right shirt can elevate an outfit to new heights. This year, the focus is on vibrant shades that exude confidence and flair, while maintaining the classic charm that shirts are known for.
Embracing the Color Spectrum
Radiant Reds: Red is a color that's hard to ignore. From deep maroons to fiery scarlets, the spectrum of red offers a wide array of choices for the discerning gentleman. A deep red shirt paired with charcoal trousers can create a sophisticated look for formal occasions.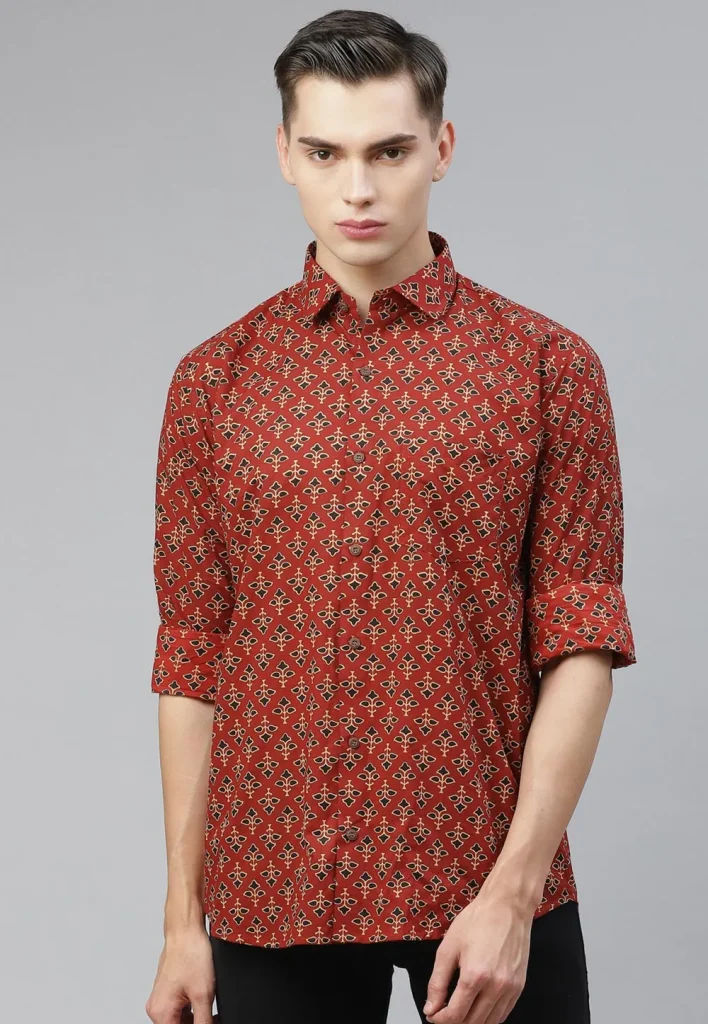 On the other hand, a brighter shade of red can infuse energy into a casual ensemble. Don't be afraid to experiment with shades like crimson and brick red – they're bound to turn heads.
Graceful Greens: Green is a color that symbolizes nature and freshness. In 2023, it's making a strong statement in the world of men's fashion. Olive green shirts are particularly popular for their earthy yet chic appeal. An olive green shirt paired with beige chinos is a winning combination for a smart-casual look. For those feeling a bit more adventurous, explore shades like forest green and emerald, and watch as your style quotient rises.
Brilliant Blues: Blue is a timeless color that seamlessly transitions across seasons and occasions. From the meeting room to a beachside brunch, blue shirts are the epitome of versatility. Sky blue shirts are perfect for a laid-back summer look when paired with white shorts. On the contrary, navy blue shirts exude sophistication and can be paired up with gray trousers. This year, consider experimenting with shades like cobalt blue to add a pop of vibrancy to your closet.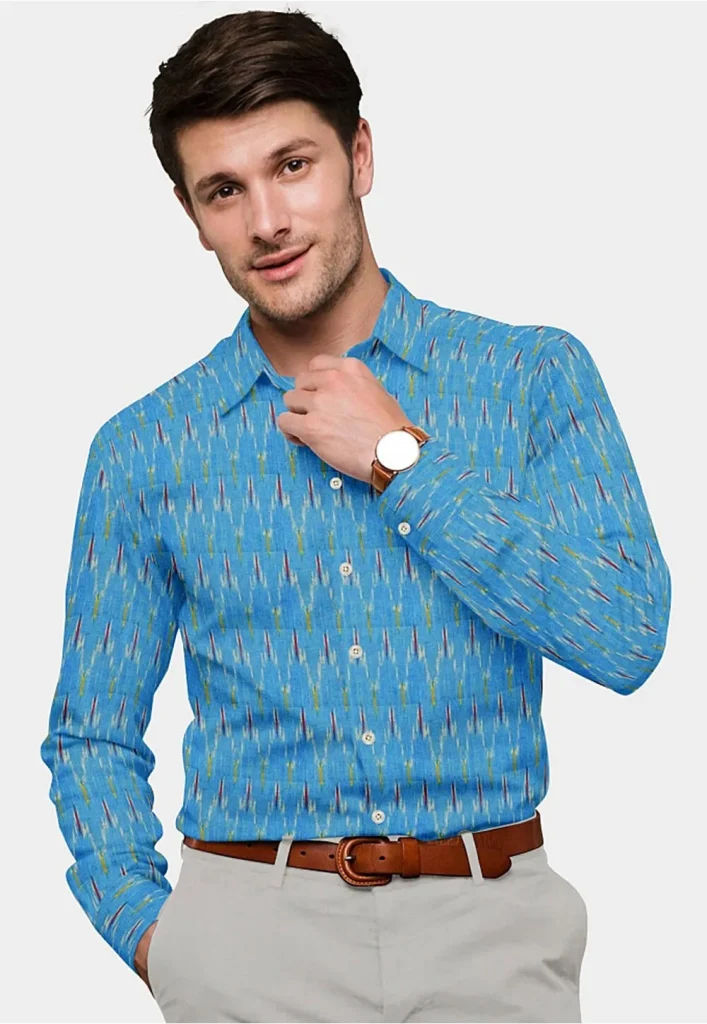 Additional Reads: Exploring the Popularity of Nehru Jackets
Prints and Patterns
Digital Delight: Digital prints are taking center stage in men's fashion. These intricate and often abstract designs can infuse a contemporary edge into your wardrobe. A digitally printed shirt in shades of blue can be effortlessly paired with dark jeans for a night out. Alternatively, a red or green digital print shirt can add a touch of artistic flair to a casual outfit.
Block Magic: Block prints are making a comeback in 2023, bringing a touch of tradition to modern fashion. A block print shirt in blue tones can be paired with white trousers for a summer-ready look. Additionally, a block print shirt in shades of green can be a unique addition to your shirt collection.
Captivating Ethnic Prints: Ethnic prints like patola, leheriya, and dabu are breaking the monotony of solid hues. These prints add a touch of cultural richness to your style. Imagine a red patola print shirt paired with beige linen pants for a destination wedding or a green leheriya print shirt teamed with khaki shorts for a beachside vacation vibe.
The Right Fabric Matters
Sumptuous Silk: Silk shirts radiate luxury and opulence. A silk shirt in a deep shade of blue can be your go-to for high-end events. Furthermore, a red or green silk shirt can make a statement at a cocktail party. The rich texture of silk adds depth and character to your outfit, ensuring you stand out.
Cool Cotton: Cotton shirts are a constant favorite for their breathability and comfort. A light blue cotton shirt can be effortlessly paired with white trousers for a crisp summer look, while a red or green cotton shirt can be your everyday go-to for casual outings.
Art Silk Elegance: Art silk combines the best of both worlds – the shine of silk and the affordability of synthetic fibers. An art silk shirt in shades of blue can add a touch of sophistication to your evening ensemble. Opt for a red or green art silk shirt to strike a perfect balance between casual and formal.
Conclusion
In the fashion world, there's a reason why red, green, and blue are considered celebratory colors. They evoke emotions of excitement, freshness, and grace – qualities that resonate with the modern man's style aesthetics. In 2023, men's stylish shirts draw inspiration from these very colors, offering a delightful range of shades and prints.
At UtsavFashion.com, we understand the language of style. Our curated collection of stylish shirts for men online is a testament to the evolving trends and timeless classics. From the deep reds to the serene blues and the refreshing greens, our collection boasts a range that caters to every man's preference. With worldwide shipping, you can embrace these trends no matter where you are.
So, gentlemen, it's time to infuse your wardrobe with a burst of color and creativity. Let 2023 be the year you redefine your style with the trendiest shirts.