Batik is the art of dyeing that has been a part of India's costumes and culture for the last 2000 years. It was originally used in Java, in South East Asia. It was introduced in India due to the relations of trade that India had with merchants in the South East.
Batik print has been a part of Indian culture for so long that it has gone through its own unique stages of evolution and innovation. Batik has always been used to decorate fabrics and tailored garments. It is only recently that this art has been used to create works of art such as paintings, wall hangings, murals, mobile phone holders etc.
The technique of producing batik clothing basically involves designing the desired cloth with wax and then placing it in a dye bath. This enables all the areas of the fabric without the wax to absorb the colors. Batik artisans use these fundamentals to create some really interesting patterns on the fabric.
For instance, where the wax is cracked, the color seeps through and creates fine lines and contours on the batik fabric. Another commonly used technique that makes batik print clothing very fascinating is the layering of colors in the dye bath to create a mélange.
Why Batik prints are globally loved?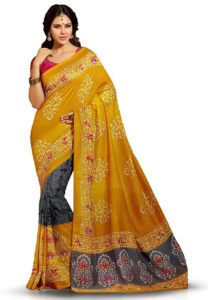 There are several reasons why batik has such global appeal. Such are the attractions of this art that the foreigners visiting India invariably pick up items of clothing with batik on them. The first of these attractions is the seamless meld of a number of colors. Right from earthy tones like maroon, beige and brown to warm hues like red, orange and yellow as well as cooler colors like green and blue, batik embraces all and makes the garment irresistible to the buyer.
Another reason for its popularity is the versatility of fabrics that it can be worked onto. Cotton is a great option for summers while silk batik clothing is suitable for winter.
The final and perhaps the most important attraction is the variety of ethnic Indian clothing items that one can purchase in batik. Although dupattas, kurtas and jackets in batik are commonly sold, the essence of this craft really shines through in batik print sarees.
Variety of colors, patterns & prints
Along with a variety in colors in batik online fancy saree, the major pull-factor of a batik saree is in its multifarious designs and prints. Often the body of the saree is dyed in one color which is complemented by a contrast in the color of the border and the pallu. Along with a difference in hues, the saree usually also has a bold motif on the pallu.
There is no dearth of batik saree designs that are very attractive and reminiscent of the culture and tradition of India. One of the most popular motifs is of animals like elephants or birds like the peacock. Blossoms and leaves are also prominent and usually adorn the border. Swirls and circular prints can also be seen in the more modern versions of the batik saree. These patterns are not restricted to being dyed onto cotton but look just as beautiful on batik silk sarees.
Style tips
Batik sarees are ideal for wearing to the office as well as to semi-formal occasions such as an office party. Since the prints on a batik saree are usually bold with the rest of the saree being a canvas for highlighting the batik technique in itself, it is a good idea to wear a piece of beautiful jewelry with it.
However, the trick is to not overdo the chunkiness. The jewelry piece should reflect the boldness of the motifs but at the same time it shouldn't dominate the saree.
Here are a few tips on how to accessorize a batik print saree:
Earrings: One can wear jhumkis or bulky earrings in beads, enamel or stone. Oxidized silver jhumkis are a great muted yet elegant option in terms of accessories for the face.
Neckpieces: Oxidized silver necklaces with stones and beads are a fashion trend currently. However, if one wants the look of a heavy necklace offers without having to carry that extra weight, beaded necklaces (especially those with wooden beads) will do the trick.
Hair and Make-up: A bindi is one of the finest yet most understated forms of sringaar (dressing up) that is part of Indian culture. Whether bold and red or small and black, a bindi can really give the quintessential Indian look to a woman in a batik print saree. These days, designer bindis are also very much in fashion and can complement the print or motif of one's saree. The hair looks better when worn in a bun, especially on an oval-shaped face. Women with round faces can choose to leave their hair loose but gathered to a side and decorated with a fancy hair-tie.