Bandhej suits, as the name suggests, are made from a method called bandhej. In this regard, the fabric is subjected to a tie-dye process. This style is mostly practiced in Rajasthan and Gujarat, and is also known as Bandhini or Bandana. The phonetics depends on the pronunciation of the common folk living in different regions where this is practiced.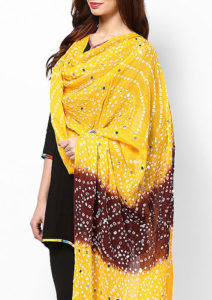 The term itself traces its origins back to a Sanskrit word, Bandha, which essentially means to tie. This is extremely apt because the effect is created by tying a fabric with threads at different intervals and then dying them in different colors.
A bandhej salwar kameez is one of the most popular garments made in this process. Since bandhej was always considered to be something that truly represented the common folk living in areas like Bikaner, Jaipur, Ajmer and so on, the concerned salwar kameez is considered to be one of the most ethnic garments found in India. Worn usually as a casual garment, this contains three main pieces.
The first is the salwar, which refers to loose, light pants tied around the waist with the help of a drawstring. However, you can find elasticated modern variants at the waists. The second is the kurta, which is fitted at the shoulders and chest, and loosens at the torso and beyond.
This is the quintessential Indian top, period. The final piece comes in the form of the dupatta, which is draped over the shoulder. When it comes to Jaipuri bandhej salwar suits, all three components contain this tie-dye effect and are usually of the same color as well. This is a characteristic trait.
Styles of bandhej salwar suits
Talking about bandhej salwar kameez designs, it is important to note that this work is only found in red and black. Wearing bandhej in different colors usually indicates that it is a contemporary version of this style. In some areas, it is also considered to be inauthentic. However, finding the patterns in a variety of colors such as red, yellow, green, blue and black over the traditional red or black fabric is completely true to its nature.
Once the processing of the work is over, the work creates a variety of different shapes such as squares, strips, dots and waves, each with its own charm. These bandhej salwar suits designs are also known as Leheriya, Ekdali, Shikari and Mothra. In Rajasthan, the colors of bandhej are usually quite symbolic. For instance, wearing red bandhej symbolizes and testifies a newlywed bride while wearing yellow bandhej states that a woman has just become a mother.
While looking for these garments, more and more women choose to purchase bandhej suits online. This is because most portals have interesting variants of the bandhej salwar suit. The cotton bandhej salwar kameez is one such popular variant amongt women living abroad since it is very light.
Even though bandhej is an extremely popular style in general, the sales of this garment or style tend to sky rocket mostly during festive and wedding seasons. This makes them appropriate for formal occasions or events. This is mainly because they are highly colorful, which is a trait that tends to qualify them as festive and happy.
This style is donned during a variety of different festivals like Bhai Dooj, Rakhi, Baisakhi, and Lodi and so on. You can also find Badhej work on garments designed for men and children in the form of kurtas pajamas and turbans.
Given the popularity of bandhej and its commercial ramifications, it is also found in a variety of other Indian ethnic garments. It is not just restricted to the bandhej suits. You can easily find items like sarees, lehenga cholis and even certain kinds of indo western wear designed with this tie-dye method.
Interestingly, with contemporary fashion aesthetics and styles coming into play, this method has also been adopted to create handbags and jholas as well as certain kinds of closed toe shoes that are shaped similar to moccasins. The popular choli vest that is worn with a variety of indo western garments also has this style.
Accessorizing bandhej suits
Since the salwar kameez is essentially a very versatile and comfortable garment, it can be styled with almost anything under the sun. Wearing this garment with flat V shaped footwear is the most popular approach amongst women because it heightens the comfort level instead of taking away from it.
Both, Indian ethnic jewelry as well as western jewelry is appropriate to wear with this style of suit. For garments designed for more formal occasions, women prefer wearing high heeled sandals as opposed to flat ones because the former enhances the charm and elegance of this simple outfit.