Your big day is just around the corner, and while all eyes will undoubtedly be on your bride-to-be, it's essential for the groom to make a statement too. Don't you agree?
Gone are the days when grooms had limited options for their wedding attire. Nowadays, they have an array of attention-grabbing wedding kurta styles to choose from. Each of these available kurta styles effortlessly blends tradition and contemporary flair. Let's dive into some of the most appealing wedding kurta styles that are sure to make you the center of attention.
Elevate Your Style Game with a Designer Kurta
Why settle for ordinary when you can wear a designer kurta that exudes sophistication? Designer kurtas often feature intricate embroidery, delicate detailing, and a contemporary silhouette that sets you apart. Consider rich jewel tones like royal blue, deep maroon, or emerald green for a royal touch. Pair it with well-fitted churidar pants and chic mojari to complete the look.
Make a Statement with Block Printed Wedding Kurta
For grooms who seek to add an artistic flair to their attire, a block-printed wedding kurta is the way to go. The intricate patterns and vibrant hues of block printing add a dash of cultural charm to your ensemble. Keep the rest of your accessories minimal to let the kurta steal the show.
Embrace Elegance with Appliqued Wedding Kurta
Elegance takes center stage with an appliquéd wedding kurta. The art of applique comprises stitching complementary fabrics onto the base fabric to create striking motifs and designs. Choose motifs that hold sentimental value, such as initials or symbols that resonate with you and your partner.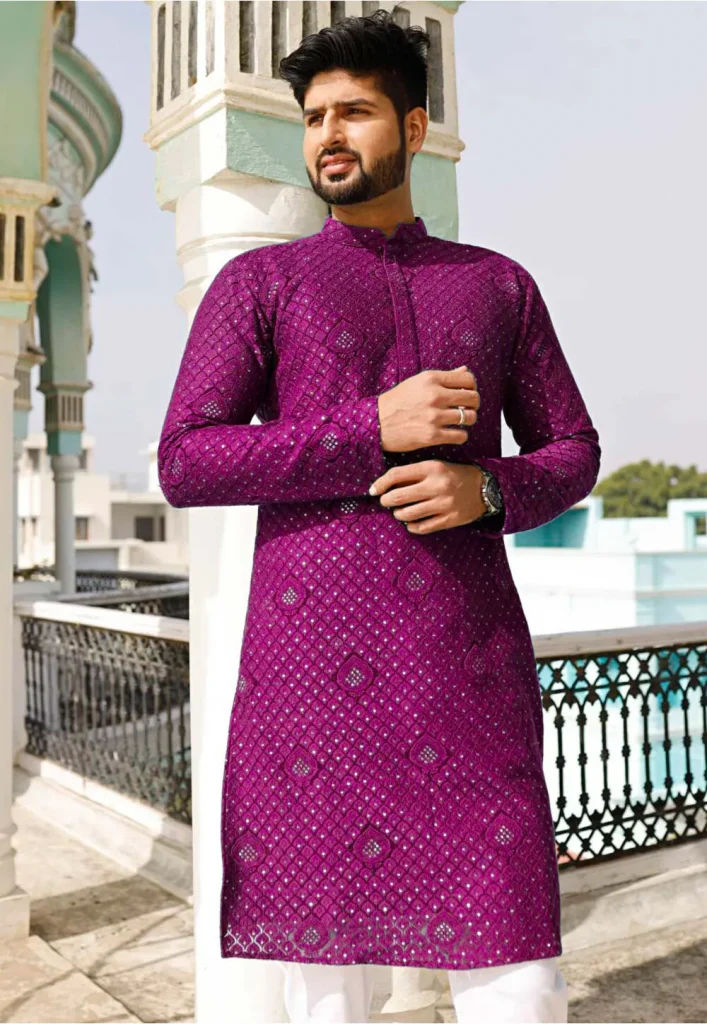 Infuse Grandeur with Sherwani Style Kurta
If you're looking for a grand and majestic look, the sherwani-style kurta is your go-to choice. Inspired by the regal attire of Indian royalty, this style features a longer kurta paired with churidar pants and a structured jacket-like top layer. Go for ornate embroidery and exquisite embellishments for a look that oozes richness.
Graceful and Gorgeous Chikankari Kurta
For a touch of elaborate beauty, the chikankari kurta is a must-consider choice. This Lucknowi embroidery technique adds a delicate touch of grace to your outfit. Pastel shades and subtle detailing work wonders to achieve a serene and sophisticated look.
Redefine Style with an Asymmetric Wedding Kurta
Break away from conventional dressing with an asymmetric wedding kurta. This ultra-voguish kurta features uneven hemlines, adding an element of edginess to your look. Pair it with slim-fit trousers and brogues for a contemporary yet sophisticated appearance.
Embrace Simplicity with an All-White Kurta
There's something undeniably alluring about an all-white ensemble. It exudes purity and elegance, making it a classic choice for weddings. Choose a well-fitted white kurta with subtle texture or embroidery for a sophisticated look.
Shine Bright with Mirror Work
Add a touch of sparkle and shine with a mirror work kurta. Intricately embroidered mirrors reflect light, creating an attractive play of hues. Keep the rest of your outfit relatively understated to let the mirror work steal the limelight.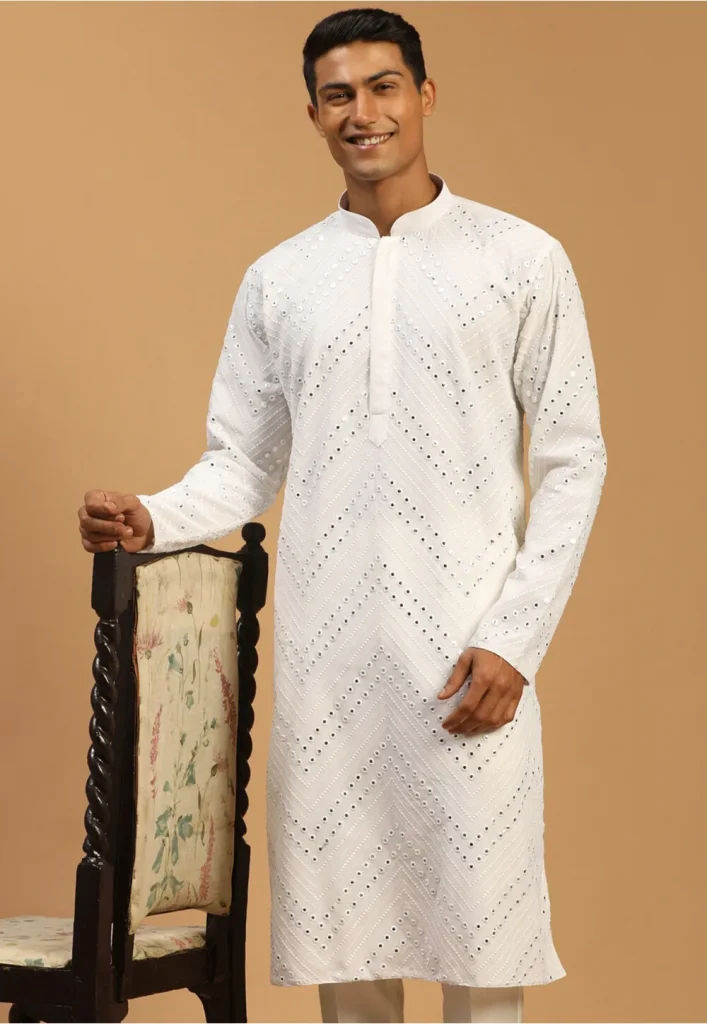 Create a Statement with a Draped Kurta
A draped kurta adds an element of drama and flair to your wedding attire. This style involves draping the kurta like a shawl, creating an inimitable silhouette. Opt for luxurious fabrics like silk or velvet for added texture and lavishness.
Channel Regal Vibes with a Pathani Wedding Kurta
The Pathani kurta is a versatile option that seamlessly blends tradition with modern style. With its high collar and buttoned-down front, it radiates regal vibes. Consider deep jewel tones or rich earthy colors for a princely look.
Make a Statement with a Bandhgala Kurta
The bandhgala kurta exudes suave charm with its closed-neck design and structured silhouette. It's an ideal pick for grooms who want to make a statement while maintaining a sophisticated look. Pair it with contrasting trousers and leather juttis for a complete ensemble.
Traditional Twist with a Bandhani Kurta
Infuse a hint of Rajasthani tradition with a bandhani kurta. The intricate tie-dye patterns add a burst of color and liveliness to your ensemble. Pair it with minimalistic Indian jewelry and classic mojaris for a look that's loaded with cultural heritage.
Additional Reads: Tips for Men: Choosing the Right Sherwani
Amp Up Your Look with a Printed Wedding Kurta
Traditional prints never go out of vogue. Opt for a wedding kurta featuring timeless patterns like paisley, floral, or geometric prints. These patterns add a touch of classiness without overwhelming your outfit.
Wrapping Up!
It is your time to shine, and with these ultra-voguish wedding kurta styles, you'll undoubtedly steal the show. Keep in mind, your wedding dress is about how you carry yourself with confidence and joy. So, go ahead, embrace the fun and casual tone of these kurta styles, and make your D-day an unforgettable fashion moment.