Animal prints, in one form or another, have been around for millennia. With the advent of technology and the rise of animal rights activism, people began to realize they could get these unique designs without harming any animals by simply printing them on to the cloth.
This wrought a change in the 'fashion' status of animal prints. They became commonly available and therefore were considered fun but not at all elegant or sophisticated. In recent years, however, animal prints have come back into fashion in a big way, and designers are finally embracing the possibilities of these patterns beyond the typical skin-hugging western dresses. Animal print is now considered extremely versatile, and is used to make all types of gorgeous and chic dresses.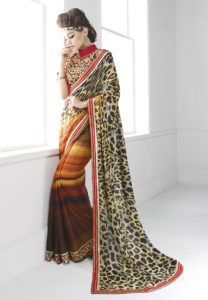 An animal print dress is essentially any type of outfit with animal-inspired designs on it. This can be either the skin or fur of an animal or repeated motif of the whole animal. The latter style is sometimes excluded from the category of animal print by purists, but in fact it is a valid addition.
It includes caricatures of various animals like horses, cows, camels, elephants, giraffes, dogs and cats, as well as animal-derived motifs like paws or hoofs. The classic and easily identifiable animal prints are the ones which replicate the fur or skin of animals like leopards, tigers, zebras, giraffes, hyenas, monkeys and much more. This type of animal print clothing is often named after the animal it imitates, for instance leopard print skirts, zebra print top and so on.
Animal print outfits
Animal print dresses need not necessarily be western, though of course tunics, shirts, leggings and skirts with this pattern are extremely common. The animal dress has become a world-wide trend and has impacted Indian fashions as well. Not only are indo western garments like Indian kurtas, pajamas, salwars and dhoti pants displaying eye-popping animal prints, traditional clothes like sarees and salwar kameez also come with animal prints.
A common misconception is that animal prints are entirely new to Indian outfits and were only introduced from the west. While the current trend owes a great deal to western designs, a lot of traditional ethnic motifs also include various animals.
These are more in the style of the repeated whole animal motifs and are usually stylized abstractions of the animals rather than the print of the fur or skin. Tigers, peacocks and snakes are the most commonly seen ethnic prints though other types like horses, cows etc. also make an appearance in certain designs.
Animal print clothes can be made of any fabric that can easily be printed on. This includes cotton, silk, georgette and chiffon as well as rayon and poly blends. The effect comes out differently based on the fabric. A thicker fabric with prints will have more of a fur like effect while animal print outfits made of diaphanous chiffon or georgette are often layered over plain tank tops or leggings.
Animal print outfits are often associated with certain staple colors. For instance, a leopard print is almost always yellow and black, while zebra is black on white. These types of classic color combinations tend to imitate the animal as closely as possible. However these are not the only hues available.
From bold neon hues to pale grays and silvers, from rich reds to peppy pinks, an animal print outfit can now come in any shade of the rainbow.
In any outfit, animal print can be used in a variety of ways. Either the entire fabric can be printed or half of it can be printed while the other half is kept bare. Alternatively, prints can be restricted to the borders or the neckline. Another interesting variation is that of mixed prints, in which different animals' prints like tigers, leopards, zebras etc. are mixed in one continuous design.
Accessorize it with ease
Animal prints are not only extremely trendy in the fashion world, they are also very easy to style and accessorize. It is very easy to play around with colors and create a funky and attractive look with animal print outfits. For instance, chiffon or georgette kurtas with large animal prints will look great when paired up with red leggings and red stone jewelry.
A classic rule which many women abide by is that prints should not be mixed; however, this rule is increasingly being flouted nowadays. Of course, it still makes sense to avoid pairing clashing prints but clever combinations like a subtle and muted gray stripes print lined skirt with a yellow animal print top will always look good.
With any type of animal print outfit, be it Indian or western, metallic jewelry including exquisite bridal jewelry is a great addition. From silver and gold to brass, bronze, or copper, most metals add a certain glamour and power to animal print dresses. The right choice of bridal jewelry can elevate your look, bringing together the boldness of animal prints with the elegance of well-chosen accessories.