Nothing can match the beauty and elegance of the Indian lehenga choli. It is one of the most attractive garments in the world, distinguished by its unique structure and gorgeous designs. With the advent of ethnic fashion and the emergence of Indian clothing as a huge trend in the world fashion arena, information about lehenga cholis has become more in-demand than ever before.
Lehenga cholis started off as the humble garb of common women in the rural areas of Rajasthan and Gujarat. Over the centuries, many different varieties emerged, some of which were much finer and more expensive than their daily wear cousins. Lehenga cholis eventually became a favorite dance costume and began to be worn by upper-class women as well.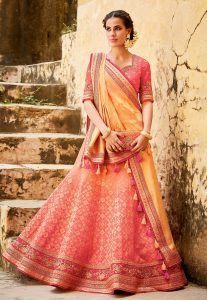 Today, of course, they are worn by women across the Indian subcontinent, though they are typically reserved for special occasions. Only in certain rural pockets are they still worn as the traditional, daily wear garment. They have become popular across the world and are worn by women belonging to different cultures. The fact that this outfit has become a staple in glamorous Bollywood films has further added to its appeal; many women want to know all about lehenga cholis and how to wear them just so they can imitate their favorite actress.
Traditional & Contemporary Variety
There are many gorgeous Indian lehenga designs for women to choose from. This outfit is the favorite of high fashion designers, Bollywood actresses as well as rural women, and consequently, there are many interesting variations in the market. The traditional lehenga patterns tend to be quite simple and easy to wear. The straight cut lehenga worn with a long, tunic-like choli is an extremely popular semi-casual or daily wear style.
Worn by women in Rajasthan and Gujarat, these outfits are made of soft and breezy cotton materials to make them comfortable to wear in the hot, desert weather of these states. To contrast with the dull and sandy landscape, their outfits are extremely colorful, often dyed using the traditional Bandhej techniques to create brilliant, multi-colored outfits which make for the perfect festive wear. Comfortable and beautiful, such lehengas are ideal for dance-based festive occasions like Navratri or Dandiya. The dressier varieties often come with sparkling shell or mirror work designs.
Young girls in south India often wear a version of the lehenga choli called the pattu pavada. This simple and pretty outfit is extremely comfortable and is usually made with colorful cotton, cotton-silk or faux silk materials, decorated with shiny golden borders. When it comes to this traditional type of lehenga, information is hard to come by as these outfits have fallen out of fashion in the last few decades. They are now generally only worn for special occasions or in extremely conservative areas.
Besides these traditional varieties, there are many amazing types of modern, glamorous Indian lehenga choli designs. When it comes to this type of lehenga choli, information abounds as it is the most popular variety, especially amongst the fashionistas who love flaunting the latest styles and trends.
There are many different varieties, from the sensual mermaid cut lehengas to the voluminous circular lehengas. These are often paired with daringly cut cholis such as the backless choli, dori or string tied choli, deep neck choli and sleeve-less choli. Such beautifully structured outfits combine western silhouettes with Indian designs and textiles, creating a truly elegant fusion outfit for the modern woman.
Depending on the occasion for which the lehenga has to be worn, the lehenga patterns will vary. The richest and most intricately decorated lehengas are the bridal or wedding wear varieties which come with rich pearl and gemstones embellishments and thick metallic thread borders. They are often decorated with traditional embroidery work such as resham, zari, kota doria, Chikankar and Kashmiri work, to name just a few. Artistic designs depicting gorgeous Indian motifs of flowers, fruits, trees, animals and abstract Persian designs are also frequently seen on the fancy, evening wear lehenga cholis.
Styles and Trends
Lehenga cholis, like any other outfit, are subject to trends and styles. While at one time the full length, full sleeve lehenga choli outfit was in fashion, in the last few years, the more modern styles are considered more fashionable. Sleeve-less and back less cholis, lehengas with a body-hugging mermaid cut and translucent net dupattas have become a common sight at ethnic celebrations.
Lehenga cholis can be beautifully accessorized with different types of Indian jewelry pieces, depending on the designs on the outfit and the occasion for which it has to be worn. For instance, an outfit with gold thread designs can be accessorized with gold necklaces and dangling gold earrings, while a silver and pearl design lehenga will pair well with an ornate pearl necklace set.
If you're looking to buy lehenga online, Utsav Fashion is the ultimate destination for you. With its exceptional collection and reputation as one of the best online websites for ethnic wear, Utsav Fashion offers a wide range of exquisite lehengas to suit every taste and occasion. From traditional to contemporary designs, their collection showcases intricate craftsmanship, rich fabrics, and exquisite embellishments. Whether you're attending a wedding, a festive celebration, or any special event, Utsav Fashion provides a seamless shopping experience, ensuring you find the perfect lehenga that reflects your style and enhances your beauty.