A festival that celebrates the beautiful bond between brothers and sisters, Raksha Bandhan, is just around the corner! This joyous occasion is marked by the tying of a sacred thread (Rakhi) around the wrist. It symbolizes the promise of protection and love.
As the festival approaches, the excitement in the air is palpable. From exchanging gifts to indulging in delectable sweets, Raksha Bandhan is a day filled with joy and cherished moments. And of course, who wouldn't want to look their best on such an auspicious day? This blog is your ultimate guide to embracing the festive vibe with the 6 best salwar suit styles for Raksha Bandhan 2023.
Get ready to shine like the true diva you are!
Vibrant Hues to Illuminate the Day
This Rakhi, express your festive fervor by adorning vibrant hues that mirror the festive spirit. Opt for stunning salwar suits in bold colors like royal blue, fiery red, and emerald green. These colors not only radiate vibrancy but also exude positivity. To enhance your look, pair your vibrant ensemble with statement Indian jewelry, like chunky earrings or a gorgeous necklace. Keep your makeup understated yet glamorous, with a focus on bold lips or smoky eyes.
Printed Perfection: Flaunt Your Style
Prints are an excellent way to add a touch of personal flair to your outfit. Choose printed salwar suits featuring intricate patterns or elegant motifs. Whether you prefer florals, geometric patterns, or abstract art, printed suits can truly be a reflection of your personal style. Remember, when it comes to accessorizing, keep it minimal. Opt for delicate pieces that complement the prints on your outfit. A pair of jhumkas or a sleek bracelet can work wonders to complete your look.
Silk Elegance: Embrace Luxury
For those seeking to embrace a touch of luxury, silk salwar suits are the way to go. The magnificence of silk fabric can instantly elevate your look, making you stand out as a style icon. Opt for a silk suit in a regal hue like deep maroon, gold, or rich navy. Add a touch of tradition with intricate embroidery or zari work. To enhance the elegance of your outfit, go for a stylish hairstyle like a messy bun or soft waves. Also, don't forget a bindi for that added grace.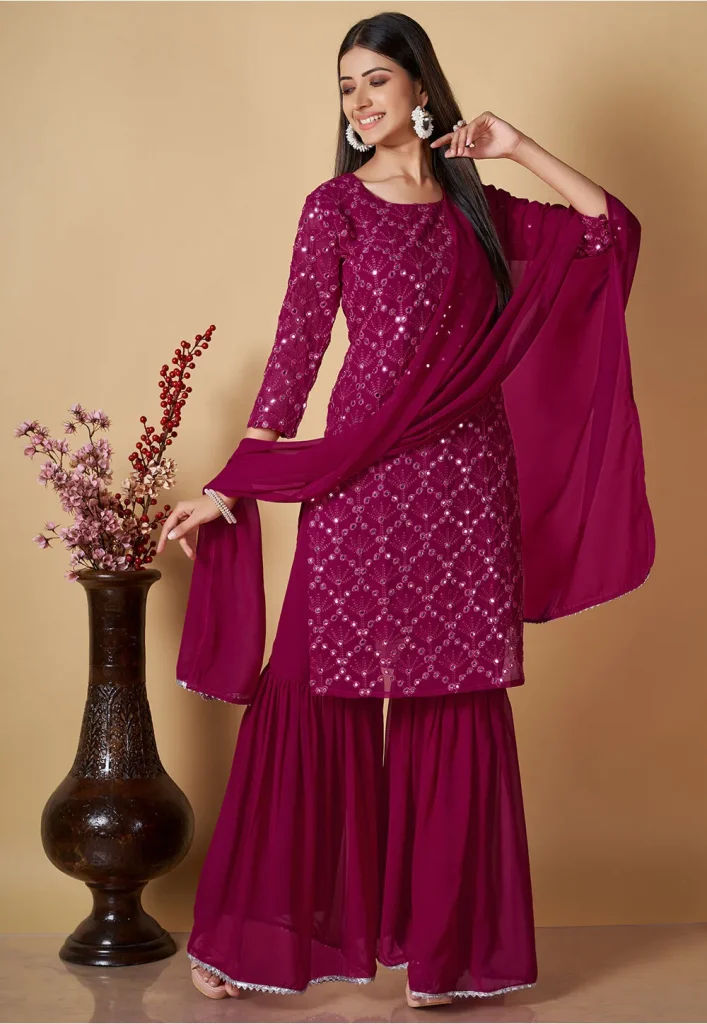 Sharara Suits: Twirl with Joy
If you're someone who loves to twirl and dance, then a sharara suit is an excellent choice for you. These outfits consist of wide-legged pants paired with a short kameez, creating a playful and refined silhouette. Choose vibrant colors with delicate embellishments or mirror work to add a festive touch. Keep your makeup fresh and dewy, and tie your hair in a chic bun to allow the outfit to take center stage.
Angrakha Allure: Fusion of Tradition and Style
Angrakha suits beautifully blends traditional charm with modern style. The crisscrossing design and asymmetrical hemline of the Angrakha kameez create an interesting visual appeal. These suits often come in rich fabrics and intricate detailing. Pair your Angrakha suit with statement earrings and a contrasting clutch to balance the fusion of tradition and modernity.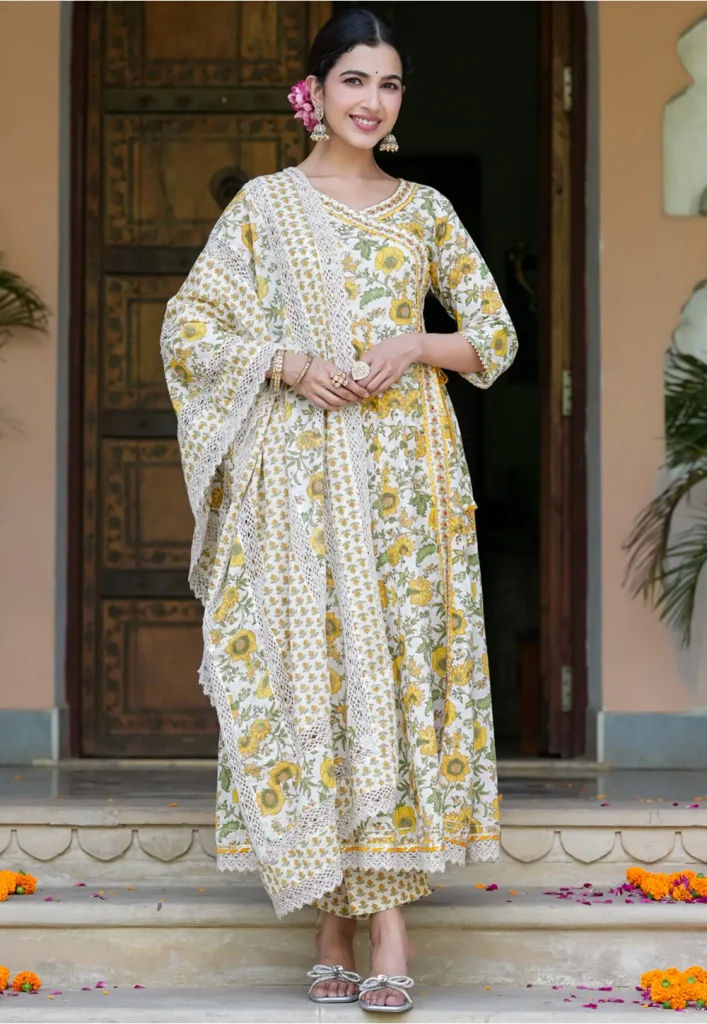 Additional Reads: Short Sleeve Salwar Kameez To Keep Your Summer Statement On Point
Cotton Comfort: Seamless Elegance
Are you someone who values comfort as much as style? If yes, then cotton salwar suits are a savior. The breathable fabric ensures you stay comfortable while looking effortlessly elegant all day long. Opt for light pastel shades or earthy tones for a subtle yet sophisticated look. Minimalistic jewelry and natural makeup will perfectly match the simplicity of the outfit.
Explore Your Perfect Raksha Bandhan Look at Utsavfashion.com
Whether you're drawn to bright colors, intricate prints, luxurious silks, twirl-worthy sharara suits, fusion Angrakha styles, or the comfort of cotton, the options are endless. To explore an exquisite collection of salwar suits that cater to every style and preference, look no further than Utsavfashion.com. With a wide range of colors, designs, and fabrics, this online platform has something for everyone. What's more, they offer worldwide shipping, so you can celebrate Raksha Bandhan in style, no matter where you are. Get ready to dazzle and make this special occasion a memorable one!