The color red- a hue that's synonymous with love, passion, and an unmissable touch of drama. In the world of Indian weddings, red isn't just a color; it's a tradition and a symbol of auspicious beginnings. So, if you are a bride-to-be with a penchant for all things crimson, you are in for a treat! Let's dive into the charismatic realm of bridal outfits and explore 5 stunning red choices that will make your heart race.
Painting the Town Red: The Significance of Red in Indian Weddings
The color red holds a special place in the kaleidoscope of Indian culture. It not only symbolizes love and fertility but also embodies the essence of marital bliss. People refer to red as 'Sindoori' in Hindi, believing that it brings good luck and prosperity to the couple. It's like an effervescent thread that weaves together the dreams, hopes, and aspirations of two souls uniting for a lifelong journey.
The Allure of Ravishing Red
Why does red never fail to enthrall us? It's simple – red has an unparalleled power to command attention. Whether it's a lipstick shade or a bridal outfit, red radiates confidence, energy, and an undeniable charm. It's a color that transcends time and trends, making it an all-time favorite for brides who want to make a statement without saying a word.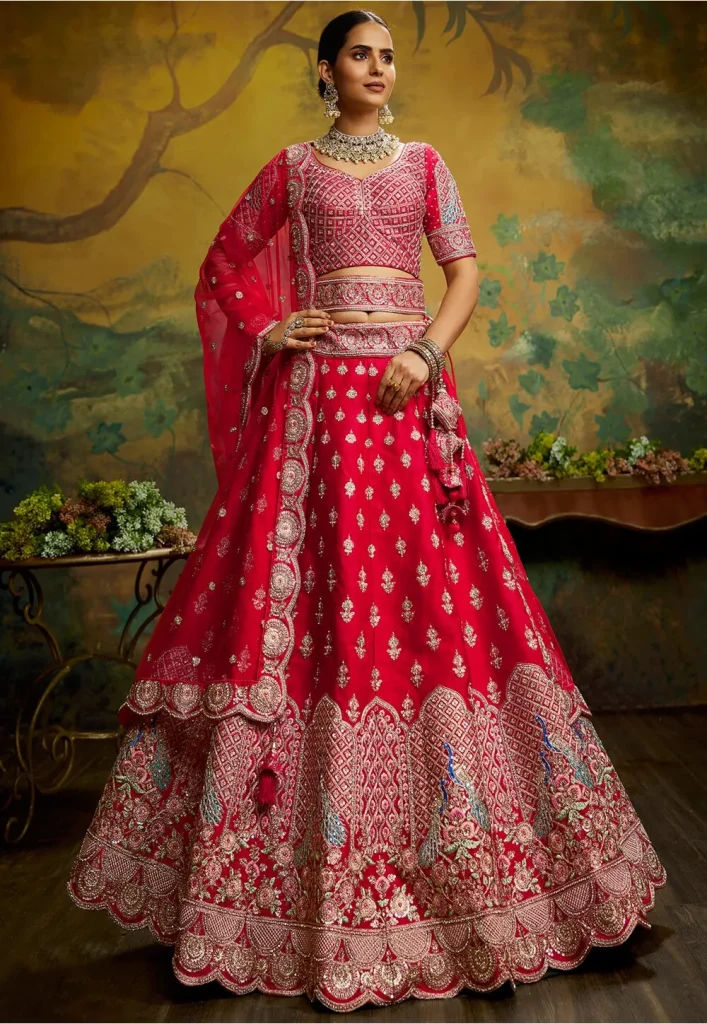 The Indian bridal trousseau is a treasure trove of culture, tradition, and of course, breathtaking attire. And when it comes to bridal outfits, red is the undisputed monarch. From intricate lehengas to resplendent sarees, the color red reigns supreme. Even as the wedding fashion landscape evolves, red continues to hold its ground as the quintessential choice for the Indian bride.
The Timeless Elegance: Gorgeous Velvet Lehenga Cholis
Velvet whispers luxury and opulence, and when it embraces the shade of red, the result is simply mesmerizing. Velvet lehenga cholis in red are the embodiment of timeless elegance. The plush fabric drapes gracefully, accentuating your curves and making you feel like royalty. With intricate gold or silver embellishments, these lehengas create a perfect blend of tradition and modernity.
Weaving Dreams: The Banarasi Saree
If you're a bride who envisions herself as a poetic symphony of tradition and grace, the Banarasi saree in red will resonate with you deeply. Woven with intricate designs and radiant zari work, the Banarasi saree tells a story of timeless beauty. It's not just an outfit; it's a masterpiece that embodies the essence of your journey.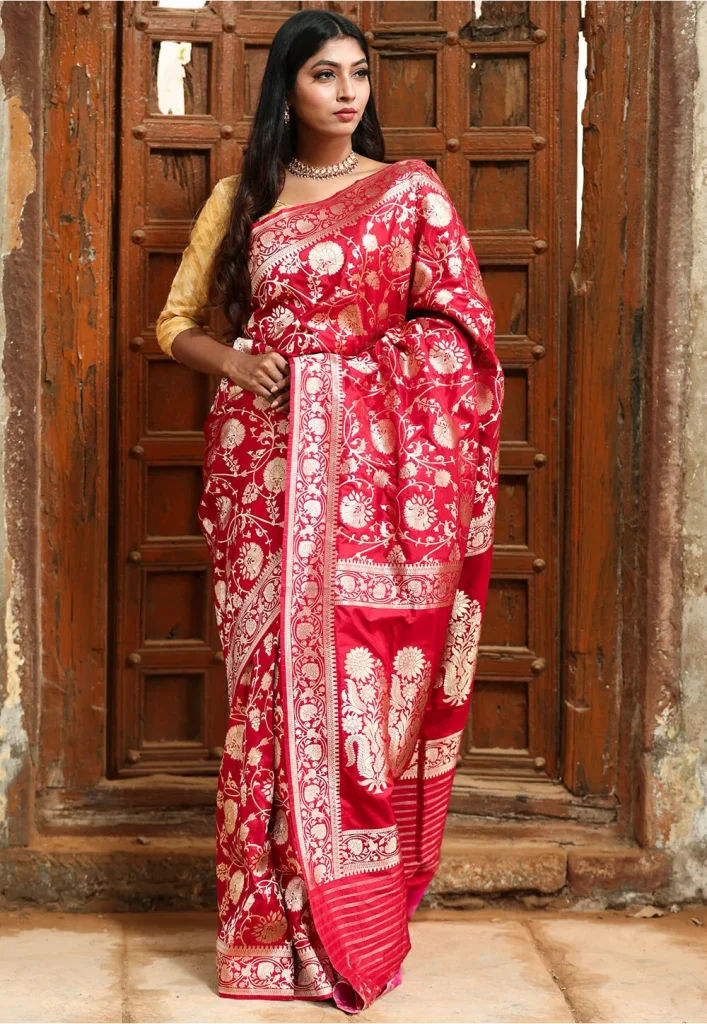 Less is More: Embellished Choli with Minimalist Lehenga
In a world where minimalism is celebrated, a red bridal outfit can still be a canvas for subtle charm. Picture an embellished choli paired with a minimalist or plain red lehenga. The choli steals the spotlight with its elaborate designs, while the lehenga provides a backdrop of classiness. This choice speaks volumes about understated sophistication.
The Epitome of Grandeur: Red Lehenga Choli
Some classics never go out of trend, and the classic red lehenga choli is a testament to that. The heavily embellished choli paired with a voluminous red lehenga creates a vision of grandeur and regal splendor. It's a choice that channels the majestic spirit of Indian weddings while adding a dash of your own individuality.
A Twist of Tradition: Pakistani Style Lehenga Choli
Bridging cultures and blurring boundaries, the Pakistani-style red lehenga choli offers a fresh twist on tradition. With its long, flowing silhouette and detailed embroidery, this choice combines the best of both worlds. It's a nod to heritage while embracing contemporary fashion aesthetics.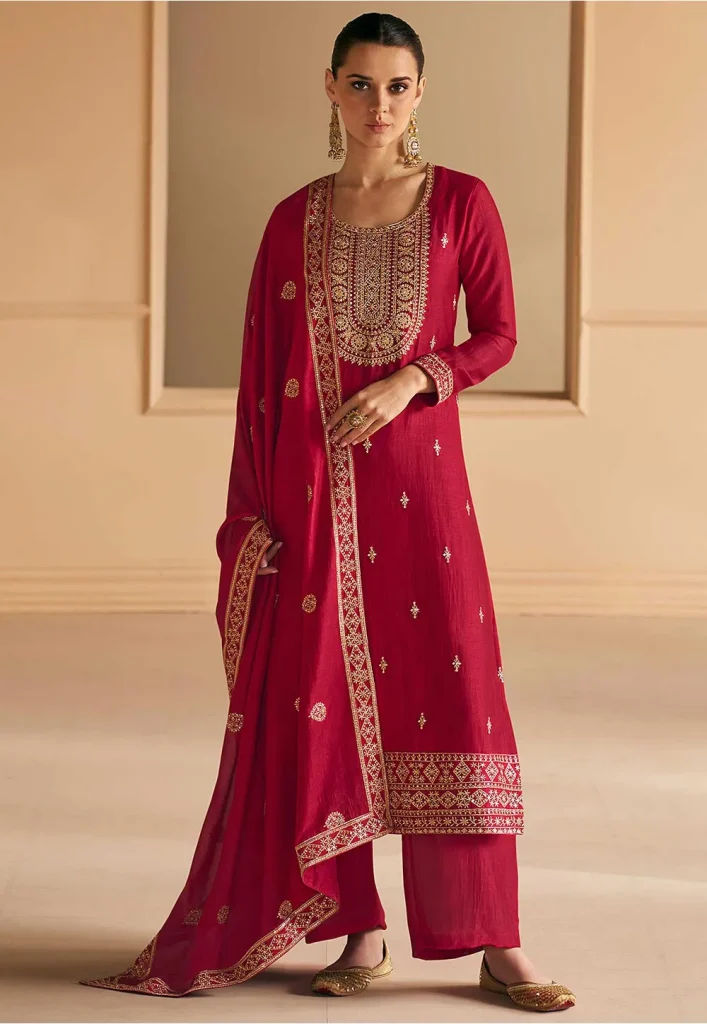 In Conclusion: Love in Every Stitch
As you embark on your journey from "miss" to "Mrs.," remember that your bridal outfit is more than fabric and embroidery. It is a reflection of your dreams and aspirations. The color red weaves a tale of love, passion, and new beginnings. Whether you opt for the plush velvet lehenga choli, the timeless Banarasi saree, the elegance of minimalism, the grandeur of heavy embellishments, or the fusion of Pakistani style, your choice is a celebration of you.
So, red lovers, as you dive into the ocean of bridal fashion, let your heart lead the way and your outfit steals the show. After all, every stitch is sewn with love, and every thread promises a beautiful tomorrow.