As the vibrant festival of Navratri is just around the corner, the air is filled with excitement and anticipation. Navratri is not just a time for families to come together and celebrate with fervor; it's also a time to revel in fashion and clothing.
In various parts of India, Navratri is celebrated with the exuberant dance forms of Dandiya and Garba, where nights are filled with the rhythmic beats of music and the twirls of dance.
Amidst the energetic Dandiya nights, it's the stunning Lehenga Choli designs that steal the show, with their burst of colors and vivacious vibes. In this blog, we're going to explore the latest Lehenga Choli designs that you're bound to fall head over heels in love with.
A Tapestry of Heritage: Kutch Work Lehenga Choli
Navratri is all about embracing traditions, and what better way to do so than by slipping into a striking Kutch Work Lehenga Choli? Known for its intricate and colorful embroidery, Kutch Work is a perfect choice for the festive season. These designs are a homage to the rich heritage of Gujarat and radiate a sense of timeless grace.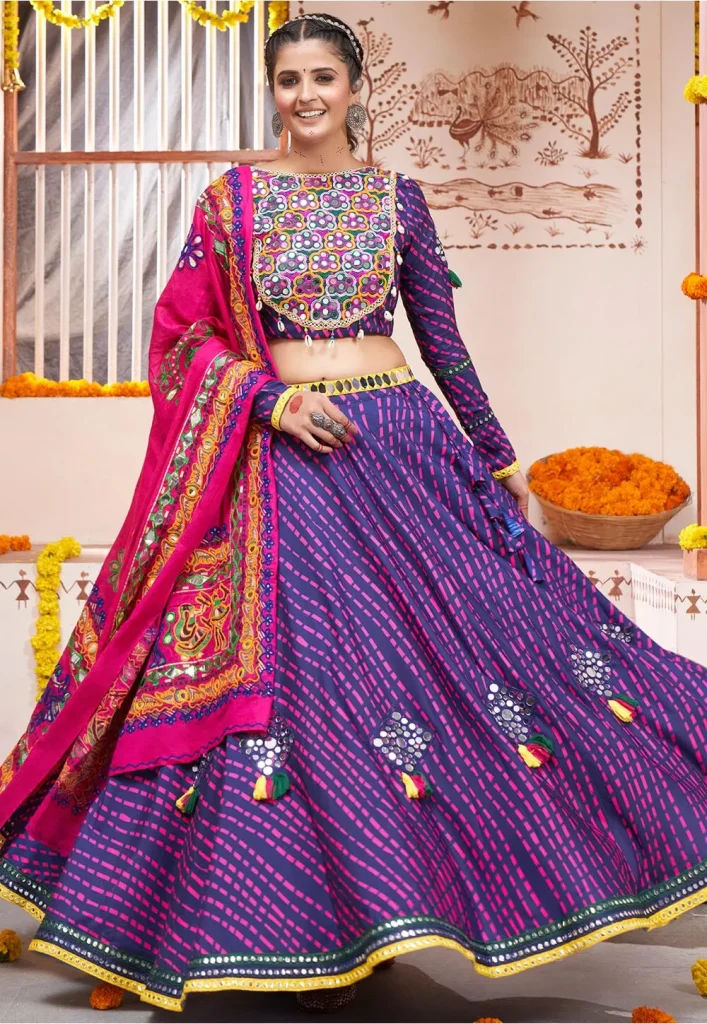 Imagine yourself twirling in a vibrant Kutch Work Lehenga Choli, the mirror work and embroidery reflecting the vibrant energy of the Garba night. The choli's vivacious hues paired with a flared lehenga ornamented with traditional motifs will make you the center of attention.
Woven Elegance: Patola Lehenga Choli
The pride of Gujarat, Patola, is a fabric known for its interesting geometric patterns and vibrant hues. Navratri is a time when you can flaunt the richness of Patola Lehenga Choli designs with style. These outfits are a perfect amalgamation of tradition and modernity.
A Patola Lehenga Choli drapes you in opulence with its exquisite silk fabric and intricate motifs. The choli, adorned with complex Patola patterns, adds a dash of sophistication to your Navratri ensemble. Dance the night away in these stunning designs, and you'll feel like royalty.
Sparkles and Shines: Mirror Work Lehenga Choli
Mirror, mirror, on the wall, who's the most dazzling of them all? When it comes to Navratri, Mirror Work Lehenga Cholis is the answer! These designs capture and reflect the lively spirit of the festival.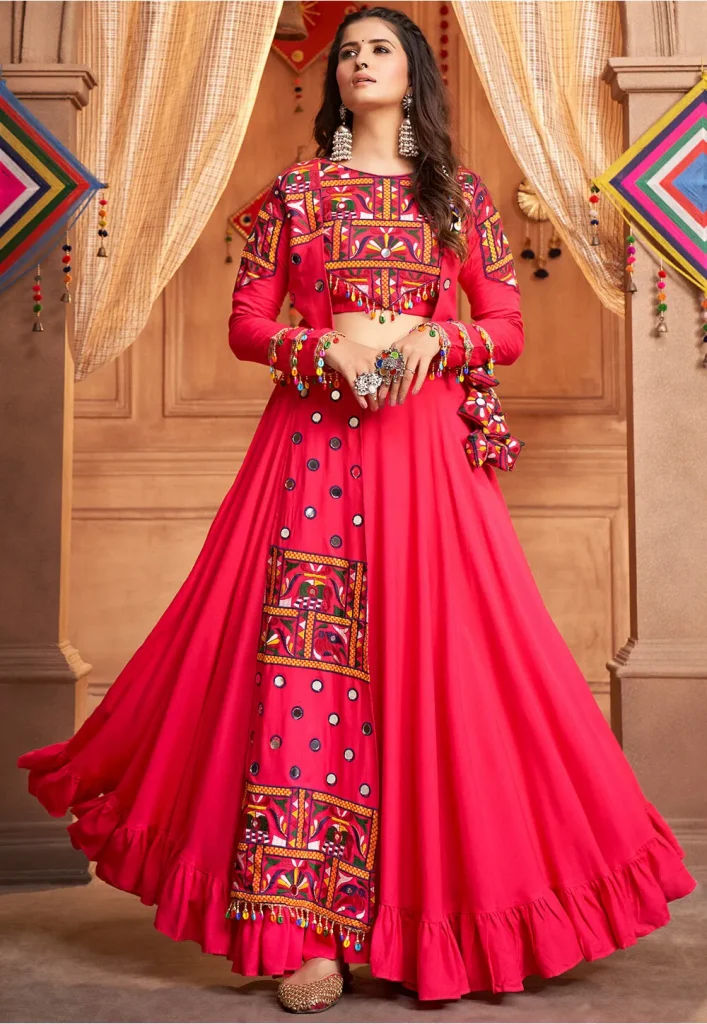 Imagine the magic of mirrors gleaming under the lights as you twirl in your Mirror Work Lehenga Choli. Each piece is a work of art, with mirrors carefully hand-embroidered onto the fabric, creating a play of light that's simply mesmerizing. These outfits are an excellent choice for those who want to shine as bright as the North Star.
Tying Together Tradition and Trend: Bandhej Lehenga Choli
Also known as Bandhani, Bandhej, is a traditional tie-and-dye technique that has been an integral part of Indian culture for centuries. Bandhej Lehenga Choli designs are a classic choice for Navratri, as they bring a touch of ethnic charm to your ensemble.
The intricate patterns created through the Bandhej technique give the Lehenga Choli an exclusive texture and depth. The choli adorned with Bandhej patterns paired with a vibrant flared lehenga creates a fusion of tradition and style. It's a nod to the roots of Indian craftsmanship while keeping your fashion game strong.
Embracing Modernity: Contemporary Choli Designs
While tradition is cherished during Navratri, it's also a time to experiment with contemporary fashion. Modern Choli designs bring a refreshing twist to the classic Navratri look, catering to the style preferences of the fashion-forward people.
These designs feature unconventional cuts, modern prints, and trendy silhouettes. From off-shoulder cholis to crop top-style blouses, modern choli designs offer a plethora of choices. Pair them with a traditional lehenga or experiment with fusion wear to make a unique fashion statement on the Garba night.
Wrapping Up!
Navratri is not just a festival; it's a celebration of tradition, culture, music, and, of course, fashion. The Garba nights are a perfect opportunity to showcase your style. Whether you opt for the timeless allure of Kutch Work, the regal charm of Patola, the dazzling brilliance of Mirror Work, the ethnic beauty of Bandhej, or the contemporary appeal of modern cholis, there's a Lehenga Choli design for everyone.
So, as the beats of the dhol resonate in the air and the colorful lights illuminate the night, don't forget to bring your fashion A-game to the Garba night. With these latest Lehenga Choli designs, you'll not only be celebrating Navratri but also celebrating your personal style and vivacious spirit. Let the festivities begin!