Zardozi embroidery is a form of embroidery prevalent in India, Iran, Pakistan and Bangladesh. Zardozi embroidery designs comprises of beautiful metal embroidery work and were once used to embellish the attire and clothes of kings and members of the royal family in India. This detailed work was also used to adorn the walls of castles, royal tents, scabbards, wall hangings and paraphernalia of royal elephants and horses. Zardozi embroidery work involved making elaborate designs, using the threads of gold and silver.
The magnificence of the work was further enhanced by sewing studded pearls and precious stones to the cloth. The work was initially done using pure silver wires and real gold leaves. However, in the modern times, the work is done by using the combination of copper wire with a golden or silver polish and silk thread due to the high costs associated with pure silver and gold.
The Ancient Indian Embroidery
Zardozi embroidery work has been a part of Indian culture from the start of Mughal Empire and prospered immensely under the rule of Akbar, but in the later years loss of royal patronage and beginning of industrialization, era led to its decline. Latest Zardozi embroidery work is impressively ornamental and profoundly crusted gold thread work has been practiced in various parts of the country. It became popular among the affluent Hindu, Muslim and foreign people. Zardozi is believed to be one of the oldest and most lavish embroidery styles in India. The delicately hand created work is treasured since time immemorial.
Today it is popular in the Indian cities of Lucknow, Farrukhabad, Chennai and Bhopal. The zardozi products manufactured in Lucknow and its surrounding six districts of Barabanki, Unnao, Sitapur, Rae Bareli, Hardoi and Amethi became a brand and now carry a registered logo to confirm their authenticity.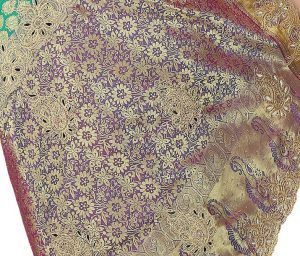 Zardozi is to be worked in two distinct styles. The first, karchobi, is distinguished by the density of its stitches on a heavy base material such as velvet or satin. It is usually seen on garments like coats, tent coverings, furnishing and canopies. The second is kamdani, the lighter, more delicate work, which is well-known in Rajasthan. Kamdani adorns elegant fabrics like silk and muslin. Although this kind of work is considered to be most suitable for scarves and veils, these days it is most visible on bridal wear in India.
The design is first outlined on the fabric and mixed metallic wires and shapes are spread out on it. The motifs used by the embroiderers in Rajasthan are inspired from different shapes and sizes of gold and silver wires and discs. The badla, a flat wire with a thread base, the salmais coiled and springy, while the dabka is a thin tightly coiled wire. Asitara is a tiny ring of metal that resembles a star, gijai is a circular, thin stiff wire and the tilla is a flat metal wire. Sequins and colored beetle wings are also often used. The most expensive and ostentatious examples of zardozi include semi-precious stones and pearls.
The metallic wires form the design and needle and thread are employed merely to sew the elements on to the fabric. Laid-stitch, backstitch, couching chain stitch, running stitch and satin stitch are also employed in these exquisite embroideries. Zardozi usually features geometric shapes along with floral designs.
Zardozi embroidery patterns include circles and triangles into margins, creating a body of flowers. Borders often feature triangular forms with finely wrought floral scrolls. The corners are adorned with Hindu mantras, a floral spray or peacocks. The field is filled with sprays, flower buds and animal figures, especially in the karchobi style. Another elegant feature is the delicate jaali (net) on some parts of the fabric. Currently, zardozi is being extensively used on urban clothing not only in Rajasthan or Uttar Pradesh, but all over India. The assimilation of this age-old craft into urban life has ensured its permanence and reputation.
Zardozi Sarees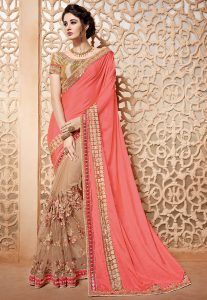 Zardozi embroidery sarees are extremely popular as bridal wear and other attires like lehenga choli and salwar kameez which can be worn in weddings and other ceremonial and festive functions. You can accessorize a dress made of zardozi embroidery with gold or diamond jewelry like lavish Indian earrings and neckpieces with beautiful jootis. Glass colorful Bangles also make a perfect accessory for a zardozi saree.
Zardozi is an ancient craft and is one of the oldest forms of hand embroidery. Today zardozi has become an important component of high end fashion and has reached all across the world. One can see the applications of zardozi embroidery in European fashion shows as well. Zardozi has also found its way into accessories like bangles, headpieces and even in cushion covers and draperies.