How Zardosi Lehenga Choli Is Unique from Other Lehengas
Zardozi is very traditional Indian embroidery but still, its importance is not lessened in the fashion world. Zardozi – Threads of creativity – an Intricate hand embroidery using gold, silver or multi-colored wire on a variety of fabrics. This embroidery is mostly used in gagra, Pakistani bridal lehenga, Indian bridal
India, rich in art and culture, has the finest collection of traditional wear incorporated with marvelous embroidery. Most of the traditional wear comes with the work of gold and silver thread known as Zari. Whether it's a lehenga dress for wedding or a lehenga for little angels, a dress such as a lehenga choli incorporates heavy work all over using beads, kundan, zari, thread and sequins.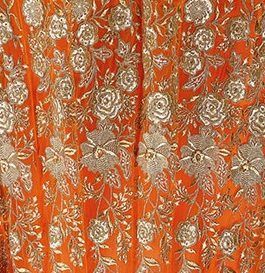 Zari is gold and zardozi embroidery is the work with gold thread, the sheer magic of creative design and agile fingers. Zardosi lehenga is among the most demanded outfit during any special occasion due to its heavily encrusted gold work which gives an exotic look to its wearer.
This designer lehenga choli, embedded with Zardozi embroidery and envisaging the ensemble of lustrous metallic wire makes it the dress of your fantasies. The Zardozi work was traditionally the silver wire coated/plated with beads, stones, gold and silk threads.
Embroidered Party Lehengas
Embroidered lehengas are available in different colors, fabrics and styles. Indian embroideries like zardozi make party wear lehenga look attractive and a wearer's center of attraction.
Rich fabrics such as silk, organza, jamewars and brocades have been used lavishly in this coll with timeless traditional motifs and contemporary patterns. The colors are bright in hues of reds, oranges, maroons, and golds. Exceptionally feminine, these lehengas are available in various sizes and are often custom-made to suit individual needs.
Additional Reads: Style and Tips to Wear Lehenga for a Grand Festival
Bridal Lehengas
Bridal lehengas are mostly decorated with heavy zardozi embroidery mixed with other stone, crystal and sequin embroidery. These are usually in red, magenta and other darker tones. Zardosi lehenga is said to be the best bridal wear in the day and evening time.
These designer bridal lehengas have been the traditional wear of Indian women since Mughal time. Popular among the royal people of the olden days, the Zardosi lehenga comes in many different styles. The Zardosi lehenga made up of a comfortable fabric, can be worn on festivals or other celebrations. Zardosi lehengas are glamorous and elaborate.
Designer Lehenga Cholis
The latest designer lehengas showcase the timeless beauty of zardozi embroidery. Intricate and opulent, zardozi work involves the use of metallic threads, beads, and sequins to create stunning patterns and motifs. This exquisite embroidery adds a touch of regal elegance to lehengas, making them a coveted choice for weddings and special occasions.
Designer lehenga cholis are available in fashion fabrics like georgette, crepe, net, silk, etc., and attractive colors like yellow, red, magenta, pink, mustard, etc. Crepe is a flowy fabric and is the best when decorated with zardozi embroidery which gives it a heavier look. Designer zardozi lehengas are available in various hues and designs.