The country of India is a get together of rich culture, tradition, art, sculpture etc. In simpler words, there is university in diversity via splendid charms of festivals, rituals, costumes, languages etc. How can we forget embroidery? Embroidery reflects the artistic creativity of people. It is said that even the primitive man used to decorate himself with bodily decoration. Today, embroidery as a kind of art has become universal.
Varied stated of India have their own particular embroidery. One such state is Tamil Nadu. The southern part of the state is surrounded by refreshing beautiful hills known as Nilgiri. A tribal community living within these hills is known as Todu. The embroidery done by them is Toda and it is renowned world-over. Majorly, it is a distinct style of embroidery that is called Pugur meaning flower.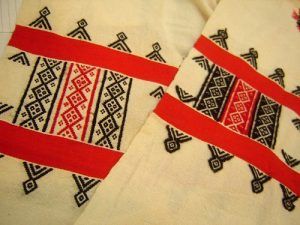 This exquisite and complex embroidery is performed by tribal men and women especially on shawls. Poothkuli, as the name given to shawl with Toda embroidery, appears beautiful. This kind of shawl depicts red and black stripes at a space of six inches. The embroidery is performed on stripes of red and black color. Motifs are quietly worked through counting the threads.
One look at the embroidery and you will think that the embroidery looks like weaving. Embroidery is reversible and Todas make use of rougher under side of the fabric as the right side. This kind of embroidery is basically performed by counting thread by thread. The fabric needs to be loosely woven as the embroidery is done by counting the weaves.
The color of the ground-fabric is usually off-white with colors of thread being red and black, as said earlier.
Majority of the traditional embroidery inspiration is taken from nature, daily activities, mythological stories as well as reflecting both the flora and fauna of a specific region. The motifs have been inspired from local surrounding. Buffalo horn is crucial motif since the tribal people worship buffalo. Stars, moon, sun, snakes etc form other kinds of motifs.
Apart from making of toda shawls, other outfits made of it include traditional drapes, dupattas, stoles, kurtis, salwar kameez etc. Get the best outfits in toda embroidery to make your wardrobe appear elegant.