Ribbon embroidery is a delicate style of embroidery that dates back to the Victorian era. This style incorporates the use of ribbons on different garments in order to create an interesting texture and intricate look. More often than not, silk ribbons or blends of silk and organza ribbons are used to create different patterns that are mostly filled with delicate floral motifs throughout the body of the garment. While this goes without saying, it is important to note that this embroidery style helps create an extremely feminine look.
Silk Ribbon Embroidery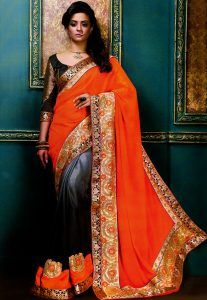 Silk ribbon embroidery is one of the most popular forms of this embroidery style because silk is an extremely easy material to use and to create different looks out of. Therefore, more often than not, silk is the preferred form of material for ribbons. It can be quite narrow, which makes it extremely convenient when it comes to threading it through various parts of the garment or incorporating different kinds of stitches in order to create a variety of looks. The chain stitch is one of the best ways to incorporate these silk ribbons because it creates a distinctive, multi-dimensional texture for the fabric.
When it comes to ribbon embroidery designs or ribbon embroidery patterns, the patterns that are used are mostly floral. At times, depending on the garment or the aesthetic appeal that is being created, they can also be used to create small bows. This gives a highly feminine look. This is seen mostly on indo western garments such as tunics rather than Indian ethnic attire. Silk ribbon embroidery designs can be incorporated into these types of garments quite easily because the material is easily malleable and versatile. Silk also has a slightly opulent sheen to it which adds another dimension to the garment itself.
For those wondering how to do ribbon embroidery, it's important to master two types of embroidery stitches – the chain stitch and the running stitch. These are the two basic types of stitches that are used in this embroidery style and it can be extremely easy to create a ribbon embroidery design with the help of this knowledge. Also, when considering how to, ribbon embroidery itself needs to be understood as a separate form of embroidery. This means that the techniques that you use to create patterns when creating any other embroidery form, like zari, will not necessarily work on ribbons as the ribbon embroidery pattern may not come across as neatly and properly due to the relatively large size of the ribbons.
When it comes to looking for interesting ribbon embroidery designs, patterns that are considered to be slightly out of the box are sometimes preferred over the regular floral patterns or bows. This is because off-beat patterns are not as commonly seen when it comes to this style of embroidery and those who want a unique look tend to reject the mainstream types of designs. Most young women prefer abstract patterns over generally identifiable motifs.
Ribbon embroidery work can be extremely versatile in terms of usage. This embroidery can be used on a variety of indo western garments as well as certain Indian ethnic garments as well. Most commonly, they are used on indo western tunic tops as well as on the bottoms of leggings along with some lace work. When it comes to Indian ethnic attire, they can be used on the necks and sleeves of kurtis as well as on salwar kameez sets. An important aspect to note is that this cannot be done on highly delicate fabrics as their weight can make the fabric tear.
Style Tips
When wearing any garment that incorporates ribbon embroidery, going in for a more feminine aesthetic can help in creating an extremely cohesive look. This is one of the styles of embroideries where mixing genres of dressing or styles does not work out very well because the ribbon goes a long way in creating an extremely specific look that cannot be mixed with others. Therefore, accessories should be chosen very carefully when dressing up.
Delicate floral necklaces can look extremely pretty with this type of embroidery. Another type of jewelry that can be used is barely-there necklaces that are meant to be extremely delicate looking and highly feminine as well.
Pairing interesting indo western tunic tops along with differently colored leggings can create an extremely interesting look as well. They can be paired with different colors every time they are worn in order to create different looks each time. An outfit such as this can be paired with light flip flops or even interesting high heeled shoes, depending on the occasion for which one is dressing up.
Mostly, western handbags in the forms of colorful tote bags, floral handbags or embroidered clutches are paired with this type of embroidery.