Known as a land of diversity, each region of India depicts its own culture as well as practice. People who belong to varied provinces have their own distinctive way of dressing as well as unique sense of fashion.
While some people prefer to have zardozi embroidery on their sarees and suits, there are some who wish to have resham embroidery on their attires. Talking about resham embroidery, it is embroidery that is done with colored silk thread.
For resham embroidery, the thread or resham is used for making complex patterns. The best part of this kind of embroidery is reflected in its use for making elaborate as well as intricate patterns that can be in the form of floral pattern, paisley pattern or even other decorative pattern that features a creeper like design. The look and feel of the entire embroidery pattern on an outfit depends upon the use of resham threads.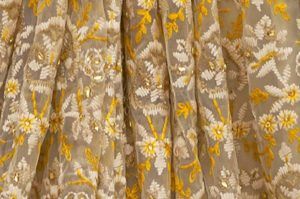 An elegant look is achieved when a single strand of resham thread is used with a similar fabric color. However, if you wish to have a more elaborate look, you can use several strands of resham threads on both similar and contrast fabric making the outfit colorful, vibrant and extremely alluring.
Traditionally, resham embroidery was done particularly with hand. However, with the advent of machine embroidery, resham embroidery too has taken help of machines for creating patterns on suits, sarees etc. Resham embroidered patterns look fantastic on fabrics like cotton, georgette, silk, pashmina as well as other knit fabrics. Resham embroidery adds grace and charm to the already existing beauty of outfit.
At Utsav Fashion, bring the joy in your life by selecting from a range of resham embroidered sarees, salwar suits, kurtis and much more. Get them delivered to your doorstep.