As one explores India, a promise of encountering distinctive handicrafts and artistic forms, including the alluring world of the designer salwar suit, is guaranteed. Some of these regional handicrafts have a long and illustrious history that ends with their glorious present day revival, creating a fascinating web of cultural and artistic influences for sociologists to trace. One such craft is the art of Phulkari from Punjab. This Punjabi folk art is known to be one of the most vibrant and distinctive embroidery styles in the world, distinguished by its use of exquisite stitching and beautiful designs and motifs.
Phulkari embroidery is an art that is very close to the hearts of the Punjabi people and its history is intertwined with Sikh and Hindu history in north India. It is said to have originated in either Iran or somewhere in central Asia, from where it travelled to India and evolved into the form we recognize today.
It has been practiced for many centuries by women across Punjab (in India as well as Pakistan) and flourished up until the partition of India, at which time it took a backseat in the face of economic and social upheaval and change.
In recent times, it has been revived by designers who appreciated the variety and aesthetic beauty of Punjabi Phulkari and thus popularized it.
While earlier, Phulkari work was exclusively handcrafted by the women in the family, today it is also mechanically produced in order to reduce costs and increase production quantities. The most coveted and beautiful varieties, particularly suitable as a Punjabi suit for bridal wear, are still the ones handcrafted by skilled artisans (in olden times, most women in Punjab were skilled in this craft but this is less true today).
The Craft
Phulkari is done using the darn stitching method and is always done on the ulta or wrong side of the fabric. The use of colorful silken threads is another characteristic of Phulkari designs which often have a very intricate, vibrant look.
Inspired by the colors and energy of their vibrant surroundings, Punjabi women chose to create many types of artistic Phulkari motifs. While Phulkari itself means flower work, floral patterns are not the only motifs used (though they are certainly the most popular).
All types of village and nature-inspired designs can be found, as well as artistically intertwining shapes and lines as conceived by the weaver or designer. Earlier, only khaddar (a traditional Punjabi fabric) and cotton were used, but nowadays one can find Phulkari work done on all types of fabrics, from silk and chiffon to georgette and crepe. Explore these exquisite variations of Phulkari work on a range of fabrics through renowned Punjabi suits online boutiques.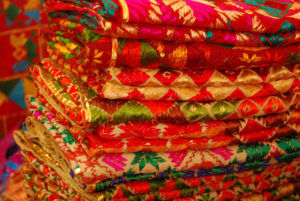 Phulkari work is used to decorate and beautify all types of garments as well as home décor fabrics. Phulkari suits with matching Phulkari dupattas are probably the most popular and well loved garments in Punjab.
Appeal of Phulkari Embroidery
Phulkari is considered a very trendy embroidery form at the moment and is seen frequently on red carpets and designer runway shows. When it comes to street fashion, the Phulkari dupatta, also called Phulkari chunni has proved to be a big hit. These can be easily mixed and matched with both Indian and western tops and tunics. It is a great way to incorporate this unique embroidery into diverse wardrobes.
Garments decorated with Phulkari work are often accessorized with traditional Indian jewelry, including stunning Indian earrings, to enhance their vibrant appeal. Beaded necklaces and stone-studded pendant sets are frequently paired up with kurtis, dupattas, suits, and tunics adorned with this exquisite craftsmanship. In contrast, ornate bridal Phulkari suits call for a regal touch, perfectly complemented by beautiful golden jewelry sets that include classic bridal accessories like kaleera and churi.
Phulkari Saree & Salwar Kameez
The salwar kameez has been the traditional garment in this region for many years which is why there is a tremendous variety of designs and colors available in the Phulkari suit. It is one of the most comfortable, vibrant and versatile outfits in India, one which combines exquisite designs with flowing silhouettes. Phulkari suits designs can be either traditional or modern, depending on the occasion for which they are designed.
Typically, the Phulkari suits design for bridal wear would be the most intricate, detailed, colorful and ornate and would be done in typical red, maroon or pink bridal shades which are the norm in Punjab. One can also find more stylish, simple Phulkari suit designs which would be appropriate for office and daily wear.
Phulkari Indowesterns
Nowadays, Phulkari is also used to decorate other traditional Indian garments such as kurtas or sarees. Phulkari sarees have a very graceful, attractive look and are typically made of fine materials like georgette and silk. On the other hand, Phulkari dupattas or ethnic scarves are also immensely popular, especially with the younger generation.
Bright colors like blue, green, yellow and orange are used though monochrome or metallic tones can also be employed in Phulkari boutique designs crafted by high end designers with a more innovative vision.