Kalamkari is also known as Qalamkari. It is a popular form of block printed fabric, which usually uses cotton that originates from certain parts of India and Iran. The word itself is derived from two different words of the Persian language, ghalam, which means pen, and kari which means craftsmanship. Together, they form the word ghalamkari which means to draw with a pen. It has two different art forms in India that create a varied kalamkari work. The first is the Srikalahasti style.
This art is characterized by the free, manual use of pens in order to fill colors in patterns or to create different silhouettes. This style tends to depict temples and religious art as opposed to abstract concepts or patterns on the garment. The other style is known as the Machilipatnum style which originated in Andhra Pradesh and originally flourished strongly under the patronage of the Mughal Rulers and courtiers.
This style is created with the help of block prints and usually, depicts patterns or motifs that are derived from nature. It used to be a popular style of designing during the Mughal reign. Thus, the two styles can be differentiated on the basis of kalamkari designs.
Kalamkari Drapes
Kalamkari sarees are made with this form of block printing and they can be made from either of the two styles. These sarees are extremely popular because they have a certain sheen, which is created by leaving the fabric in a mixture of cow milk and mycrobalans. This is why kalamkari fabric is considered to be quite unique and interesting.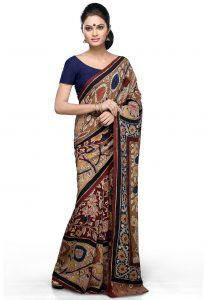 The rest of the designs are usually created with the help of a bamboo stick that is dipped in different dyes and inks to create a pen like structure for the artisan to use. The same technique can be used to create kalamkari kurtis and other forms of Indian ethnic attire. This is due to the fact that kalamkari print can be used to create different garments, (and) because the forms of print are not restricted to certain visual aesthetics, which only look good on some garments or cuts.
Kalamkari cotton sarees have an extremely unique visual appeal because of the great detail used in the print. It is one of the main reasons why sarees with this print are so distinctive and easily identifiable in a crowd. Contrary to popular belief, this print can also be used on silk and kalamkari silk sarees are quite popular as well.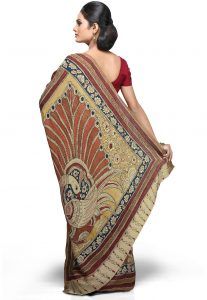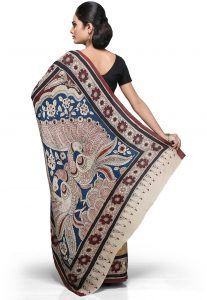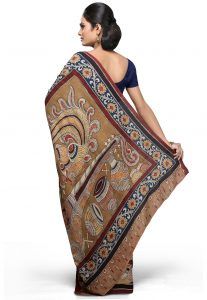 The kalamkari design looks impeccable on silk fabric because it adds a slightly more opulent aura to the print and garment as well. These designs are also referred to as kalamkari painting designs because they are also used to create painting depicting temples and gods. This is why kalamkari patterns that are used on kalamkari print sarees tend to have a perspective that looks like the image is being viewed from the top. As these were considered to be scenes viewed by celestial entities, the same perspective is used to create the images.
Style Tips
When it comes to styling a kalamkari saree, designs that are used on the body of the saree need to be taken into account because the accessories or shoes that are chosen should ideally match the general look and theme of the entire print. (It is done )so that it does not clash or look terrible. Therefore, it is important to ensure that everything looks great when it's paired together and you have a beautiful ensemble.
While wearing a kalamkari saree, the best approach is to wear high-heeled shoes because they really compliment the fall and grace of the saree itself and also make women look more elegant. Younger women like pairing trendier shoes such as platform shoes with their garments while older women opt for regular high heeled sandals that are comfortable and easier to walk in.Both styles look great, though.
Since the kalamkari style is essentially a south Indian style, it is important to note that visual aesthetics pertaining to this part of the country can work really well with this garment. South Indian jewelry such as gold sets can look great and really set off the natural sheen of the garment on the whole.